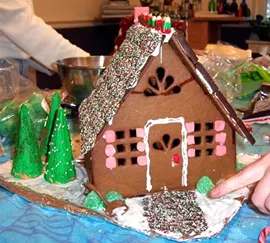 Friday (Dec. 7):
Lobster Festival @ Broadway Oyster Bar Try out a special lobster menu accompanied by live music both evenings. Start off with some lobster bisque ($5.99) and work your way up to dishes such as lobster ceviche ($15.99) and twice baked lobster ($38.99). Friday, Dec. 7 and Saturday, Dec. 8.
Toys for Tots Drive @ Dunkin' Donuts Head to the new opening of a DD at 4220 Telegraph Road for a Toys for Tots drive. Guests who drop off a new, unwrapped toy will receive a card redeemable for eight free medium coffees. Offer is good now through Dec. 17.
Saturday (Dec. 8):
Grinchmas @ Mokabe's Coffeehouse The Grinch pays a visit to Mokabe's and Tower Grove Creamery. Get a photo and feed the kids with a special children's menu at Mokabe's and $1 children's sized ice cream at Tower Grove Creamery. 9 a.m. to 1 p.m.
Kristkindl Markt @ Hermann Festhalle; Hermann, MO Shop crafts, clothing, candles and wine while indulging in German food and the wine region's best. Admission is free. Saturday, Dec. 7 and Sunday, Dec. 8 from 10 a.m. to 4 p.m.
WinterFaire @ Urban Eats Cafe Shop for indie arts and crafts and foodstuffs such as the ReTrailer Teas in indoor and outdoor booths. 10 a.m. to 6 p.m.
Kringle Market @ Mount Pleasant Estates; Augusta, MO This German Christmas market features handmade gifts, antiques, artwork and more. Admission is free. Noon to 6 p.m.
Gingerbread House classes @ Kitchen Conservatory Make your own miniature winter wonderland. On Saturday, Dec. 8 from 1 to 3 p.m., kids ages 7 to 12 can create ultimate gingerbread houses. The class costs $40 per child. On Sunday, Dec. 9, an adult version of the course runs from 12:30 to 3:30 p.m. for $50 a person. Call 314-862-2665 for details and registration.
Hanukkah Hullabaloo @ Off Broadway DJ Goldie fries latkes on stage and spins plenty of hits alongside sets of live folk music and more. Admission is $8. 9 p.m.
Sunday (Dec. 9):
Christmas Traditions: A Clueless Christmas @ Grand Opera House; St. Charles, MO This live comedy based on Clue features a dinner of tenderloin tips or breaded chicken with a side, dessert and drinks. $62.50 per person. Call 636-255-6155 for ticketing information. 5:30 p.m
Supper with Santa @ Butterfly House Enjoy eats from The Old Spaghetti Factory along with a photo with Santa, a butterfly hunt night walk, face painting, ornament making, and cookies with hot chocolate. Admission costs $15 per adult and $18 for children. Register online via the Missouri Botanical Garden website. 4:30 to 7 p.m.