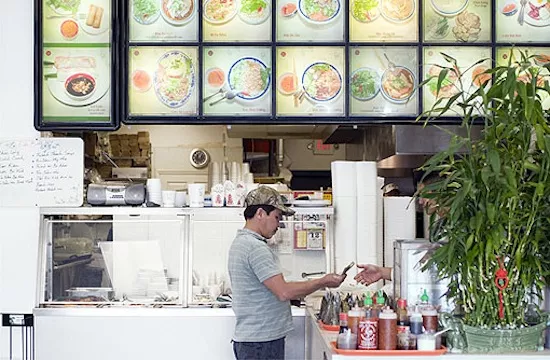 Jennifer Silverberg
The interior of Phuc Loi, circa 2009
A reader tipped me off to an ownership change at Phuc Loi (3723 Gravois Avenue; 314-772-7742), the tiny Vietnamese restaurant just west of the Gravois Avenue-South Grand Boulevard intersection.
Phuc Loi became a favorite spot of mine after I reviewed it three years ago. I included its banh mi dac biet on my list of 100 Favorite St. Louis Dishes, and Phuc Loi itself earned a spot on last year's list of the "Top Five Vietnamese Restaurants in St. Louis".
A sign announcing that the restaurant is under new management graced the front window when I stopped by this morning, and an employee confirmed the changed. The space itself doesn't loom much different, though I did notice that the restaurant's steam tables, where a selection of dishes used to be available, weren't currently in use.
I picked up a copy of the to-go menu, which looks essentially the same as before. As for whether the change in ownership has changed the quality of the food, I can't say yet. Any fellow Phuc Loi fans who've happened to eat there recently care to comment?
As for the previous ownership, my tipster related that they might be looking at a new venture. More as I learn it.