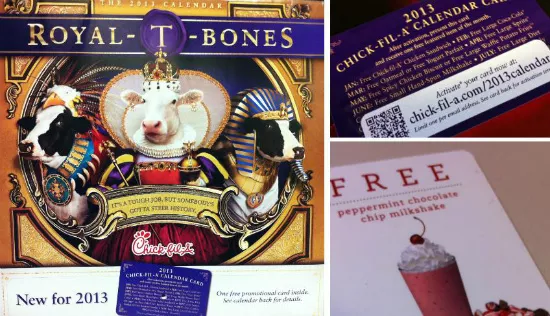 It doesn't quite feel like the holidays until Chick-fil-A (multiple locations) sends you its annual cow calendar that you didn't know about until today. Apparently this year marks the sixteenth anniversary of the cow calendar, and Gut Check is giving ours away. It comes with a "Chick-fil-A Calendar Card" that offers one free Chick-fil-A menu item each month, including free sandwiches, drinks, fries and more. In addition to the calendar hullabaloo, we're also giving away a gift card for one free Chick-fil-A seasonal peppermint chocolate chip milkshake.
Here's a bit more about the calendar, if you're curious, from the company:
Just in time for holiday gift giving, the Chick-fil-A "Eat Mor Chikin" Cows are saluting 12 of history's most famous "moonarchs" with the debut of the 2013 Cow Calendar...The 16th edition of the tongue-in-cheek cow calendar, which celebrates Chick-fil-A's ineffable mascots, is "Royal T-Bones: It's a Tough Job, But Somebody's Gotta Steer History." Each month chronicles the lives of 12 historic rulers who led their cow kingdoms to a better way of life, latching onto the credo, "Angus for dinner, no one's a winner."
Right. Click through to enter to win.
Update: Congrats to commenter DoucheMcGee, who first correctly matched the "moonarchs" to significant events in history.
To enter to win, simply match up the below "moonarch" name with the correct date that coincides with a significant event in history. This is where the Google research comes in, people.
Get to guessing below in the comments.