Mabel Suen
Pastry chef-owner Kaylen Wissinger.
Kaylen Wissinger has done some intense marketing -- in more ways than one. Ever since her homegrown business Farm Fresh Cupcakes hit farmers' market and event stands in May 2011, she's baked and sold more than 15,000 goodies. A mere year later, she managed to raise $15,432 online through funding platform Kickstarter, using the campaign contributions as a stepping stone (or scone, if you will) to open up her brand new eco-friendly sweets spot, Whisk: A Sustainable Bakeshop (2201 Cherokee Street; 314-932-5166).
Mabel Suen
Gluten-free crumb cake, gluten-free sugar cookies, vegan jam thumbprint cookies, a peanut butter choclate bar, pumpkin cupcakes with cream cheese frosting and a maple oat scone.
Gut Check imagines that walking into Whisk is a lot like paying a visit to Wissinger's home kitchen. The walls are a simple, clean white, and sunlight streams in through big windows upon wooden tables and an array of colorful framed art of all sizes. Charming whisk lamps, cake pans and a selection of baking books line the space behind the bakery case, and it's hard to not feel at home while amidst the warm smell of sugar and spice.
The space had a past life as the tie-dyed and kitsch-infused Shangri La Diner, where Wissinger fondly recalls hosting her wedding rehearsal dinner. Her journey with baking took off at the age of 21, when she received her first KitchenAid mixer. After stints baking at the Cakery and Local Harvest Cafe, the self-taught pastry chef and avid cupcake lover continues to develop her catalog of recipes, with a heavy focus on seasonality. (Wissinger has also written for Gut Check.)
Mabel Suen
A cranberry hand pie and apple cinnamon pop tartlet; The menu at Whisk.
A true locavore to the core, Wissinger purchases her produce and dairy products from the farmers themselves during the appropriate seasons, often with the aid of Local Harvest Grocery. Summer treats included strawberry basil and watermelon jalapeno popsicles. Fall flavors on her current menu spotlight the likes of pumpkin, squash and sweet potatoes.
"I get to shake hands with and pay farmers who pick the things right out of their farms," says Wissinger. "I've visited a couple of the places where I buy stuff from and get to see where they live, how they work, what they do. I like having that special relationship."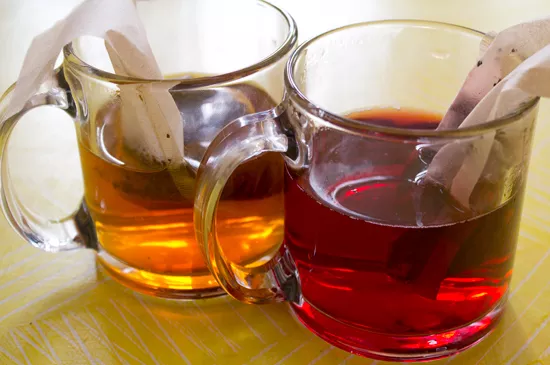 Mabel Suen
Chai and hibiscus ReTrailer teas.
At any given time, expect to choose from a constantly changing line-up of baked goods, including at least one kind of cupcake and two types of cookies. Other key players on the menu include fudge brownies, pie, "pop tartlettes" and homemade versions of candy bars and snack cakes. Vegan and gluten-free options are also available alongside local hot brews of Kuva coffee and ReTrailer teas.
Mabel Suen
Zucchini spice cupcake.
Signature Whisk flavors include zucchini spice cupcakes and red velvet using red wine and beets instead of artificial coloring, a testament to Wissinger's commitment to all-around sustainability, which also includes construction practices as well as constant composting and recycling.
Mabel Suen
Kaylen's husband Pete Wissinger helping out in the front of the house.
"My goal is to leave as little of a footprint as possible," says Wissinger. "I want to keep supporting local, small artisan producers and their businesses. Their products are what make my products good."
Whisk: A Sustainable Bakeshop's hours are Wednesday through Friday from 9 a.m. to 6 p.m. and Saturday through Sunday from 9 a.m. to 4 p.m. Arrive early for the prime pick of the lot, and feel free to call ahead to see what's available.