Mabel Suen
A fresh banana smoothie; Beef and lamb kufta with Palestinian salad, baba ghanoush, pita bread and more.
On a Sunday afternoon during its first week in business, Sultan Palace Bakery and Cafe (4144 South Grand Boulevard; 314-875-9653) has but two employees staffing the 60-seat restaurant -- which isn't a problem, of course, until a group of ten or so followed by a table of four arrive to sample the Middle Eastern cuisine.
The only waitress on the floor rushes to fill drink orders while we wrap up our brightly colored and flavored meal of chicken shawarma and lamb kufta. It came prepared and happily served by owner and sole chef Sufyan Nakhlah himself.
"It's about the food. It's not just about the money," Nakhlah says. "I love to work in the restaurant and I like to make everything myself. I know what goes into it."
He fires up the grill and begins to assemble all his carefully prepared foods for his new guests. Before the hustle and bustle hit, however, he stepped out of his kitchen for a moment to tell us a bit about his history in hospitality overseas.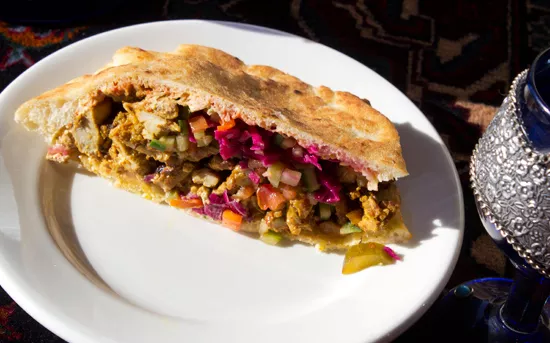 Mabel Suen
Chicken shawarma.
Nakhlah worked his way up from doing dishes at a restaurant in his homeland of Jerusalem when a cook didn't arrive for his shift. For three years, he mastered items such as grilled chicken, hummus and beef kabob -- all of which he proudly serves on his own menu today. He also learned how to prepare bakery items from a friend in the process.
The "bakery" part of his business is still in the works, as evidenced by the unpainted portion of the building's two room set-up. It serves as a contrast to the subtly sparkly gold walls in the dining room that are decked out with a few decorative plates, pictures, tapestries, jewelry and pottery.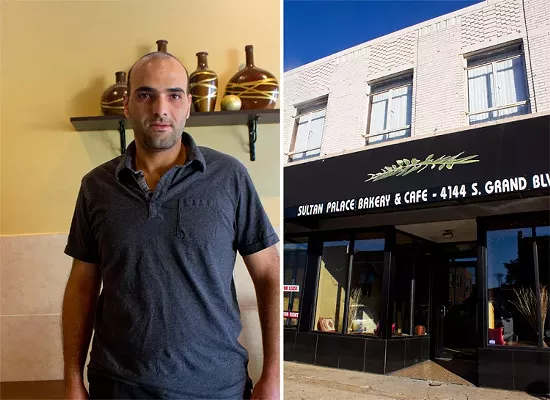 Mabel Suen
Chef-owner Sufyan Nakhlah.
The bakery will serve coffee and donuts, but not the American kind, Nakhlah says. While he can't provide a specific name for his pastries, he describes them with the assistance of his sister-in-law, who helpfully provides translated food descriptions while hanging around after a late brunch. The donuts will be "wrapped" and contain dates and cinnamon.
At Sultan Palace Bakery and Cafe, Nakhlah says everything "comes from zero" and is "cooked in the hand," which we take to mean completely from scratch. He says that even the pita bread -- big, round fluffy pillows of bread that come out with hummus or envelop grilled meats and veggies -- get made in-house.
The menu contains many vegetarian and vegan friendly starters such as msabaha (hummus with un-mashed chickpeas; $3.99), baba ghanoush (roasted eggplant, tahini, olive oil and garlic; $3.99) and foul (mashed fava beans; $3.99). A variety of salads are available, including tabouli ($4.99) and Palestinian salad ($3.99), which contains flavorful diced peppers, tomatoes and onions in olive oil, perfect for mixing in with the herbed and spiced rice pilaf that comes with entrees.
Shawarma comes in six-inch ($4.99) and whopping twelve-inch ($8.99) sizes, chock-full of chicken or beef and a variety of warm veggies and pickles. A falafel sandwich sets diners back a mere $3.49. A Palestinian-style brunch option ($9.99) comes with Arabic teas and an appetizer sampler spread big enough for two.
The list doesn't stop there, however. Americanized options such as chicken wings with fries ($6.99 to $9.99), a catfish fillet ($8.99) and a Philly cheese steak ($5.99) also make up a portion of the menu, albeit prepared differently than one might imagine. Nakhlah says they get cooked in olive oil and are served on his house-made bread.
The menu packs a lot of variety for one chef to handle, but if that means Nakhlah will have to hire a cook or two to share his food with the neighborhood, Gut Check's A-OK with that.
Sultan Bakery and Cafe's hours are Monday through Thursday from 11 a.m. to 11 p.m., Friday through Saturday from 11 a.m. to midnight and Sunday from 11 a.m. to 10 p.m.