In July, Livery Company (3211 Cherokee Street) opened in the Cherokee Arts District, combining the charms of a dimly lit dive with a speakeasy-style vibe. The casual atmosphere accompanies a similarly paced development - the bar rolled out its first seasonal cocktail menu this fall.
Emily Ebeling looks young for a bar owner, and it turns out she's only 24-years-old. The lights are ever so low. It's almost hard to see her during our chat from across a square table that's sandwiched between a small stage in the window and the bar -- which was built by her father, with materials from an old schoolhouse.
Mabel Suen
The interior and exterior of Livery Company.
To make the re-purposed wood feel more at home, a pull-down style map of the world (think childhood classroom) covers the room's largest section of open wall space alongside prints and paintings proudly showcasing the neighborhood.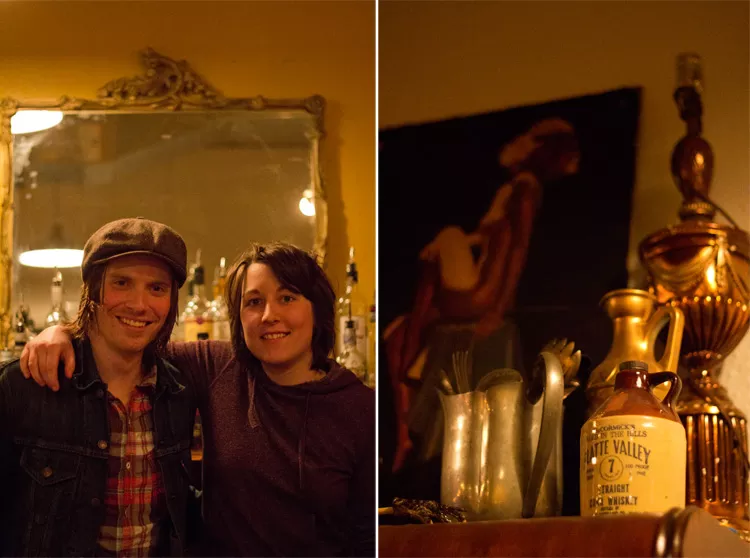 Mabel Suen
Owner Emily Ebeling (right).
Ebeling started bartending at the now-defunct Petra Cafe as soon as she was old enough to drink and went on to take over operations there through August 2011. Her decision to move the bar to Cherokee Street with co-owner Steve Lickenbrock followed the desire to, "do something a bit different." The main theme for her new idea? A vintage cocktail bar.
"We're a neighborhood bar that's a throwback to Cherokee in its heyday," says Ebeling. "...Cherokee was really popping in the '40s and '50s, which is also the heyday of the cocktail."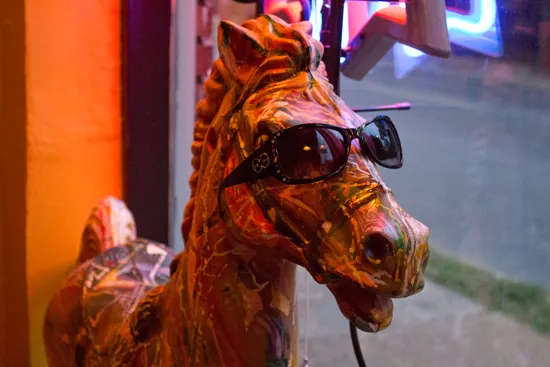 The combination of these two concepts spawned the birth of her bar. She came across the name "Livery Company" while reading up on apothecaries. Y'see, livery companies, or trade associations in the City of London, regulated distilleries as well as wine and beer making in the 1600s.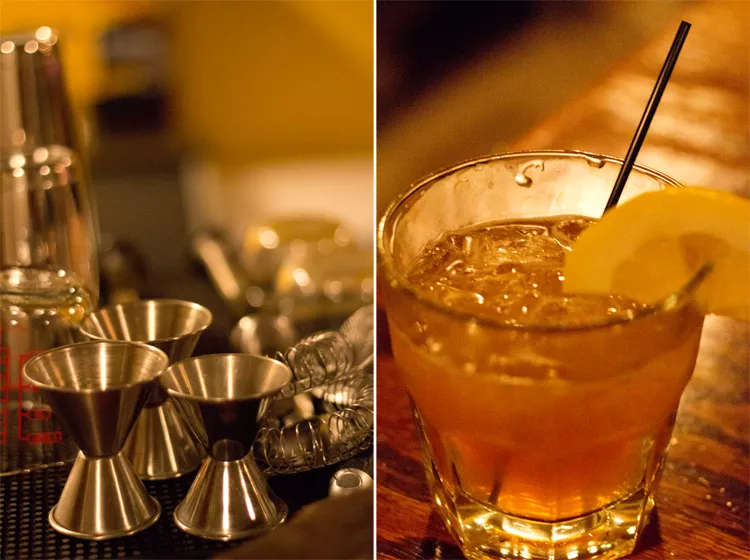 Mabel Suen
The "Conn Smythe."
Livery Company uses many small batch liquors, including locally made spirits and beers such as St. Louis Distillery's Cardinal Sin Vodka and Square One Distillery liquors. Plenty of inspiration from New Orleans comes in the form of small batch bourbons, Sazerac made with Herbsaint and Pimm's Cup alongside south city staples of Pabst Blue Ribbon and Miller High Life. South St. Louis Pizza Company offers snacks for hungry bar-goers.
The current cocktail menu features "Whiskey Punch" with Deaths Door White Whiskey, pineapple and lime; "Conn Smythe" with Buffalo Trace Bourbon, maple syrup and honey with creole bitters; and "Satan's Whiskers" with Brandon's small batch gin, Grand Marnier, vermouth and orange juice with rhubarb bitters.
At the Livery, one can't help but feel in good company - whether you choose to chat with Ebeling while she's behind the bar on any given night or simply enjoy quiet contemplation with one of her classic cocktails.
Livery Company offers weekly entertainment in the form of trivia on Mondays, karaoke on Wednesdays, open mics every second and fourth Saturday, and live music nights with no cover. Its hours are Monday through Saturday from 6 p.m. to 1:30 a.m. Stick around for spring - a large patio with an outdoor stage is in the works.