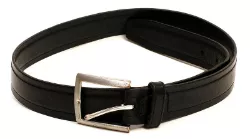 Gut Check's small belt grew three sizes that day.
For Gut Check there's no better way to say "Season's Eatings" than with restaurant specials and deals. Much is made about overeating and weight gain during the holiday season, but really you'd be a fool not to eat free food when it's shoveled at you in the form of restaurant gift cards, BOGO specials and freebies.
On the other hand, these deals could also make very nice gifts for friends, family and co-workers, if generosity and restraint are more your thing. But you can bet "larger belt with more forgiving notches" is on our gift list.
AMC Theatres Get $5 in free concession bucks from AMC Theatres with the purchase of a $30 gift card.
Applebee's At Applebee's restaurants, purchasing a $50 gift card gets you an extra $10.
IHOP Buy a $25 gift card from IHOP and earn an additional $5 coupon.
Chipotle Purchase a $30 gift card from Chipotle through Monday, December 31, and snag a free burrito, burrito bowl, order of tacos or salad with the original purchase receipt. Free meals must be redeemed before Thursday, January 31, 2013. Limited to one free menu item per customer.
Starbucks Starbucks re-released its seasonal holiday Peppermint Mocha, Caramel Brulée Latte and Gingerbread Latte drinks this autumn, and now, if you order five before Wednesday, January 2, you can get one free. Simply ask for a holiday beverage tasting card at the register, then collect a sticker each time you order a holiday drink. Once you've collected five stickers you're entitled to one free grande-sized drink of your choosing. Despite the January 2 sticker deadline, completed tasting cards can be redeemed through Monday, March 4, 2013.
Buffalo Wild Wings Buffalo Wild Wings is offering a different type of gift card incentive deal. Spend $25 in gift cards and get a "Blazin' Bonus" card with a value of either $5, $15, $25 or $100.
Chili's Save 10 percent off Chili's gift cards valued at $100 or more when you buy them online.
Joe's Crab Shack Spend $25 on gift cards at Joe's Crab Shack and you'll receive a scratch-off ticket to redeem a mystery prize. Every scratch-off ticket contains a prize of different value.
Maggiano's Little Italy $100 in Maggiano's Little Italy gift cards gets you a $20 bonus card and a copy of Food and Wine magazine.
McAlister's Deli Purchase $50 in gifts cards from McAlister's Deli and it'll reward you with a complimentary $10 gift card. The Melting Pot Through the end of December 2012 the Melting Pot is offering a deal on its gift cards. Buy one $100 gift card and receive two $25 "Dip Certificates" to be used in 2013.
P.F. Chang's At P.F. Chang's buying a $100 gift card gets you a $20 bonus card.
Ruby Tuesday Ruby Tuesdays holiday special gifts an extra $15 to guests who buy $50 in gift cards.
Texas Roadhouse Buying online earns you $5 at Texas Roadhouse with the purchase of $30 or more in egift cards.
Lone Star Steakhouse and Saloon A $25 gift card purchase from Lone Star Steakhouse and Saloon gets you a complimentary $5 coupon.
McCormick & Schmick's McCormick & Schmick's will gift you back 20 to 25 percent of certain gift card purchases. Get a $10 bonus certificate with a $50 gift card purchase and a $25 bonus certificate with a $100 gift card purchase.
Outback Steakhouse Buy $100 in gift cards from Outback Steakhouse and it'll throw in a $20 bonus card with your purchase.
Red Robin Buying in bulk pays at Red Robin. Gift cards valued at $25 come with a $5 bonus card while gift card purchases of $500 or more get 20 percent shaved off the purchase price.
Steak 'n Shake Have money to spared with Steak 'n Shake's $4 menu items when you purchase a $25 gift card, which comes with a complimentary $5.
T.G.I. Friday's Cash in $5 in "Bonus Bites" at T.G.I. Friday's with a $25 gift card purchase.
Wehrenberg Theatres On Saturday, December 1, Wehrenberg Theatres hosts its annual Cans Film Festival where guests can see a movie before 5 p.m. for free with a donation of five canned goods to benefit those in need.