A great Thanksgiving meal.
Back in 1981, the great food writer Calvin Trillin made a modest proposal in the New Yorker: That the Thanksgiving turkey be forever abolished in favor of spaghetti carbonara. "The campaign had been inspired," Trillin wrote, "partly by my belief that turkey is basically something college dormitories use to punish students for hanging around on Sunday."
Gut Check is firmly on board with this campaign. There's a reason the food world gushes over a new way of cooking turkey every year (deep frying, brining, spatchcocking, turducken-ing, now steaming): Turkey is dry and boring, the sort of food of which the Pilgrims, who came to America to pursue their freedom not to have any fun whatsoever, would approve. For a chef, it's a challenge.
For the rest of us, it totally violates the spirit of Thanksgiving.
Thanksgiving is a day of happiness and gratitude and rest, not a day to be spent wrestling with an enormous bird and then pretending to enjoy whatever dry morsel of poultry you've managed to choke down just because it's tradition. (Trillin also had a few things to say about that.) This is America, a land built by people who believed in their inalienable right to say "Fuck tradition!"
That also means you don't have to eat spaghetti carbonara if you don't want to. Here are a few other suggestions for a better Thanksgiving dinner.
Steak There is nothing more American than a thick slab of beef, cut from a big old American steer and then either grilled or seared in a cast iron pan and finished in the oven until the inside is perfectly pink and juicy. It evokes the Great Plains and cowboys and the music of Aaron Copland. (And also the power of American advertising, particularly the "Beef, it's what's for dinner" campaign.) Why should we have to suffer just because the grand American cattle-driving tradition didn't start until after the Pilgrims had long departed from this mortal coil? Remember, Thanksgiving itself didn't exist until 1863 when Abraham Lincoln officially declared it a national holiday. By which time, we had steak.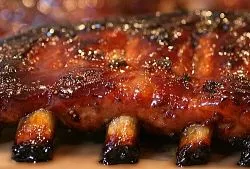 How can a turkey possibly compare to this?
Barbecue Ribs Or maybe there's nothing more American than barbecue. Native Americans did, in fact, invent the twin arts of slow-cooking their food in a pit in the ground and of smoking their meat. Why can't we honor them for a change? (We have to admit, we chose ribs somewhat arbitrarily, mostly because it's our favorite form of barbecue. Thanksgiving should be all about eating as the spirit moves you.)
Also, if we're going to absorb all those extra calories, oh, please, please, let them be from something as tasty as barbecue, not as bland as turkey.
Lobster Lobster prices are currently the lowest they've been in 30 years. This is because last winter was unusually warm, which led to more lobsters than usual. The price of turkey, meanwhile, continues to rise. So, uh, be thankful for one of the opportunities brought to us by global warming?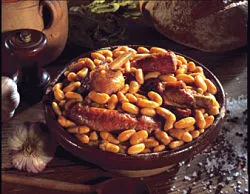 Cassoulet For some people, Thanksgiving is an opportunity to show off their impeccable kitchen skills, and it's not really T-Day unless they get to spend a solid week shopping and prepping and, finally, cooking. Cassoulet is the most complicated recipe we can think of offhand. It's a French casserole comprised of meat and beans. The version in Julia Child's Mastering the Art of French Cooking contains a "Note on the Order of Battle" -- Julia is serious! -- and it takes three days to execute.
In theory, turkey preparation might take that long, but a lot of it is just waiting for the damned bird to defrost. If you want to get really fancy, maybe you could try a turchetta, but that takes a mere two days. The cassoulet scoffs, in the most French manner imaginable.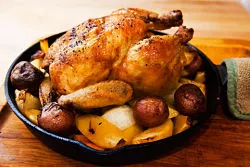 The embodiment of autumn and domestic happiness.
Roast Chicken But maybe some people really, really crave the taste of poultry on Thanksgiving Day. We can accept that. But why go to all the trouble to make a turkey when you can roast a chicken in just a couple of hours and it's so darned easy? Seriously: Thomas Keller's recipe calls for just three ingredients, a chicken, salt and pepper (thyme is optional), and requires absolutely no special kitchen skills except for trussing the bird. It takes an hour to make, and, unlike most turkeys, it comes out juicy and delicious.
Pizza Is there any American who doesn't love pizza? Despite our regional differences and prejudices (slices versus deep dish versus Provel versus clams versus pineapple versus cornmeal crust versus honey), pizza brings us together. Which is how it should be on this most American of holidays. Plus, it can be adjusted to accommodate almost any food allergy or issue, a matter of vital importance at a family dinner. What other food has that amazing power to make everyone happy?
Hot Pocket The Hot Pocket is the most disgusting of processed foods. But if someone replaced the turkey in our Thanksgiving dinner with a Hot Pocket, we would not complain. Not as long as we still had our mashed potatoes and stuffing and hot buttered rolls and apple pie a la mode for dessert. (Yes, yes, pumpkin is the Tradition, but we have almost as many issues with pumpkin pie as we do with turkey.) And the chips and dip while we sit through the football game. (Go Lions!) And the chocolate that somebody will invariably bring as a hostess gift. With all this bounty, who could blame us for ignoring the lousiest component of the meal, the Hot Pocket?
Which just goes to prove: the traditional Thanksgiving meal is great despite the turkey, not because of it.