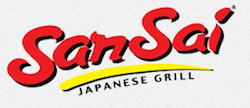 Wasabi Sushi Bar has announced the purchase of the three St. Louis locations of the fast-casual sushi chain SanSai Japanese Grill. Gut Check has a call into Wasabi officials for more information, but based on the press release the company issued yesterday afternoon, it seems that the Sansai Japanese Grill locations downtown (822 Olive Street; 314-241-6868) and in Maplewood (803 Maplewood Commons Drive; 314-647-9800) and Webster Groves (20 Allen Avenue; 314-968-8484) will continue to operate under the SanSai brand.
We base this conclusion on this statement in the press release from Wasabi CEO John Kim: "With different menus and dining experiences, SanSai complements the Japanese cuisine offerings that our Wasabi Sushi Bars have been providing diners in the St. Louis area since 2003."
The deal doesn't appear to involve any locations of Sansai in California, the only other state in which the chain does business.
The move continues Wasabi's rapid growth. There are now six Wasabi Sushi Bars in the St. Louis metro area (four in Missouri, two in Illinois) as well as additional two locations in Colorado.