Gut Check is not typically a consumer of fruitcake. Or of Williams-Sonoma products for that matter. Thus, we heard about the $39.95 Williams-Sonoma fruitcake via Deadspin. Right there on the Haters Guide to the Williams-Sonoma Catalog, sandwiched between the European Cheese Hamper and the Found Grain Sack Stocking (made from a Hungarian grain sack), was this:
Naturally, being the dedicated reporter we are, we had to investigate. Are these monks rednecks? Does this fruitcake contain uppers? Most importantly, is it worth $39.95, plus shipping?
First the easiest question: No, this fruitcake is not worth $39.95. If you buy it directly from the Assumption Abbey website, you'll only have to pay $31, shipping included.
Next, the monks are not rednecks. At least not based on photos on the Abbey's website. Which we admit may be subject to photo doctoring. However, since the monks habitually wear hoods, it appears that their necks are regularly protected. Also, says Michael Hampton, the bakery office manager, the monks usually spend eight hours a day making fruitcake, all during daylight hours, which limits the amount of sunburning time.
Oh, wait, now we get it! Deadspin was referring to the stereotypical Missourah resident, particularly the sort that lives in the Ozarks and has no teeth and spends his time alternately shooting squirrels, cooking meth and beating his woman. That's exactly what these monks should be like since their abbey is down the highway from the Ozark town of Ava.
But, finally, yes, this fruitcake is very, very special, in ways no one can quite describe. And it has nothing to do with meth!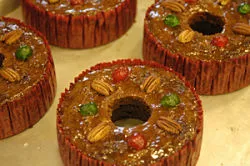 Assumption Abbey fruitcake. You can even cut it with a knife!
"When I've had fruitcake from Walmart, it's sandy-tasting," says Jill, the woman who answers the phone. "The citron leaves a funny taste in my mouth. This cake isn't like that."
"It's definitely a different cake," says Hampton. "There are lots of jokes about how you have to cut fruitcake with a chainsaw. This is a moist cake. It's not hard at all. Even people who dislike fruitcake have been converted by ours."
The recipe is derived from one used for generations by the English nobility (or at least their servants). It calls for candied pineapple; golden, black and current raisins; cherries and orange and lemon peel, all soaked for a week in Burgundy wine. After it's baked, the monks inject it with a shot of rum. It does not contain meth. "And you'd get sick before you get a buzz," Hampton adds.
Assumption Abbey received the recipe from Chef Jean-Pierre Augé who got it (whether by stealth or through more honorable means remains unclear) from his former employers, the Duke and Duchess of Windsor, aka Edward VIII and Wallis Simpson. Hampton isn't sure why Augé, who currently lives in St. Louis and sometimes teaches at the Kitchen Conservatory, decided to give the recipe to the monks.
"That was in the late '80s," he says. "I've only been around ten years. But it's been very good to us."
That is indisputably true. Part of the creed of Trappist monks, besides not talking except when necessary, is to earn their living by the work of their hands. Some Trappists make cheese. Some brew beer. The Trappists at Assumption Abbey made cement blocks. But the monks were getting older, Hampton explains, and less suited to back-breaking labor. Plus there wasn't much profit in it. So they decided to switch to baking fruitcake.
If you're planning to make a joke now about the similarity between cement blocks and fruitcake, you can stop. It's probably already been made.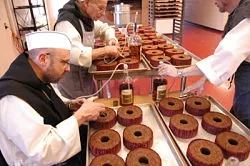 The monks inject rum into a batch of fruitcakes.
The Abbey usually turns out 25,000 cakes per year at the pace of 125 per day. The five monks, plus a few employees (including Hampton), bake for eight hours a day, five days a week, February through December, except for holy days. Everything is done by hand, except for the batter, which is processed in an industrial mixer.
"But the fruit in the batter is mixed in by hand," Hampton says. "The baker puts on a pair of large gloves and sort of swims around in it."
Once the cakes are baked, injected with rum and blessed (yes, these are holy fruitcakes), the monks pack them away for several months so that the flavors can meld. Though you can buy an Assumption fruitcake at any time during the year, 90 percent of them get sold in December, for reasons that should be obvious. Only about 10,000 of the fruitcakes get sold by Williams-Sonoma or other brokers; the monks handle most of the orders themselves.
Even prior to Deadspin, the abbey and its fruitcake had attracted national attention. After a feature in People magazine in 1990, the Abbey sold a whopping 32,000 cakes. That was too much, though. The monks felt no need to hire extra employees or start working double shifts.
"It's very unusual from a business point of view," Hampton admits, "but from a religious point of view, they want just enough to fill their needs. They don't want to invade their time for prayer."
At that point, Hampton had to go. There are still 10,000 fruitcakes that need to be shipped before Christmas.