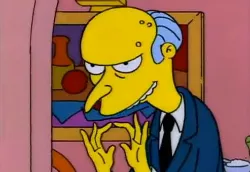 Notable plutocrat Charles Montgomery Burns.
Since President Barack Obama's reelection last week, several national restaurant chains and franchise owners have said they're sticking to anti-"Obamacare" threats made during campaign season. Many restaurants said that if the President was reelected they would enforce layoffs, restaurant closures or reduce staff hours to eliminate health benefits in reaction to the Patient Protection and Affordable Care Act.
And some of those robber barons weren't crying wolf.
Papa John's John Schnatter, chief executive of Papa John's, is perhaps the most public food service opponent to the Affordable Care Act. In August Schnatter threatened to raise pizza prices if Obama was reelected, and since that's come to pass, he's said employees might have hours cut.
Schnatter's stance on the Affordable Care Act has garnered criticism and support, with some customers calling for a Papa John's boycott, and others -- more than 15,000 of 'em -- rallying behind Facebook to make Friday, November 16, National Papa John's Appreciation Day.
According to a Forbes report that examines Papa John's financials, the company spends more on pizza promotions and giveaways each year than it would spend on employee healthcare under the Affordable Care Act.
Applebee's Like Papa John's Schnatter, Zane Tankel, chief executive officer of Apple-Metro, which operates Applebee's franchises across the United States, also found himself a source of media support and derision (see video above where Jon Stewart eviscerates Tankel and Schnatter) after blaming the Affordable Care Act for employee hour cuts and hiring freezes.
While speaking with Fox Business Network last week, Tankel said his Applebee's franchises wouldn't hire new employees or build new restaurants.
Darden Restaurants In October, the Orlando Sentinel reported that Florida-based Darden Restaurants, which operates Red Lobster, Olive Garden and LongHorn Steakhouse restaurants, would test cutting employee hours from full-time to part-time in response to the Affordable Care Act.
Currently 25 percent of Darden staff are full-time, which the company defines as workers who put in 30 hours or more per week. Denny's Huffington Post reports today that John Metz, a Denny's franchise owner based in Florida, has also come out against the Affordable Care Act by adding a five percent surcharge to guests' bills to offset "Obamacare" costs. Metz says he also plans to cut employees' hours in response to Obama's health care program. Janean Chun of HuffPo reports:
"If I leave the prices the same, but say on the menu that there is a 5 percent surcharge for Obamacare, customers have two choices. They can either pay it and tip 15 or 20 percent, or if they really feel so inclined, they can reduce the amount of tip they give to the server, who is the primary beneficiary of Obamacare," Metz told HuffPo.
Jimmy John's During his campaign for the presidency, Mitt Romney's support of Illinois-based sandwich chain Jimmy John's was well-known -- it was a popular stump speech on his campaign trail, toted as an example of the triumph of small business. The sandwich chain, which George Romney, Mitt's father, donated $20,000 of seed money to in the 1980s, is also weary of the Affordable Care Act.
In October, Jimmy John's founder Jimmy John Liautaud announced plans on Fox Business Network to cut employees down to 28 hours a week in order to make them ineligible for health care under the Affordable Care Act.
"We have to do that. There's no other way we can survive it, because we think it will cost us 50 cents a sandwich. That's just the actual cost. If you have 40 or 50 employees at a restaurant, and the penalty is $2,000, and you're going to pay $80,000 or $100,000 penalty, there goes the profit in your restaurant," Liautaud told Fox Business News.