Evan C. Jones
Coxhina with sorrel aoili at Niche.
Niche (7734 Forsyth Boulevard, Clayton; 314-773-7755), chef and restaurateur Gerard Craft's introduction to St. Louis, re-introduced itself last week in a new space in downtown Clayton. The reopened Niche shares a hallway and kitchen space with its sister restaurant Pastaria (7734 Forsyth Boulevard, Clayton; 314-862-6603), which debuted last month. Niche's dining room seats 48, with four seats at the open kitchen counter and another six at the bar.
According to Craft, the kitchen counter seats will host a ten-course tasting menu in the near future. Gut Check sampled several new menu items, including the "Coxhina," fried Brazilian cream cheese wrapped in chicken skin with a sorrel aioli; norton-braised turnips with a turnip puree, norton gelee and goat's milk; and a pumpkin custard with crème fraîche ice cream.
The most seductive bite of the night was the least expected (though if you dined at the original Niche this year, you might have enjoyed it): An egg suddenly appeared on the place setting filled with maple custard, shiitake mushrooms and bonito caviar.
We caught up with Craft to discuss the new space, and where he sees the St. Louis dining scene in the near future.
Evan C. Jones
Maple custard with shiitake mushrooms and Bonito caviar.
What originally intrigued you about the Clayton location?
Gerard Craft: Number one, it was the perfect place for Pastaria, which was a big motivator. Being able to be next door to Pastaria and try to keep all my locations as close as possible. I live in between Niche and Pastaria [in Clayton] and Taste and Brasserie [in the Central West End], so being able to be centralized was a huge help. Number two, I thought the building was very cool, and I'm a big fan of the architecture so that definitely intrigued me. I'm always intrigued by modern architecture and architecture in general.
What features about new Niche space excite you the most?
We got to re-design the kitchen in a way, I think, that works with the Niche style, I guess I'd say. It's set up around an island, and Niche is more of a teamwork effort during service as far as everybody helps plate everything to a degree. It should be more centralized, less shouting, less back and forth between the cooks. Everybody is kinda right in front of each other, and everyone can communicate a lot better.
What are your new inspirations for the menu?
I wouldn't say new inspirations for the menu because I think our food's been a work in progress since we opened seven years ago. We keep pushing and keep trying to realize goals every day. We're a modern restaurant, so we're always challenging techniques and ingredients. My inspiration, as it was when we left Niche in Benton Park, is the same. We're trying to find the best ingredients possible and we're trying to do our best as close to home as possible. So that's about it.
Does that tie back into the Niche style that you mentioned earlier, as far as those core elements you're keeping consistent?
Exactly, exactly. It's still modern, it's still progressive, but it still ties into our philosophy of knowing where our food came from, and trying to use foods in season, and foods that make sense but also foods that might challenge people a little bit.
Are you planning to continue dinner service on Mondays like at the Benton Park location?
Right now we are not, because we're right next door to Pastaria and that doesn't quite make sense. We're giving all the guys in the kitchen a day off. We're gonna start out open five days a week, and our goal is to just be six days a week instead of the seven before. It'll give us a chance to re-tool once a week.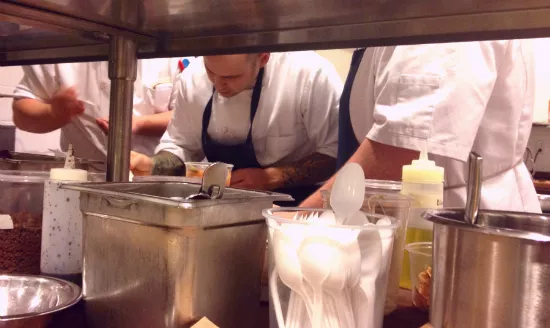 Evan C. Jones
Executive chef Gerard Craft working in Niche's new kitchen at the Clayton location on opening night.
We've heard you're keeping Niche's former Benton Park location for butchering. What's the interest in doing that? Will it become a commissary?
In the sense, of butchery, yes. We've always believed in utilization of the whole animal, and one of the more challenging things has been the whole cow to tackle. We've done it, but it is a challenge. But now we have four restaurants and four places to utilize that cow. So having one person in charge of distributing that is incredibly helpful. We now have a place to utilize everybody. It's once again pushing us to take another step in that direction of knowing where everything's from. We have somebody who is currently raising cows for us, and we hope to delve more into the topic of what the cow's eating and how we can change flavors and fat content. It just really helps us push to another level.
Where do you see your restaurants and restaurant group in five years?
Five years from now feels like a long time. Right now we're really focused on trying to get these projects that we're doing right, so we don't have any goals or any growth planned in the very near future. We're always looking for growth in the distant future. Right now, it's to get these things up and running at the level we'd like them to run. Pastaria is still only a month old, so we have a long road ahead of us as far as getting that 100 percent quality that we want. We'll be focused on that.
We want to focus on in-home dining. Something we've been working on over the years is doing more catering, and we'll start to develop that more as we go. Other than that, keep focusing. That's always been our goal, to grow but then really focus and hone in and make sure everything's running perfectly, then you kind of can grow again then back to the basics.
As far as St. Louis as a food city, where do you think the dining scene will be in the next five years?
Oh, I mean there's already huge growth already happening in this town. I know St. Louis has always prided itself on supporting the locals, and that's great but I think now with so many different styles and levels of concepts, now they really can start to avoid the chains. There [are] great burger joints like 5 Star Burgers (8125 Maryland Avenue, Clayton; 314-720-4350). There's great cocktail joints, great Italian restaurants now. There's quite a few fine dining restaurants. There's great ethnic restaurants.
There's really no need anymore to go outside of the box. Why go to a restaurant like P.F. Chang's or something when you can go to a restaurant like Mai Lee (8396 Musick Memorial Drive, Brentwood; 314-645-2835), which is ten times better. We have such a diversity now in our restaurants that people will support St. Louis dining even more.