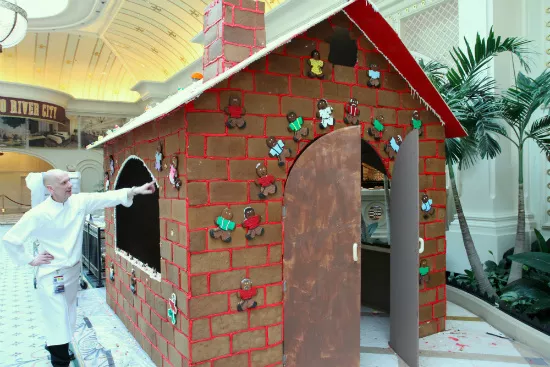 The life-sized, dine-in gingerbread house at River City Casino.
Thanks to ole Jacob and Wilhelm Grimm, Gut Check approaches news of life-sized gingerbread houses with slight trepidation. On the one hand, we love candy and gingerbread. On the other, we could do without being held captive by an evil witch who wants to eat us for dinner.
As it turns out, this holiday season Lumiere Place Casino and Hotel (999 North Second Street; 314-881-7777) and River City Casino (777 River City Casino Boulevard; 314-388-7777) are debuting fourteen-foot tall life-sized, dine-in gingerbread houses at their restaurants that only promote dinner and do-goodery. Specifically, the proceeds benefit the Center for Hearing and Speech "Not So Silent Night" campaign, which purchases hearing aides for those in-need.
That's a fairy tale ending to rival Hansel and Gretel's own happily ever after.
Beginning Thursday, November 8, through Wednesday, December 26, both casinos will take reservations for a $20 fee for guests to dine in the gingerbread houses, which seat four per house. Wondering what a real-life gingerbread house is made out of? So were we.
Chefs at River City Casino approve this life-sized gingerbread house.
Just a few of the ingredients it takes to make a life-sized gingerbread house are 450 pounds of gingerbread dough, 100 pounds of shortening, 90 pounds of corn syrup, 117 pounds of flour, 400 freshly baked cookies and 300 pounds of icing. Yeesh. Thank goodness contact diabetes a thing we just made-up, and not a real disease.
Once inside the gingerbread house, dinner guests are presented with a special $25 pre-fixe menu, including choice of soup, salad, entree and dessert. Click through below for the full menu.
To make a reservation with Lumiere Place call 314-881-7595; for River City Casino call 314-388-7625. Lumiere Place and River City Casinos Gingerbread House Menu $25
Soup Pumpkin Pie Soup, Crème Fraiche, Toasted Pepitas
or
Salad Field Green Salad, Toasted Walnuts, Goat Cheese, Pecan Wood Smoked Bacon Champagne Vinaigrette
Entrée Braised Ham, 1904 Bourbon Glaze Sweet Potato & Yukon Gold Gratin Baby Carrots
or
Roasted Turkey Breast, Apple Cider Glaze Grilled Sweet Potatoes, Sage Butter Sauce Fresh Haricot Vert, Cranberry Vinaigrette
Dessert
Eggnog Flan, Cinnamon Crust, Myer's Dark Rum Whipped Crème