Mabel Suen
Manila Bistro's "Halo-Halo" dessert.
It's hard to imagine that St. Louis' longest standing Filipino restaurant concept, Manila Cafe, started out with just two tables on Cherokee Street in 1978. Its history spans various incarnations at dining destinations such as annual local festivals, Union Station, South Grand and downtown Kirkwood. Most recently, Manila Bistro (#343-#8 South Kirkwood Road, Kirkwood; 314-966-5288) opened in late August to offer a dine-in experience to supplement Cafe Manila, a seasonal quick-service stand at the Kirkwood Farmers' Market since 1995.
Mabel
Chef-owner Emilio Bombais; Salmon with salsa rojo.
Between lunch and dinner service at the former Quiznos turned Southeast Asian themed restaurant, chef-owner Emilio Bombais tells us his story. Armed with only $50 in his pocket after reluctantly fleeing the Philippines during a period of martial law, he worked his way up from ice cream maker to manager at Famous Barr (back when the department store restaurant's onion soup was all the craze). After five years of learning the finer points of service at Tony's, he decided to go into business for himself in between teaching cooking classes at Dierbergs and St. Louis Community College.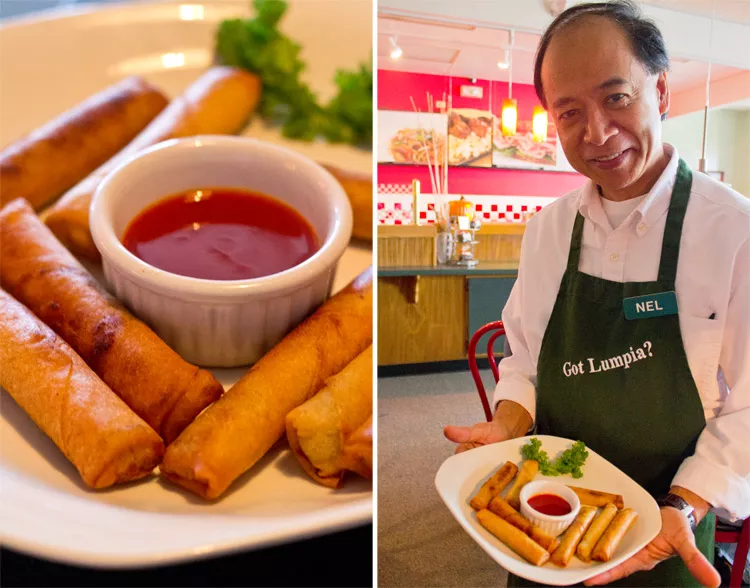 Mabel Suen
Bombais' cousin Nel Delacruz serves up a freshly fried order of "Lumpia Manila."
Manila Bistro's menu offers more traditional Filipino fare than street food, with wine and beer options to unwind with. When asked to characterize Filipino cuisine for the uninitiated, Bombais explains that terminology is historically heavily influenced by Spain.
He adds, "Filipino food may be similar to other Asian cuisines, but the ingredients and spices are a bit different."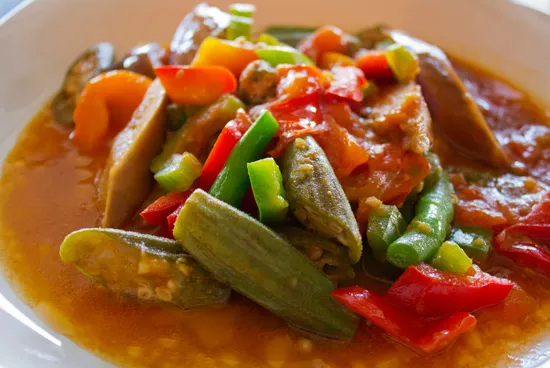 Mabel Suen
"Pinakbet" with bitter melon, yellow squash, okra, long beans, tomato and eggplant.
This means the use of vegetables that don't get nearly enough play on Western menus. Ask for dishes with the likes of bok choy, Napa, chayote, mustard greens, eggplant and bitter melon. For those unfamiliar with entrees such as "Tinolang Manok" (chicken and vegetables in ginger-based soup), "Sinigang na Baboy" (pork rib tips and vegetables in tamarind based soup) and "Bicol Express" (fresh yellow squash and hot chilies in coconut milk), worry not, for the full menu comes complete with these explanations, and a friendly staff happily assists with dining decisions.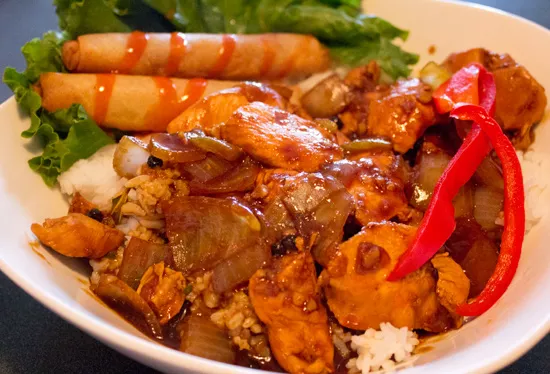 Mabel Suen
Chicken adobo.
Cafe Manila also offers more widely recognized items such as lumpia ($5.25), or fried savory pastries filled with seasoned ground pork, shrimp, turnips and carrots served with spicy banana sauce; and chicken adobo ($7.50 for a lunch portion; $8.95 for dinner), which consists of breast of chicken cooked in sugarcane vinegar with potatoes, peppercorns and special soy with a touch of bay leaves.
During the day, Manila Cafe also serves American-style soups, salads and gourmet sandwiches such as tuna and chicken salad ($5.59) for on-the-go folks hoping to grab a quick lunch. And by the way, the usual rule applies here more than usual: Save room for dessert! Options include a huge helping of "Halo-Halo" ($6.95) with sweet preserved red beans, soft coconut, jack fruit, sugar palm fruit, crushed ice, ice cream and purple yam, "Turron" ($2.25), or fried sweet plantains in special wrapper, and "Leche Flan" ($3.95).
Manila Bistro's current hours are Tuesday through Saturday from 11 a.m. to 2:30 p.m. and 5 to 9 p.m.; and Sunday from 11 a.m. to 2:30 p.m. and 5 to 8 p.m. Happy hour with beer and wine specials lasts from 5 to 7 p.m.