Liz Miller
New Adirondack-style chairs outside to south county Red Lobster.
In 2009, national seafood chain Red Lobster began remodeling its restaurants and menus, "in a style inspired by the New England coast." This fall it completed renovation on all of its eight locations in the greater St. Louis area, and on Monday, October 15, it debuted its new menus, which it describes as, "the most comprehensive menu transformation in the brand's history," in restaurants across the country.
Career fans of Red Lobster's complimentary "Cheddar Bay Biscuits," Gut Check headed to the Red Lobster-Concord (5733 South Lindbergh Boulevard, Concord; 314-487-7744) in south county to behold the metamorphosis.
The architecture and design of the remodeled restaurants is sleeker and more subtle, aiming for a more modern New England aesthetic. Basically this is not the Sea Captain's all-you-can-eat seafood buffet, though Red Lobster's endless shrimp special still stands. The exterior of the south county location now features "ship lantern" lighting, complementing shades of gray exterior walls and a small sitting area in front of the restaurant with new Adirondack-style chairs, presumably extra seating for guests waiting to be seated. And that's good, because when Gut Check visited, at 7 p.m. on a Saturday night, the projected wait time was 45 minutes.
They weren't exaggerating, Red Lobster on a Saturday night is an event. The lobby of the restaurant was jam-packed with patrons of all ages and new guests continued to trickle in. The lobby is a lot dimmer than we remember, and also a lot more sedated. There are no ropes or swordfish plastered to the walls, just some framed maps and photos of lighthouses.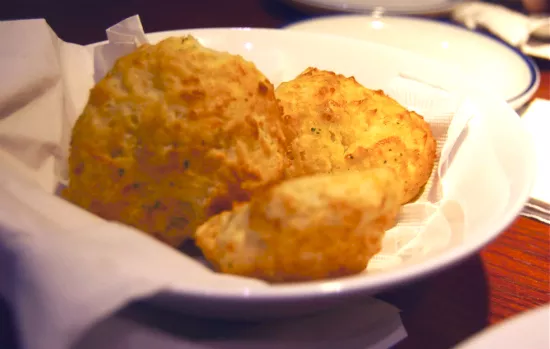 Liz Miller
Thankfully, "Cheddar Bay Biscuits" remain the same.
Our wait was made more enjoyable though by another of the restaurant's new enticements, a QR code that, when scanned, proffers "Red Lobster's Seaside Trivia Game." Sure, trivia questions like "Our new warm and inviting restaurant design was inspired by which seaside town in Maine?" isn't exactly knowledge we'll put to future use as contestants on Jeopardy, but maybe it is? (If you're curious, the correct answer is "Bar Harbor." We guessed that one correctly, but only because of the large "Bar Harbor" text etched into the mirror behind the restaurant's bar. A-doy.)
If a bit silly, it's not a bad way to pass time during a 45 minute wait. Before we knew it our electronic holding cell beeper was ablaze with light and sound, and a hostess ushered us to a booth in the dining room.
Sure, so far we were having fun. But would the food keep us on the hook?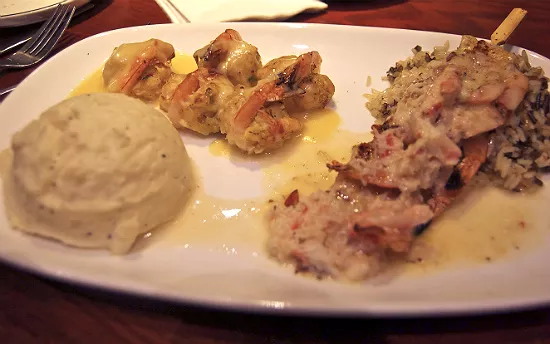 Liz Miller
"Chesapeake Shrimp with Crab," one of Red Lobster's new menu items.
Then, we're not exactly hard to please. Our hostess assured us -- at our request, obviously -- that the "Cheddar Bay Biscuits" were the same, which was enough to immediately pacify us. She also said the south county restaurant completed its exterior and interior remodel this summer, which included knocking down a wall in the dining room to create more open space. Indeed, the dining room is large and open and just as dimly lit as the lobby. And why shouldn't it be? Gut Check glanced many a two-person party at Red Lobster, perhaps out for date night.
Maybe the real sign of a true catch is one who buys you endless shrimp and is still attracted to you after you wolf down five plates worth. In that spirit, Gut Check opted for one order of endless shrimp at a reasonable $14.99 (this special cannot be split or shared and is dine-in only, so don't even think about asking for a take-away box lest you relish the red-faced embarrassment we experienced) and one of many new menu items, the "Chesapeake Shrimp with Crab" ($14.99). Both menu items come with choice of salad, and of course, "Cheddar Bay Biscuits." Though we had a lot of work ahead of us, Gut Check gobbled up our salad and all the biscuits. Our server could hardly keep up with us. We came to be an endless biscuit and shrimp eating machine, and we tore through both as if was programmed into our internal circuit board.
The new "Chesapeake Shrimp with Crab" dish also didn't disappoint. It includes a grilled shrimp skewer with crab butter and five crab-and-seafood-stuffed shrimp topped with a lobster beurre blanc, served with wild rice pilaf and choice of accompaniment (Gut Check opted for mashed potatoes). It's a lot of food. It's so much food that it makes endless shrimp look like a raw deal. It's why we need to go pants shopping.
Like the "Chesapeake Shrimp with Crab," much of the entrees clock in at under $15, for what we can't stress enough, is an avalanche of food. Lighter options exist too, as does a catch of the day type menu that changes daily, promising "today's fresh fish." Had our strategy been to eat sensible portions of healthy fare we would have had many options, perhaps more than our past, deep-fried popcorn shrimp memory of Red Lobster would have imagined.
Red Lobster's eight restaurants in the greater St. Louis area are open daily from 11 a.m. to 10 p.m. Sunday through Thursday and till 11 p.m. on Friday and Saturday.