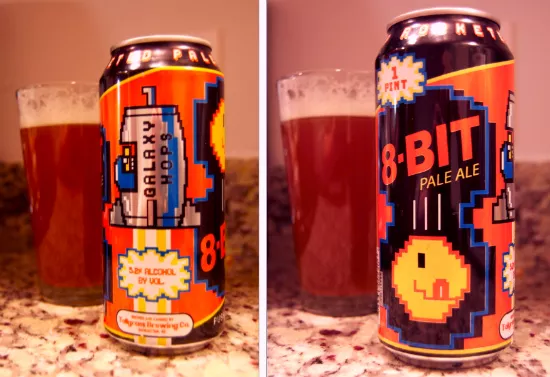 Finally, Walt Disney Animation Studios is taking a page from Pixar's illustrious animation board. On Friday, November 2, it released Wreck-It Ralph in theaters nationwide, spurring Gut Check to make a trip to Ronnies 20 Cine (5320 South Lindbergh Boulevard; 314-843-4336) in south county to catch the flick in IMAX 3D.
And the movie reminded us of a beer we've been meaning to buy for awhile now, too: Kansas-based Tallgrass Brewing Company's 8-Bit Pale Ale.
The combination didn't disappoint.
Much of the magic in Wreck-It Ralph lies in its familiarity. Like Toy Story, it literally brings childhood objects to life (this time through video games), through heroes and would-be heels. Like most Pixar films, its characters struggle with identity and finding their place in the world. Grown-up Gut Check very much enjoyed the voice acting by the film's stars John C. Reilly (unhappy villain Ralph), Sarah Silverman (plucky game glitch Vanellope von Schweetz), Jack McBrayer (Fix-It Felix Jr., the good guy to Ralph's heel) and Jane Lynch (Sergeant Calhoun, a soldier from modern first-person shooter game Hero's Duty). Each actor seems, to some degree, a reflection of their character. And the 2D world of 8-bit video games transitions into 3D film so flawlessly it feels, well, real.
Cameos throughout the film by some of our favorite childhood video-game characters -- Bowser, Q-bert, and Pac-Man, just to name a few -- add punch, and stunning visuals and strong acting make Wreck-It Ralph a joy to behold. Because even if we've never wanted to live in someone else's world just for a day, we've definitely wanted to live in a video-game world, and Wreck-It Ralph lets us live that fantasy for 108 minutes.
Though it occurred to Gut Check to sneak a can or two of Tallgrass Brewing Company's 8-Bit Pale Ale into the theater, we resisted because it's a kid's movie and we attended a matinee on a Saturday afternoon. Also, RFT had already met our weekly quota for drinking alcohol at a children's event. Instead, we waited till after leaving the theater to stop in Straub's (302 North Kingshighway; 314-361-6646) in the Central West End to pick up a four-pack of one-pint cans of 8-bit beer.
In truth the beer's retro 8-bit design is what drew us to choose it as a suitable dinner accompaniment for Wreck-It Ralph, but really, it's applicable in a broader way. Some of the film's funniest bits of humor are not aimed at children -- seriously, most 21-year-olds have no idea what a konami code is, and 8-bit video games are a world apart from modern gaming. Subtle details such as that play best to a crowd who remembers the glory days of 8-bit games.
Which, coincidentally, is also a crowd that can now legally buy beer.