Rease Kirchner
The carne asada tacos at Vida Mexican Kitchen y Cantina.
Vida Mexican Kitchen y Cantina (South Brentwood Boulevard & Clayton Road, Richmond Heights; 314-863-1150) opened its doors this week at the Saint Louis Galleria. Gut Check spoke with head chef Chris Swinyard to get the lowdown on everything from the restaurant's "traditional guacamole" to its margaritas.
The first Vida Mexican Kitchen y Cantina opened in Charlotte, North Carolina, but the St. Louis location has dropped a few items from that menu and added a few of its own. You'll find both traditional dishes such as tender carnitas and Americanized options like bulging burritos.
Swinyard says adding burritos led to a bit of a debate among the staff about the dish's authenticity, or lack thereof, but in the end, they wanted to give people something familiar that they know and love.
He adds, "If we're going to do a burrito, we're going to do the best burrito we possibly can."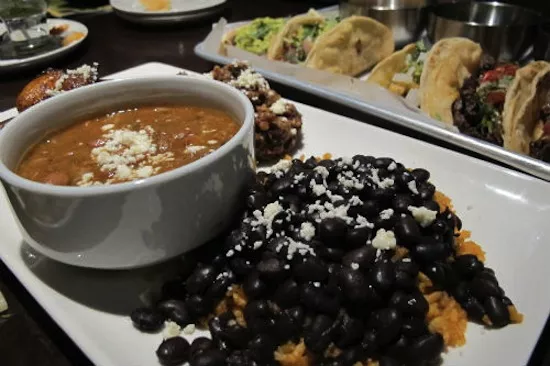 Rease Kirchner
Charro beans and black beans with red chile rice at Vida Mexican Kitchen y Cantina.
Swinyard explains that the Vida team worked together to create something they would be proud to serve and enjoy eating: "It's really just an evolution of us talking about food we like."
"I've always dreamed of having a Mexican restaurant, " Swinyard says. "We want to stay authentic but have fun with it too."
When Gut Check asks Swinyard which menu item was his favorite mix of authenticity and creativity, he immediately points out the "Filet Mignon with Poblano Pesto," an eight-ounce filet topped with a homemade poblano-pesto sauce along with the house cheese blend and served with a blackened tomatillo salsa and grilled green onions.
Swinyard is also quite proud of what he considers his most authentic dish, the carnitas. Everything from the high quality CAB meat to the preparation process is just like it is in Mexico. The slightly tweaked recipe is based on one created by the Mexican grandmother of one of the chefs at Vida's Charlotte location. The carnitas are cooked in clarified lard and marinated overnight. Vida has a prep team working sixteen hours a day to make sure things like the carnitas as well as the barbacoa meat -- which is marinated for a whopping 24 hours -- are always perfectly seasoned and cooked.
Swinyard is so dedicated to the authenticity of his cuisine that he plans annual trips to Mexico for his St. Louis and Charlotte cooking teams. "I'll take the team to Mexico for a weeklong culinary school," he says. The goal is to keep the menu fresh and never considered it completely finished.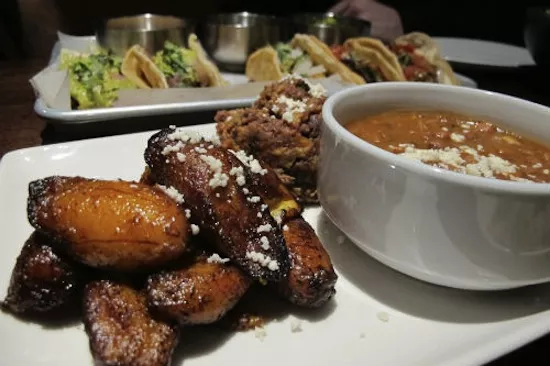 Rease Kirchner
Fried Plantains and charro beans at Vida.
Vida Mexican Kitchen y Cantina strives to work only with local vendors whenever possible. It orders its handmade corn tortillas from a vendor on Cherokee Street and purchases its produce through All Time Produce, a company that works to bring local vendors and buyers together.
Purchasing from local vendors also allows the restaurant to create the freshest food possible. Even its tortilla chips are made fresh to order. "You'll never see a big bin of chips back in the kitchen, " Swinyard says. "We fire those up every ten to fifteen minutes, all day long."
Rease Kirchner
The "Coronarita" frozen margarita at Vida.
The made-to-order philosophy also means that almost any dish can be made vegetarian- or vegan-friendly. We're not talking a lame quesadilla with a side of rice, either. You can get a fully loaded veggie burrito, vegetarian beans or even fried plantains.
"We originally had two different kinds of beans on the menu, one made with lard and one that was vegetarian-friendly," Swinyard explains. "In the end, we decided to just serve the vegetarian option. We also mark menu items when they are gluten-free. About 80 percent of our menu is gluten-free as it is, actually."
As to Vida's desired demographic, operating partner Drew Graefe says, "We're looking for the style of person who wants to have fun and enjoy life on a daily basis." With specials such as $2 tacos after 7 p.m. on Tuesdays and shareable drinks such as the 60-ounce "Tablerita Margarita," we'd expect that's definitely the type of crowd you can expect to see at Vida.
After parading out several drinks such as crowd favorite "Coronarita" (a margarita served with a mini Corona bottle turned upside down in the glass), Swinyard chuckles and says, "The whole reason to be involved in this is there is something fun about going to a Mexican restaurant. We're trying to emulate that. Fun food with simple, defined flavors."
Vida Mexican Kitchen y Cantina is currently open 11 a.m. to midnight on Mondays and Tuesdays, 11 a.m. to 1:30 a.m. Wednesday through Friday and 10 to 1:30 a.m. on Saturdays and Sundays. It offers daily happy hours from 3 to 7 p.m. with $2 tacos after 7 p.m. on Tuesdays, and a weekly Saturday brunch.