Mount Pleasant Winery (5634 High Street, Augusta, Missouri; 800-467-9463) based in Augusta, Missouri, recently received some national praise. Wine Enthusiast, the de facto national magazine for wine lovers, has rated ten selections from the winery, which is located less than 50 miles outside St. Louis. The results went live on the Wine Enthusiast website today, and appear in the magazine's November issue.
Gut Check caught up with Mount Pleasant president Chuck Dressel to discuss what the ratings mean for Missouri wines -- and to learn which wines earned the highest marks.
Gut Check: Congratulations on being featured in Wine Enthusiast. What was the reaction at the winery?
Chuck Dressel: "I think that the great thing for us is that Wine Enthusiast is a nationally recognized magazine, and not only it's great for us but great for Missouri to be able to have wines that are published in a national magazine. Standing behind it and saying, 'These are pretty good wines.' We're really excited. We don't want to rest on our laurels, we want to make sure every harvest is better than the previous one."
Image via
Mount Pleasant Winery president Chuck Dressel.
GC: Which Mount Pleasant wines are your favorites?
CD: As a business owner, I like all the [wines] that our customers would buy. As a wine person who loves to drink wine, the thing that I really enjoy the most is our vignoles. It's a really neat wine that's made from the grape that we grow here in the southern part of the Midwest. It just makes a great wine. The other wine I really really like, I've always liked for years, is our port. Those wines to me are the really special ones that I enjoy the most. They're not the most expensive ones on our menu, but those are the ones I personally enjoy.
GC: You mentioned how this feature is good for Missouri and the wine community in Missouri as a whole. Are you seeing more recognition for Missouri wines on a national scale?
CD: I think it definitely doesn't hurt. The thing I try to encourage in all of the wineries in Missouri is to submit wines to these magazines. If we can start to consistently have seven or eight vineyards throughout the state making very consistent wines, we can see the same effect that happened in Oregon years ago, happen in Missouri. We're seeing a little bit of it happening now in New York state and I think that in Missouri, for whatever reason, it's time to start being recognized as making good wines. I think the consumers of Missouri are demanding that we make great wines. It's time for everyone to step up to the plate and go out and see what kind of ratings we can get.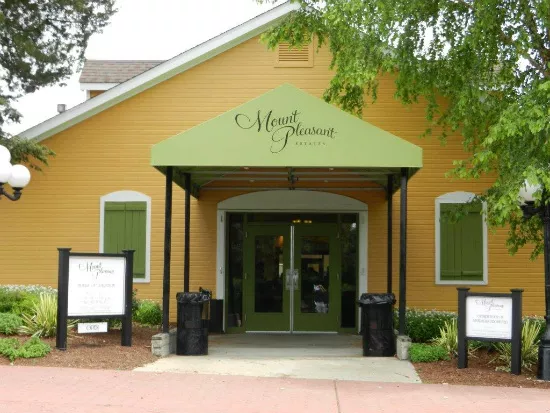 Image via
The entrance to Mount Pleasant Winery in Augusta, Missouri.
GC: California is known for their cabernet and Oregon is known for pinot noir. For those who aren't as familiar with Missouri wines, what varietals does Missouri bring to the table?
CD: We have two fantastic grape varieties. We have a white variety called vignoles. It's really a fabulous springtime wine that can be finished anywhere from a dryer style to a semi-dry and really make outstanding wine. The other grape variety that Missouri is known for is its nortons. There are several producers of this grape. Missouri nortons are the best in the country, even with respect to Virginia and other states that have been growing nortons for a long time. I think the Missouri nortons are the best you can find anywhere in the world. That grape has a wonderful history behind it, a great story to play out and how its truly an American grape varietal. I think once people get to know that grape varietal, I think they'll really enjoy it a lot.
GC: What does the future for Mount Pleasant Winery look like?
CD: We just simply want to make better wines. One things we need to make better wines is consumer demand. We're finding that as our wines are improving, the people who are coming out to visit us, they are demanding higher and higher quality and better and better service and products to purchase. We see ourselves trying to meet our customer's demands and trying to really continue to make ourselves better and make our products better to see where it'll take us. I see the whole Augusta region developing into not necessarily a Napa Valley, but something more along the lines of a Sonoma or Columbia River Valley; a great place to visit. It's not as pretentious as Napa or Bordeaux, but the quality is very good, and they'll have a great time here.
The following wines were reviewed by Wine Enthusiast and are based on a 100 point scale: Mount Pleasant 2008 Bethlehem Valley Norton, 85 points Mount Pleasant 2010 Estates Merlot, 84 points Mount Pleasant 2008 Estates Norton, 84 points Mount Pleasant 2007 Bethlehem Valley Norton, 83 points Mount Pleasant Estates Cabernet Sauvignon, 83 points Mount Pleasant Winery Norton, 83 points Mount Pleasant Winery Villagio Off Dry Blend, 82 points Mount Pleasant 2010 Estates St. Vincent, 85 points (sold out; enjoy Mount Pleasant 2011 Estates St. Vincent) Mount Pleasant 2010 Estates Vignoles, 86 points (sold out; enjoy Mount Pleasant 2011 Estates Vignoles) Mount Pleasant 2010 Estates Villagio, 86 points (sold out; enjoy Mount Pleasant 2011 Estates Villagio)