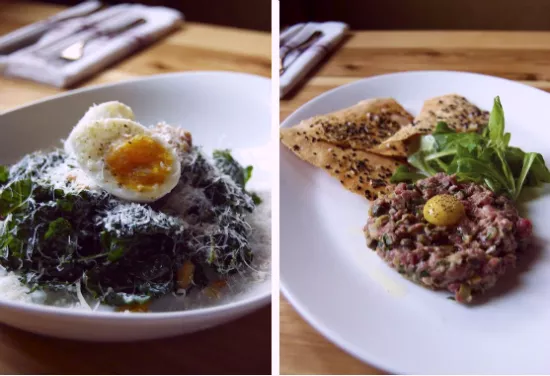 Liz Miller
Black kale salad (left) with lemon anchovy vinaigrette and soft boiled farm egg and steak tartare (right) with traditional accompaniments and flatbread.
The Cheshire has been serving food on Clayton Road for more than 80 years. It first opened shop in the late 1920s as Medart's Olde Cheshire, a luncheonette that served burgers out of a log cabin. In 1960, Steven J. Apted bought the restaurant and converted it into the Cheshire Inn, a British-themed restaurant, and four years later, added a hotel, the Cheshire Lodge, to the property. In 2010 it changed hands again when St. Louis-based Lodging Hospitality Management (LHM) purchased it. The first order of business for LHM was to remodel the hotel, now simply called the Cheshire. The hotel reopened for business in August 2011 and opened an adjacent pool this past summer.
On Monday, November 5, the Restaurant at the Cheshire (6300 Clayton Road, Clayton; 314-647-7300), a modernized concept that retains the Cheshire's rich history, opens its doors.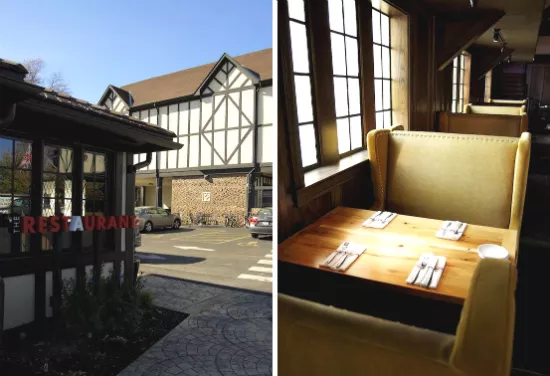 Liz Miller
The exterior and interior of the newly remodeled Restaurant at the Cheshire.
General manager Nelson Constant says the new restaurant's interiors and menus retain the property's legacy while also moving forward with contemporary influences. Constant says the building's original wood-work and wood-burning fireplaces have been maintained, and its most popular menu items from years past make a reappearance on the menu.
"We're bringing back some of the staples, the traditional things, prime rib, Yorkshire pudding, farmer's soup -- just an ode to the Cheshire," Constant says. "There are so many fond memories that guests have of this property. People have an attachment to this property. I think that was one of the great things...to see everybody's anticipation and excitement to see this project through."
Executive chef Wilfrin Fernandez came to the Cheshire with a little help from wife Lisa Fernandez-Cruz, the restaurant's executive pastry chef -- and St. Louis native. The couple met while working at 202 inside the Chelsea Market in New York City, and until September, had lived and worked in New York for many years (most recently Fernandez worked at Cookshop in Chelsea and Fernandez-Cruz at Peter Hoffman's Back Forty West and Back Forty in the East Village). After seeing the executive chef position at the Cheshire posted online, she submitted Fernandez's resume. And last month, the couple and their two young sons made the move from New York City to St. Louis.
"We met in a restaurant. It's nice, because working in restaurants separately, we still always came home and talked about the restaurants. About what we were doing," Fernandez-Cruz says. "Now it's fun, because instead, we ask 'Well what are you doing and how can I play off of it?' or 'What I'm doing and how do you want to work off this?' We always motivate each other in menu ideas. And, plus, we see each other. It's really great to be in the same space, working on the same project."
So far Fernandez, a New Yorker by way of the Dominican Republic, is loving living in St. Louis, and the opportunity to share his passion for food with guests of the Cheshire.
"I came here with a lot of expectations," Fernandez says. "My food is simple, honest food. Nothing pretentious, kind of rustic but with finesse, with different ingredients, different types of food. I try to use what's in the area. One reason I took this job was the potential in St. Louis. It's the same thing in New York -- you have all the farmer's markets, great relationships with farmers."
Menu items source ingredients from a wide variety of local farmers, including Rain Crow Ranch, Marcoot Farms, Baetje Farms Goat Cheese, Ben Roberts Heritage Poultry, Ozark Forest Mushrooms, American Pasture Pork.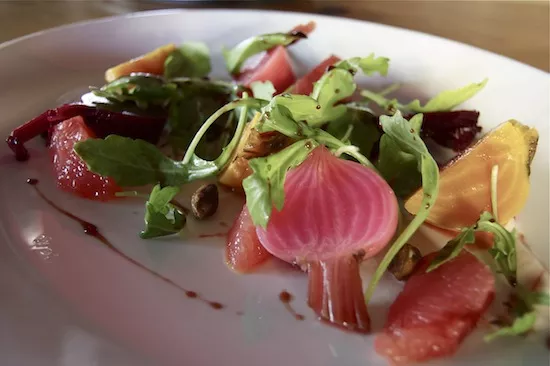 Liz Miller
Pickled local beet salad with toasted pistachio, ruby grapefruit and spiced yogurt.
Classic Cheshire dishes, under the banner "Throw Backs" on its seasonally inspired menu, sit side-by-side with new specialties by Fernandez and Fernandez-Cruz. One "throwback," the prime rib with Yorkshire pudding, for example, now comes with with clotted horseradish cream and potted root vegetables in two cuts: king cut ($45) and house cut ($28). Another is its braised grass-fed beef short ribs, served with roasted garlic mash and baby carrots ($22).
"I want to reincorporate those [former menu items] in a different way," Fernandez says. "We're doing prime rib with a king cut, which is about a pound-and-a-half portion, with Yorkshire pudding, vegetables and horseradish cream. I think people will be excited to see that. Also the fish and chips with thick-cut potatoes, because it's a British style and I want to keep it in that direction. We have short ribs -- simple, but back in the day a hugely successful dish. The burgershire soup was the soup they used to make at the restaurant with a base of ground beef. I made it into the farmer's soup."
Fernandez's influence is evident in the restaurant's new entrees, including Missouri lamb chop and braised shoulder with curried shell beans and black olive relish ($32), herb marinated flap steak with Cheshire potato croquette ($22), Atlantic swordfish with slow-cooked broccoli, dried fig and almond chutney ($28) and Rain Crow Ranch pork chop with bubble and squeak and spiced apple butter ($24). To complement the menus Fernandez and Fernandez-Cruz have developed, the Cheshire is stocked with 1,700 varieties of wine, available at its front-room bar or paired with dishes in its dining room.
"Everything is made in the house, from mayonnaise to crème fraîche to yogurt, all the ice creams and pastas," Fernandez says.
Liz Miller
Meyer lemon tart (left) with heirloom citrus, pomegranate molasses and elderflower sorbet and chocolate split layer cake (right) with smoked caramel and buttermilk ice cream.
For the dessert menu, Fernandez-Cruz says she mused on meals she enjoyed eating during her youth, aiming for a simple but sweet selection of desserts and pastries.
"I wanted to keep development of this menu traditional but with my own little flair," Fernandez-Cruz says. "I really like balancing flavors on the palettes. I use a lot of savory items in my desserts. Not too crazy, but I think it plays on them well, it balances them well. I like a good salt content in my ice cream."
She describes chocolate cake as a childhood favorite, inspiring the chocolate split later cake with smoked caramel and buttermilk ice cream on the restaurant's menu. Similarly, the deep dish apple pie with bacon, pecan and salted caramel ice cream pulled from her memories of St. Louis.
Liz Miller
"Eton Mess Fool" with black currant sauce, black pepper meringue, mint honey mousse and almond ice cream.
Other dessert menu items include stout gingerbread with smoked pumpkin, maple cream and sour pears, Meyer lemon tart with heirloom citrus, pomegranate molasses and elderflower sorbet, chocolate split later cake with smoked caramel and buttermilk ice cream and the "Eton Mess Fool," with black currant sauce, black pepper meringue, mint honey mousse and almond ice cream.
"It's exciting to take everything we've learned and bring it to a new environment, a new city and a new group of people," Fernandez-Cruz says.
Just as Fernandez and Fernandez-Cruz sought to carefully retain the Cheshire's history while evolving it too, the owners of the Cheshire with the restaurant's interiors. The space has been transformed into fresh, sleek bar and dining areas studded with Midcentury Modern sensibilities and furnishings. An open kitchen in the center of dining room services the entire restaurant, a feature that's especially important to Fernandez and his team.
Liz Miller
Executive chef Wilfrin Fernandez (right) instructs a team member in the kitchen.
"Most of the kitchens [where] I worked in New York were open kitchens," Fernandez says. "It's entertainment for the guests, also it's good for the cook as well. From the standpoint of cooking, it's good to keep it quiet, you know what they're doing."
Open kitchens don't just transmit transparency, though. According to Fernandez, the real luxury an open kitchen affords chefs is opportunity to meet and interact with guests of the restaurant. He says the restaurant plans to cut and serve meat from the two chef's tables directly in front of the kitchen.
"At the same time I like to have connection with the cooks and the customers. We'll have two chefs tables that we'll feed people from, some specials every night. Cut a piece of meat from the grill, rotisserie or smoker. It's a showpiece of the restaurant. My station is in the dining room. I like to talk to people, I like to explain to people the way the food is cooked. It's a good feeling when you see happy people at tables. They like the food, they see the decor, they see the kitchen."
In addition the Restaurant at the Cheshire, the property will also soon house an events space above the restaurant called Upstairs at The Cheshire and two additional eateries: Basso, a gastro-pub featuring Italian food including wood-fired pizzas, pastas and 32 beers on tap slated to open in the building's basement in mid-December, and the Market, a fast-casual cafe and grocery shop attached to the Restaurant at the Cheshire scheduled to open in early 2013. Fernandez-Cruz says the Market will sell all of the house-made items served in the restaurant, such as smoked meats, pasta, cake, bread, sandwiches, rotisserie chicken, olive oil, wines and more. Fernandez describes the collection of businesses as a one-stop destination offering something for everyone.
"You have everything you need in one complex," Fernandez says. "A restaurant with great food and wine; downstairs there's 32 beers on tap, pizzas, pastas, small plates; a banquet facility; the Market where you can sit down, read a newspaper, have a glass of wine or just have a sandwich with cappuccino or espresso, or buy a good bottle of wine or olive oil to take home. That's my goal: Make sure that people come here and feel like there's something on the menu for them."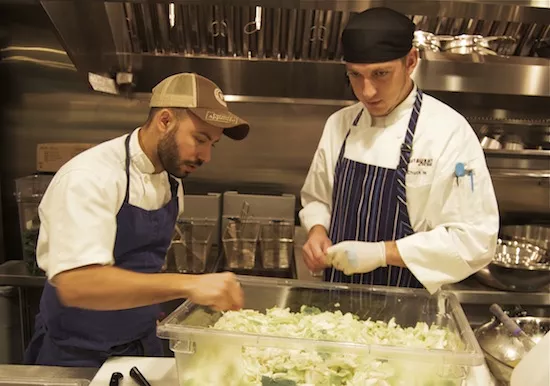 Liz Miller
Executive chef Wilfrin Fernandez (left) instructs staff in the kitchen.