In the nearly four years since the low-slung building that used to house Off the Vine has been closed, the space at Hampton and Columbia avenues sat dark and empty, acquiring cobwebs. Nearly three weeks after it has reopened, 2605 Hampton Avenue, now known as SOHA Bar & Grill, is still rather dark. Cobwebs are present, too, but so are glittery skulls and other Halloween-themed decorations. And it's been anything but empty.
SOHA Bar & Grill is on its way to filling the gap between near south city's standard bar-and-grill grub (Bruno's American Grill and Pub and Joey B's on the Hill, right across the street) and nicer sit-down restaurants (Trattoria Marcella and Stellina are also close) by aiming to nail down that squirmy gastropub concept by providing, in SOHA-speak, "quality American fare." And, yeah, they know: It isn't technically in Southampton, but Clifton Heights Neighborhood Bar & Grill doesn't lend itself to a snappy acronym. That'd be more like CHNBAG, and that sounds...gross.
See Also: - "More on SOHA Bar & Grill, Coming Soon to Clifton Heights"
The inside of the one-room area is indeed still dark, though that's offset a bit by a gas fireplace. Better lit are the seats up at the horseshoe-shaped bar, each of its three sides within easy view of plenty of televisions. Old-school accents are found in the (huge) Kerr Mason jars used for water glasses and the long shuffleboard table, while newer toys include Big Buck Hunter HD and a digital jukebox.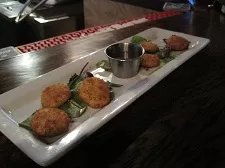 Kristie McClanahan
SOHA's fried goat cheese.
The food at SOHA is at its best when it hews close to crowd-pleasing favorites but shakes it up just enough to be interesting. Across the street, there are fried mozzarella and Provel sticks with marinara; here it's fried goat-cheese medallions, which bring six lightly breaded, half-dollar-size circles over a scattering of field greens with sweet-onion dressing for dipping. On the other side of Hampton Avenue, cheese sticks aren't melt-in-your-mouth fare. On this side, they are.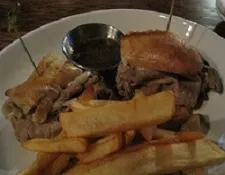 Kristie McClanahan
A French dip, double-dipped.
And there's the "SOHA Big French Dipper," which is advertised as being "double dipped" in jus. The literal undoing of many French dip sandwiches is the one tough bite that results in awkwardly dragging out all the meat at once, leaving a mushy, naked bun. This prime rib is tender, easily -- mercifully -- breaking away from the rest of the sandwich. And despite the whole thing being "double dipped," the bread somehow remains soft and chewy, not soggy, which is a remarkable step in sandwich dynamics. All sandwiches are served with steak fries, which nobody would mistake for homemade, but it is nice that they're not called "frites" for a change.
Kristie McClanahan
Everybody, the Rusty Zookie. Rusty Zookie, everybody.
The cajun-chicken pasta is just fine -- we heard the cooks have been tinkering with the recipe -- but it's not near the standout that the single dessert offering is: the "Rusty Zookie," a scoop of vanilla custard served over a half-baked chocolate-chip cookie. The cookie is flat, warm and largish (about pancake-size), and it slowly melts the custard that sits atop it like a tennis ball.
But what really singles out SOHA Bar & Grill is its selection of draft beers, which is unsurpassed by any place in the (actual) Southampton neighborhood, or Lindenwood Park, or Clifton Heights or St. Louis Hills: More than 30 drafts are on tap, from local good guys like Schlafly and Perennial, universally loved Bell's and fun-to-drink beers from Sierra Nevada and Dead Guy Ales. Pints range from $4 to $9; during some happy hours, select pints drop to just $3. Macrobrews come to the party too, and buckets are frequently on special.
Already we're thinking about which of our friends and neighbors would dive into the beer list with us and play a game of shuffleboard, and that seems to be the whole point of a gastropub in the first place. Plus, we've heard that nobody has ordered the 25-ounce burger...yet. Bring friends. And maybe a flashlight.