Gut Check isn't so old that we don't remember the hierarchy of Halloween candy: i.e., good stuff and crap. While neighbors who neglect to buy the best sweets suffer at the hands of t.p.-ing teenagers, Gut Check's house remains unscathed.
Stay on the good side of neighborhood ne'er do wells by doling out any combination of these twenty-one Halloween candies, which are pretty much the only reason kids look forward to trick-or-treating. Yeah, we're pretty certain no kid ever anticipated Halloween night because they couldn't wait for a sack full of candy corn, peanut butter kisses or raisins. But that's just our opinion.
Caramel Apple Pops Walking into the grocery store around late September and seeing caramel apples is one of the best feelings ever. It's a sure-fire sign that summer is over, and it's time for sweater weather and pumpkin-flavored stuff. Fortunately, that awesome feeling has been formed into another awesome thing: caramel apple pops. Few things can compare to the marriage of sweet, soft caramel and tart, bright green apple candy. Caramel apple pops are a cleaner, more convenient way to enjoy one of the best treats autumn has to offer.
Reese's Peanut Butter Pumpkins We're all about balance, but the Reese's Peanut Butter Pumpkin throws that out the window. While the Reese's Peanut Butter Cup is balanced mass-produced candy perfection - just enough milk chocolate, just enough of that gritty peanut butter that doesn't exist anywhere else - the pumpkins' perfection is in its bombastic peanut butter blast.
Come on! The gritty peanut butter goes all the way to the edge of the chocolate coating! There's no superfluous ring of ridged chocolate! It's big and over-the-top, a little off-kilter, and everything that makes Halloween candy awesome.
Unless you're allergic to peanuts. If that's the case, Halloween's pretty much mean to the point of tortuous, anyway.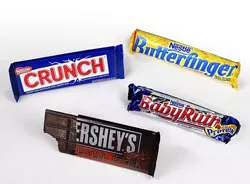 Any Full Size Candy Bar After years of celebrating Halloween, every trick-or-treating pro knows that any full-size candy bar is where the money is, and most know which house on the block hands out these treasures. These neighbors know what's up, and they are probably the most awesome people around because they know the three important facts about those grownup bars. Fact: Most full-size candy bars are made of chocolate. Fact: Halloween is not a time to think about fats and calories. Fact: The bigger the candy bars are, the better they taste. Fact: Kids have expectations. It you're going to wander around town in a pleather catsuit with chains and KISS makeup, you deserve a full-size candy bar.
Skittles Taste the rainbow, indeed! Skittles are for sour, fruity fans what M&Ms are to chocolate fiends.
Crispy shells, chewy innards, and a blast of the best fake fruit flavors available on the candy market. And not just with all the new Skittles blends that have been introduced in recent years - Blenders (two Skittles flavors in one Skittle!), Fizzl'd Fruits (Skittles covered in Pop Rocks dust!) and Sour. Even the ordinary red bag of Skittles has something for everyone. Gut Check's a fan of orange Skittles, because they they taste like baby aspirin. Don't like baby aspirin? No problem! Just move a step across the rainbow. There's a flavor for everyone!
Candy Cigarettes A close relative of Pixy Stix, Candy Cigarettes offer the same type of instant sugar rush, but its history and presentation is a bit more rock & roll in comparison. Its production and sales have been banned in several countries, but these addicting sticks of sugar continue to party on as a top seller in the United States, where they are packaged in child-size boxes adorned with rad pictures of Spiderman and Popeye. Personally, we like them because they are the perfect accessory to any leather jacket. Although they might taste a bit like chalk, they sure make us look cool.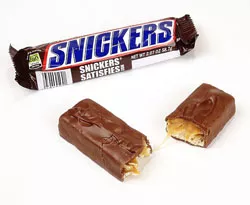 Snickers If any candy belongs in the Halloween Hall of Fame, it's the good 'ol Snickers bar. Snickers remains a timeless classic among trick-or-treaters. There's nothing gimmicky about the smooth nougat, crunchy roasted peanuts, sweet caramel and melt-in-your-mouth milk chocolate. OK, so they tend to get a little smushed in your overflowing trick-or-treat bag. They taste just as good whether they're frozen or melty, whole or fun-sized, smushed or not. They stand the test of time, and absolutely endure the long hours spent scavenging for candy.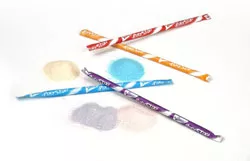 Pixy Stix Pixy Sticks are honest. In this day and age, most candies are ashamed to be themselves. They slap "Fat Free" and "75 Percent Less Sugar" labels on their packages surrounded by small starbursts and confetti while claiming to bring a skinnier version of the party to your mouth. Not Pixy Sticks. Here we have straight-up, unadulterated sugar in a convenient straw that has proved almost as addictive as cocaine in the four to eleven age group. If you want to indulge yourself in an unabashed and flagrant sweetness high, then you've found the real deal.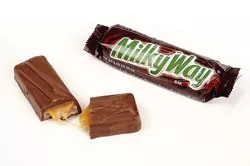 Milky Way Yes, we realize that a Milky Way candy bar isn't exactly a Halloween candy (we can snack on one at any time), but fun-sized versions are a treat to find on Halloween night. This candy bar, made up of the perfect ratio of chocolate nougat topped with caramel and wrapped in milk chocolate, is always soft and fresh. With so much chocolate flavor, eating a Milky Way bar feels a bit sinful -- in a good way. In other countries, a Milky Way bar isn't topped with caramel, and removing the caramel turns a Milky Way into a boring Three Musketeers bar. So let's be thankful we're Americans and can enjoy a Milky Way with caramel while dressed like a fool on Halloween.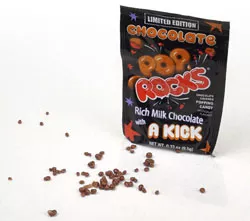 Pop Rocks There are so many things to love about Pop Rocks: dumping a whole pouch into your mouth at one time and letting everyone around hear the wild crackling; singling out one rock and crushing it loudly between your teeth; taking a mouthful of candy with a swig of Coke in the hope that your stomach explodes, urban-legend style. Pop Rocks is anything but boring. Receiving Pop Rocks on your trick-or-treating round is a rare but treasured occasion, and it is always one of the first things to go.
Starburst No one turns down a Starburst. Especially a red one. These little squares of juicy goodness possess the power to bring any candy critic to complete ecstasy the moment they hit the palate. With every chew, it's like a citrus-parade march over every taste bud, complete with lemon explosions and strawberry drumbeats. And don't even get us started on FaveReds.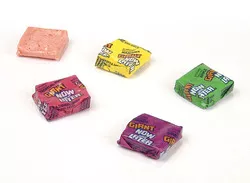 Now and Laters Here's a candy that we don't mind sucking on. Now and Laters are like a Starburst that lasts for three hours. Tart, fruity and an enemy of loose teeth -- that's what we're talking about. Part of what makes Now and Laters light up the eyes of any trick-or-treater is the challenge. Working down the hard candy square to its soft and chewy end requires a bit of a workout for the old pie hole. They also prolong the longevity of your Halloween candy stash -- they usually come in pairs, and eating one takes about as long as a screening of It's the Great Pumpkin, Charlie Brown.
Fun Dip What's not to like about a solid stick of sugar designed to be licked only to attract more sugar? When fun is in the name, you really can't lose. Fun Dip is an immediate time machine back to childhood, so when you get it on Halloween, get as much as you possibly can. Because you probably won't see it again until you order it along with nachos and hot dogs at your younger brother's/kid's Little League game.
Whoppers There's a "food core/beer metal" band called Whoppers Taste Good. That kind of dedication doesn't come out of nowhere. Whoppers are a classic that never get old. You can find them pretty much anywhere at any point in the year, and perhaps think of them with a respectful admiration as you pass them in the store. Or when you nom through the whole box before the movie even starts at the theater. Chocolate wrapped around crunchy and delicious malted milk balls? Yes! Whoppers taste good.
Sour Patch Kids Many inferior candies start with the same base as Sour Patch Kids -- a soft, gummy candy in traditional fruit flavors. The makers of Sour Patch Kids excelled where others did not by coating their candy with crystals of sour sugar, creating a sweet-and-sour variety for the Halloween candy bag. They'll please anyone just looking for a sugar rush, and thanks to their shape, they're fun to play with, too. In fact, Gut Check discovered that Sour Patch Kids were originally known as Mars Men because the little alien-shaped candies were inspired by UFO sightings. What can be more Halloween-y than that?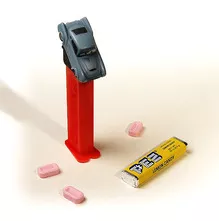 Pez Dispensers Getting a Pez dispenser on Halloween means you went to a house with class. There's no good explanation for why eating a brick of sugar straight from the neck of a witch or pumpkin head is so gratifying, but it is. You eat those bricks, and then you show the dispenser to the parents who ignored your pleas and refused to buy you Pez dispensers at the store when you were little. And then you keep the dispenser for life. Those babies are collectibles.
Blow Pops Unlike many of the suckers found in trick-or-treat bags on Halloween, Blow Pops actually taste like something. You get exactly what their '90s commercial promised: fruit flavored candy on the outside, bubble gum on the inside. By far the best part of Blow Pops is crunching through the thin candy layer left over the bubble gum center, turning the admittedly hard, flavorless gum into a tangy, crunchy delight. And though that gum center is barely good for one bubble, we'll be damned if we don't try for two.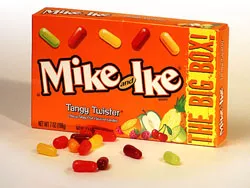 Mike & Ike Mike & Ike are the beloved homeboys of trick-or-treaters everywhere. Unlike Hot Tamales, their overly dramatic cousin, Mike & Ikes are delightfully fruity, chewy and pleasant. There's really no bad flavor, but just in case, there are about a million varieties to choose from, like lemonade or Tropical Typhoon. And because everyone is worried about their health around Halloween (like those tools who pass out toothbrushes and pennies instead of candy), Mike and Ikes are only seven calories each, kosher and gluten free. Who knew?
Gummi Bears First of all, we must acknowledge that there are dozens of brands of Gummi Bears. The best, of course, is Haribo Gold Bears. They're perfectly chewy (not too soft, like many other brands), and the flavors are vibrant. They're slightly greasy, which is way better than that funky dust or sugar coating that's on other bears. Plus, with a little saliva you can make them stick to almost anything, including more Gummi Bears! Stick them to your friends' faces, pose them on a table or make them do filthy things to other innocent Bears. The possibilities are boundless.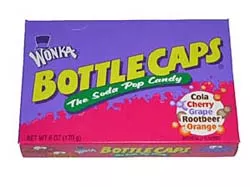 Bottle Caps The creators of Bottle Caps managed to harness a bit of the fizzy magic of Pop Rocks in a superior, non-messy form, complete with flavors that actually taste good. It's always a surprise to find these little guys at the bottom of your Halloween bucket, especially since the tiny, flat trick-or-treat size packages resemble those of their totally lame neighbor on the candy spectrum, Sweet Tarts. If someone in your neighborhood is rad enough to hand out the full-size tube package of Bottle Caps on Halloween, never, ever move.
Nerds Earlier this year RFT visited the annual Sweets & Snacks Expo in Chicago and discovered that -- surprise! -- candy manufacturers are increasingly marketing their treats as "healthy." To paraphrase the story's author, RFT staff writer Aimee Levitt:
What ever happened to good-old-fashioned, tooth-rotting candy?
Well, some of it's still around. Like Nerds -- who among us would be disappointed to find a box or three of Nerds in our trick-or-treat pillowcase? There's no quibbling with tiny nuggets of crunchy, slightly tartened-up sugar that are, in turn, glazed with more sugar. In some respects, if you look beyond the variety of colors/pseudo flavors available, a Nerd in kinda resembles the very thing it destroys: the tooth. Talk about form following function!
Nerds aren't perfect -- they are, for one thing, far from ideal movie-theater fare, owing to their loud crunch and high spillage potential -- but doled out in single-mouthful boxes, they're a solid, down-the-middle trick-or-treat pick. They may not be anyone's true favorite, but they sure aren't gonna piss off the marauding hordes.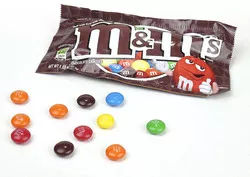 M&Ms Classic, reliable M&Ms. Are they anyone's #1 favorite candy? Maybe not. But no chocolate lover would turn up her nose at a little brown/yellow bag of the oft-forgotten spheres of happiness. It seems like everyone has a different way of eating M&Ms, whether it's dividing them into color categories or just taking a handful.
M&Ms always play it safe, keeping things normal with varieties like peanut and pretzel centers, or just the original plain chocolate. Keep playing it safe, M&Ms, we like what you're doing.