Photo courtesy of Flickr / Rodger
Gut Check isn't so old that we don't remember the hierarchy of Halloween candy: i.e., good stuff and crap. While neighbors who neglect to buy the best sweets suffer at the hands of t.p.-ing teenagers, Gut Check's house remains unscathed.
Stay on the good side of neighborhood ne'er do wells by avoiding these twenty-one Halloween candies, which are the worst of the worst to torture trick-or-treaters with — especially in St. Louis, where our tell-a-joke-for-candy tradition raises the bar that much higher.
Candy Corn Our feelings about candy corn are on par with Moose A. Moose, the animated, um, moose who entertains the tots between shows on Nick Jr.
Mr. Moose does not like candy corn, and neither does the family who created this most spectacular homage to candy hate with the help of Moose's Halloween song, "I Don't Like Candy Corn."
What's to hate? Candy corn is one step above wax fangs on the Halloween candy flavor chart. It's nothing but corn syrup mixed with three other kinds of sugar, some wax, food coloring and mineral oil.
You know that mineral oil is a laxative, right? Candy corn is shit-inducing sugar. Also, it's a big liar.
No, sir. We don't. Like. Candy corn.
Bit-O-Honey If we had our way, these would be renamed Bit-O-HORRIBLES to more accurately describe the taste and texture, as well as to warn eaters of the awful journey their mouth is about to embark on. Oh, and it's a journey all right. Before you pop one of those abhorrent pieces of taffy on to your tongue, you're jaw better be ready for the 20-minute chew-a-thon that will undoubtedly follow. Let's hope you haven't had any dental work done in the last ten years, because this candy's adhesive-like grip is bound to rip it out. Also, let's not forget that it takes a single day for these Bit-O-Yucks to become stale; I'm pretty sure these are the rocks Charlie Brown is talking about.
Raisins Oh, Raisinets, your thin coating of sweet chocolate turns raisins from simple dried fruit to Halloween pleasu — Wait. What the hell is this? Plain ol' raisins? For Halloween?
This ain't your schoolyard lunchbox, so raisins can stay home along with the carrot sticks and pudding packs. If fruit of any kind winds up in our candy bag on Halloween, it better be drenched in chocolate or caramel or in the form of artificially flavored gummy things. Raisins simply fall short. It's a nice gesture and all, but there's plenty of time throughout the rest of the year to worry about vitamins and antioxidants.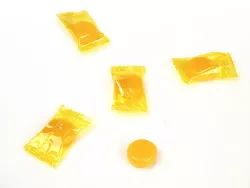 Butterscotch Seeing those weird, yellow cellophane-wrapped butterscotch candies excites exactly zero trick-or-treaters around Halloween. It's not that it necessarily tastes bad, it's just that when thrown into a bag with things like Starbursts, Sour Patch Kids and Milky Ways, butterscotch is guaranteed to get overlooked every time.
Lemonheads Just knowing Lemonheads are conceived on the same factory equipment as Boston Baked Beans and Atomic Fireballs makes our taste buds cower in fear. Then there's that whole "lemon" thing. Of all the many wonderful fruits in existence, the makers of Lemonheads chose the one we associate most often with wood cleaner and seafood garnishment. Also, what's with that creepy football-shaped dude with a combover and bow tie on the packaging? It feels as though his grin gets wider and his eyes bigger with every chew as he watches our faces pucker in sour anguish.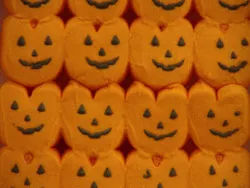 Peeps Remember those small, chicken-shaped marshmallow candies that always sat on the Easter table, but never quite made it out of the wrapper? Gut Check knows them all too well. It turns out, Peeps decided to branch out its holiday appeal, and it now offers more than the standard yellow chick. Trick-or-Treaters are bombarded by orange, "chocolate dipped" chickens, "chocolate mousse-flavored" cats, and, worst of all- "sugar free" pumpkins. We ask you, Peeps: What is Halloween without sugar?! The only thing more frightening than the prospect of receiving sugar-free candy is biting into a chocolate-dipped chicken. Perhaps Peeps was attempting to play the "spooky" card, but this candy scares the fun out of Halloween.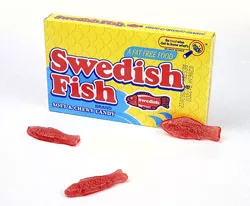 Swedish Fish If there is anything more unpleasant to present the taste buds with than an overly gummy glob manufactured in the shape of an infamously oily fish? And whose hilarious idea was it to make these bite-sized herrings red? Were they attempting to divert unsuspecting eaters away from the important fact that they taste similar to most household cleaners? If you eat more than a handful, the mineral oil in the candy will have your gastrointestinal track waging war on your body. For your tongue and colon's sake, avoid at all costs.
Orange Slices Whoever invented Orange Slices gummy candies probably thought they stumbled across a genius idea. Take a flavor most people love — orange — and top a chewy candy with more orange-flavored sugar. Well, somewhere along the line this idea went awry, and the world was stuck with one of the most boring candy options of all time. Orange Slices are sickly sweet and overly chewy — probably because they've been on the shelf since 1993. The only people who enjoy Orange Slices are misguided folks who think they're getting a boost of vitamin C from their candy. (You're not.) Do yourself a favor and throw these neon-orange monstrosities in the trash.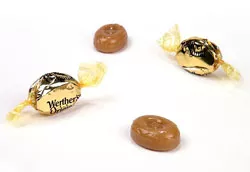 Werther's Along with Old Fashioned Hard Candies, Werther's fall into the "old-people candy" category. If it were any other day of the year we might gladly accept a golden-wrapped Werther's from Granny. But on Halloween, there are bigger, tastier fish to fry. Dropping a handful of these buttery caramel discs into a child's trick-or-treat bag can and will be interpreted as provocation.
Smarties How do you tell where the cheapskates live on your block? Easy. Whichever house gives out a pound of Smarties per kid instead of fronting the extra two bucks for a bag of chocolate. If we wanted to choke down dozens of pastel, chalk-flavored tablets, we'd just down a bottle of Tums and call it a day; at least they're designed to soothe stomach aches instead of cause them. The real "smarties" avoid these pathetic excuses for candy.
Peanut Butter Kisses Peanut Butter Kisses? More like kisses of death. Another terrible concoction to make it out of Necco's kitchens. Peanut Butter Kisses disappoint on nearly every level. A molasses taffy disaster in a wrapper, Peanut Butter Kisses are supposed to have a peanut butter center, but I've never been so lucky as to enjoy a peanut-y kiss after chewing on one of these for ten minutes. There's a reason stores have a million bags of these in the Halloween clearance section.
Old Fashioned Hard Candies We're kids of the 21st century, and we like candy with spunk. Just the words "old fashioned" should scream out "lame." These are the stragglers that inevitably wind up at the bottom of candy bags when the new year rolls around — candies so lame that kids don't even know what to do with them. Look at it this way: If it's not in a crystal bowl on an end table covered with a lace doily beside a floral soap opera couch in a house that smells like Grandma, it has no business being eaten by anyone on Halloween.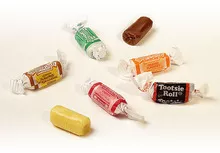 Tootsie Rolls Tootsie Roll products, stop trying so hard. You are not welcome in any form, whether it be a bite-sized roll, slightly longer but equally disappointing roll, turd-like log, fruit-flavored roll or center of a lollipop. Nobody cares how many licks it takes to get to the center, because the Tootsie Roll is the most anticlimactic part of a Tootsie Pop. They're not even really chocolate!
Milk Duds There's no point in trying to come up with an argument for why Milk Duds doesn't belong on the worst candy list. Everything about them is unappealing, from their rock-hard, break-your-tooth texture to the odd taste. Is it chocolate? Is it milk? Is it milk chocolate? Who knows! These little yellow boxes always end up in the "no, thank you" pile, and even if a brave soul attempts to peer into a box of Milk Duds, they will not find individual "duds," but one big lump of inedible candy. Milk Duds, and every house that gives them out, are exactly that — duds.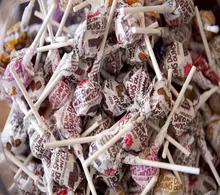 Dum Dums You are a dumb dumb if you like Dum Dums. (Sorry, unavoidable.) It used to be fun finding the blue raspberry suckers at the bottom of your trick-or-treat sack, but then Dum Dums started introducing flavors like buttered popcorn and cotton candy. Gross. Go the extra mile when choosing candy for your trick-or-treaters and spring for some decent suckers, sucker. (Again, unavoidable.)
Hot Tamales It's not that Hot Tamales are completely terrible, but pulling a box of these out of your trick-or-treat sack is like pulling out a frown. Halloween booty is supposed to be chocolatey, sweet or sour — not a sinus-clearing blast of cinnamon. Hot Tamales are like the misguided spawn of Mike and Ikes and Red Hots. They got all of mom's looks but dad's bad temper. Come on neighbors, if you picked up the Hot Tamales, you were obviously right by the Mike and Ikes. Was this punishment for stepping on your lawn?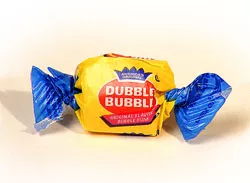 Gum Gum is not for Halloween. Gum is for impulse buyers with stinky breath in the check-out line. And we are not that. Whether it's the almost always stale and rock hard Dubble Bubble nuggets or the Halloween themed, individually wrapped gumballs, the flavor never lasts and then you wind up absentmindedly chewing on a tasteless wad for hours... Hours that could have been spent eating candy that is actually worth the effort.
Necco Wafers Everyone knows there are only three decent Necco Wafer varieties: brown, white and pink. And while all-chocolate wafer rolls exist, the traditional Necco rainbow leaves much to be desired, and inevitably ends up in the trash. Plus, the simple, old-fashioned chalky wafers don't exactly cater to the modern kid's sensibilities — if someone gave us a roll of the things, we'd eat all the chocolate ones and scatter the rest in their yard. Jerks.
3 Musketeers 3 Musketeers commercials claim the fluffy candy bar offers "a lighter way to enjoy chocolate." Fair enough. A Snickers bar, for example, does contain twenty more calories and six more grams of fat than a 3 Musketeers bar. Of course, while Snickers bars have a satisfying, crunchy texture and a rich, nutty, chocolaty flavor, 3 Musketeers bars taste like burnt marshmallow creme with the texture of a block of Velveeta.
So, if you're looking for "a lighter way to enjoy chocolate," eat half of a real candy bar.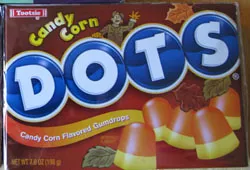 DOTS On first glance DOTS don't seem like a bad idea. They've been around since World War II. They're chewy. They're fruity. Like Gummi bears, right?
WRONG!
From the chalky exterior to the too-gooey interior to the lame-ass "fruit" flavors, DOTS blow. Even worse, they're that special sort of awful candy that somehow fades from memory, fooling you year after year into thinking: Hey, I don't recall exactly how these things tasted, but look at all the pretty colors! Nothing this retro could really be that bad!
And so you pop one or two in your mouth, and guess what? They really are that bad!
To add insult to injury, DOTS now come in five varieties — Original, Tropical, Sour, Yogurt and Crows (black licorice) — not to mention holiday editions for Christmas, Easter, the Fourth of July and, yes, Halloween, which boasts three options for your trick-or-treaters' misery: Ghost DOTS, Bat DOTS and Candy Corn DOTS.
If a friend offers you a box of DOTS, politely turn them down, and then defriend that person pronto. And if you're the least bit tempted to go against the grain this Halloween, for God's sake, do not do so with DOTS. There are plenty of retro/outré options out there, we promise.
Mounds and Almond Joy Sometimes you feel like a nut. Sometimes you feel like ruining a child's life.
Coconut falls into that category of foods people either adore or hate, right there with olives, mushrooms and hogshead cheese. These borderline foods should be avoided in gifting situations, especially when there are so many other options that aren't potentially offensive and heartbreaking.
Rewind to 1977, and watch the chubby five-year-old in a homemade clown costume sob on a front porch after being given a fun-size Mounds as a Halloween treat.
"Why do they hate me?" the child wonders. Surely a grown-up wouldn't give something so vile as Coppertone-flavored mealy paste to a child, unless that child was a bad person, right?
It's one thing to give a bad treat to a kid who might t.p. your house. It's another entirely to give something so contentious that it has the power to make a child question her worth as a human being.
In ten years, you don't have to worry about this child toilet papering your house; you have to worry about her murdering you while you sleep because you destroyed her trust in a good and kind humanity.
Couldn't you have just bought the fucking peanut butter cups and left well enough alone? Halloween isn't the time to get all exotic. Save that shit for New Year's Eve, after you've shooed the kiddos off to bed.
Yesterday, Gut Check visited Dierbergs to see if Mounds and Almond Joy are still sold in Hefty-sized bags for Halloween convenience. We haven't paid much attention to them as adults, pretending the awful, flaky gaggers are available only in adult-sized portions, sold from a special counter with other horrible products like cigarettes and Goldschläger. But there they were, little Almond Joys in giant bags. Even worse, Almond Joys coupled with treat-sized packets of Whoppers, tainting perfectly good malted milk balls with coconut stank.
There were no Mounds. Hope for humanity lingers.