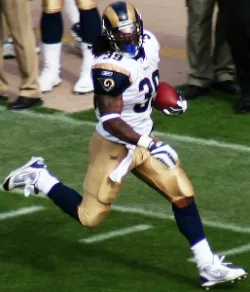 Run from these foods, Rams.
Early Tuesday morning the St. Louis Rams touched down at Heathrow Airport in London. On Sunday the team faces off against the New England Patriots in the annual NFL game in fabled Wembley Stadium.
Sure, there isn't a lot of European interest in American football -- perhaps the Rams should consider calling their sport "soccer" abroad -- but that doesn't mean the two teams can't at least enjoy the city and culture of London. And if they successfully avoid these seven English foods, there's no reason they shouldn't.
Bovril (Beef Tea)
This is basically bouillon, except instead of adding flavor to the base of a soup or stew, you mix it with hot water and drink it like tea.
In defense of beef tea, not enough hot drinks cause hypertension.
Black Pudding
"Sausage made by cooking blood or dried blood with a filler until it is thick enough to congeal when cooled."
That's all you need to know.
Elvers
More commonly known as eel, "elvers" was once a cheap dish for fisherman but are now a delicacy in the United Kingdom -- less because of their taste and more because eels' dwindling populations.
Unless we're requesting a meeting with the sea witch in King Triton's kingdom, we're steering clear of eel.
Winkles in Cream
The common periwinkle is a shellfish -- ahem, sea snail -- popular in Scotland, Ireland and England. One of the most popular ways to prepare periwinkles is "winkles and cream," a dish of boiled snails served in a heavy cream sauce.
Devilled Kidneys
Need we go on?
Lamb kidneys served in a bath of Worcestershire sauce, mustard, butter, cayenne pepper, salt and black pepper. We'd sooner eat a bowl of the sauce than a vital organ.
Marmite
Despite its texture, taste and smell, Marmite endures as an extremely popular if not divisive food spread in the UK, as well as other countries that have their own derivatives of it. Sold under the slogan "Love It or Hate It," Marmite is a sticky, salty yeast extract that's traditionally served on bread or as an ingredient in the world's most disgusting sandwiches (or "sarnies" as Brits would have you believe).
Spotted Dick
If its ingredients were simply custard and dried fruit, Gut Check would have no qualms with Rams gulping spotted dick. It's the inclusion of suet, raw beef or mutton fat, that turns our stomach. Because, you know, there isn't enough raw animal fat in traditional British food already. The desserts really need raw beef fat, too.