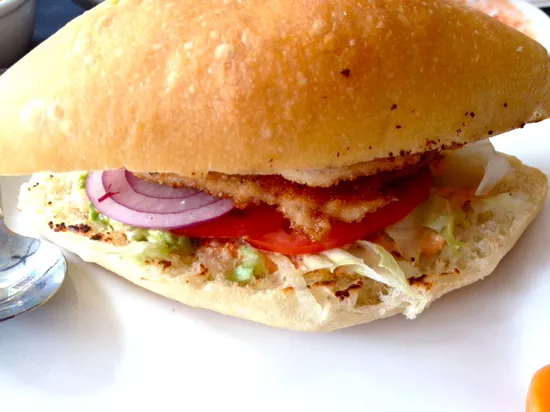 Ian Froeb
The torta at Laredo on Lafayette Square
This week, I visit Laredo on Lafayette Square (2001 Park Avenue; 314-231-9200), which opened this summer in the former location of Arcelia's Mexicana Restaurant. (Arcelia's, meanwhile, has reopened in Soulard.)
The torta at Laredo on Lafayette Square might be the tidiest version of this classic Mexican sandwich that you ever encounter. Pick it up with your hands -- with one hand, even -- and its contents stay firmly in place between the two halves of a traditional bolillo roll. On your plate, untouched, it looks downright elegant: the crusty, golden-brown bread bracketing two chicken-breast cutlets prepared milanesa-style (pounded thin, breaded and pan-fried), red onion, lettuce, tomato and slabs of queso fresco (or a similar cheese) nearly as thick as the cutlets themselves.

Is Laredo's torta an improvement on the overloaded, fork-and-knife taqueria variety? That is a matter of personal preference. Taken on its own merits, though, the Laredo torta is a very good sandwich, made with strong, simple flavors and a surprisingly light touch.
Visit Gut Check tomorrow to read my review.