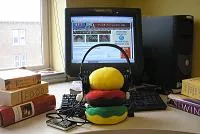 Gut Check dishes on our favorite St. Louis food blogs.
Rhubarb and Honey: Kimberly made eggplant muffaletta, which ends her stint participating in chef Emeril Lagasse's "#SeriousSandwich Cookalong."
The Sweets Life: Natalie shared sauteed cabbage with red onions and bacon.
Cupcake Project: Stef made spooky spider stained-glass cookies for Halloween.
Iron Stef: Stef sizes up Pastaria's balls.
A Veggie Venture: Alanna compares the merits of fried zucchini sticks to baked zucchini sticks.
Family Style Food: Karen shared apple tartlets with salted caramel.
Bruno's Dream: Bruno made basil pesto with homegrown ingredients.
Sauce magazine's blog: Julia made peanut fried chicken from cookbook Masala Farm: Stories and Recipes from an Uncommon Life in the Country by Suvir Saran.