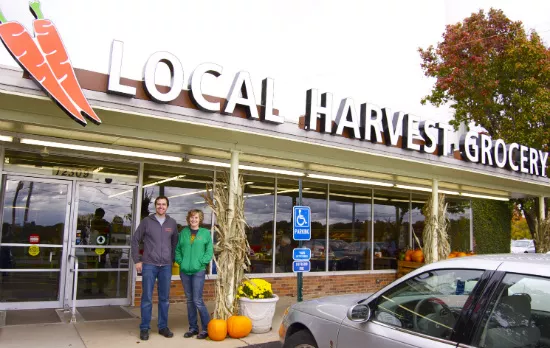 Liz Miller
Local Harvest Grocery co-owners Patrick Horine and Maddie Earnest in front of their new location in Kirkwood.
On Thursday, October 18, a second Local Harvest Grocery (12309 Old Big Bend Road, Kirkwood; 314-966-6566) opened its doors. This is the first location in St. Louis county, with its flagship, Local Harvest Grocery (3108 Morgan Ford Road; 314-865-5260), in south city. Co-owners Patrick Horine and Maddie Earnest's new shop also includes a cafe, modeled similarly to its restaurants in Tower Grove, Local Harvest Café & Catering (3137 Morgan Ford Road; 314-772-8815), and its downtown location, Local Harvest Café & Catering (810 Olive Street; 314-241-3196).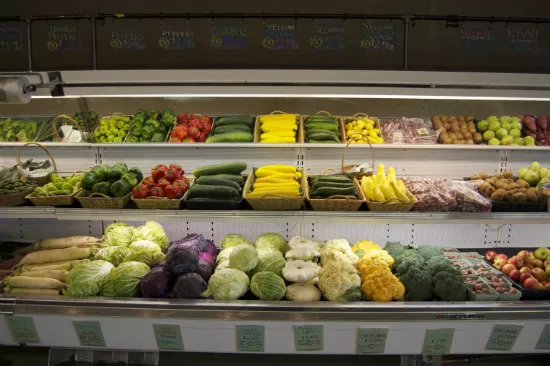 Liz Miller
Fresh, vibrant produce abounds at Local Harvest Grocery.
The new market occupies a large footprint at 6,000 square-feet and includes a cafe that seats 40, as well as a full-service deli offering local and sustainable meats, cheeses and extensive prepared foods options -- all firsts for Local Harvest. Horine says the cafe will feature a hot entree each night of the week, available to dine-in or takeaway customers.
The decision to put down roots in Kirkwood came to Horine and Earnest easily -- an investor approached the owners about opening a location in St. Louis county, and around the same time, McDonnell's Market in Kirkwood closed, freeing up an existing grocery store space for rent. Horine and Earnest set to work salvaging elements of McDonnell's Market, such as wood and its checker stations and conveyor belts, and breathed new life into the building.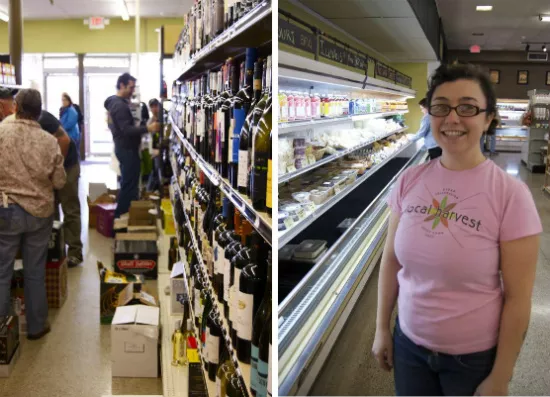 Liz Miller
Horine says he and Earnest are proud to offer 365 varieties of wine (left) at the Kirkwood Local Harvest. Executive chef Clara Moore (right) brings the same bright, fresh food to the new location's cafe.
Patrons of the Kirkwood location can expect a wide variety of local meats, produce, dairy, baked goods and specialty grocery products, with at least 50 percent of all inventory locally sourced. The alcohol selection at the new market is also varied and impressive: Its wine selection includes 365 varieties, as well as local and regional beers and spirits.
Page through for a visual walkthrough of Local Harvest Grocery in Kirkwood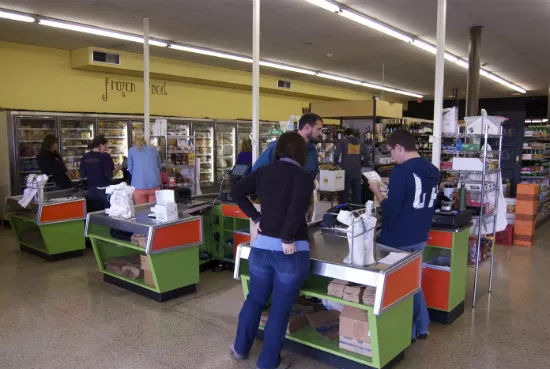 Liz Miller
Much of the wood and utilities -- including the retro checker stations -- were kept and reused from the space's former grocer, McDonnell's Market.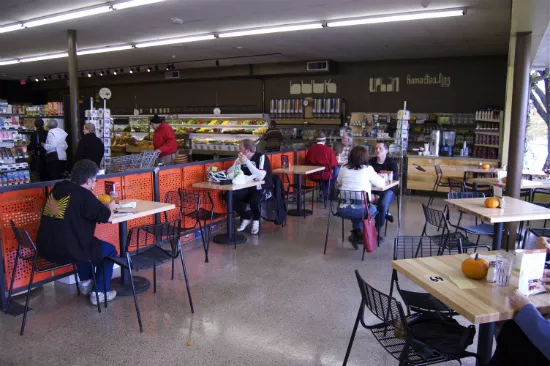 Liz Miller
The spacious dining area at the Kirkwood location seats 40.
Liz Miller
A huge selection of meat and cheeses reside next to the deli counter.
Liz Miller
Co-owner Patrick Horine stocks spirits at the new Local Harvest Grocery in Kirkwood.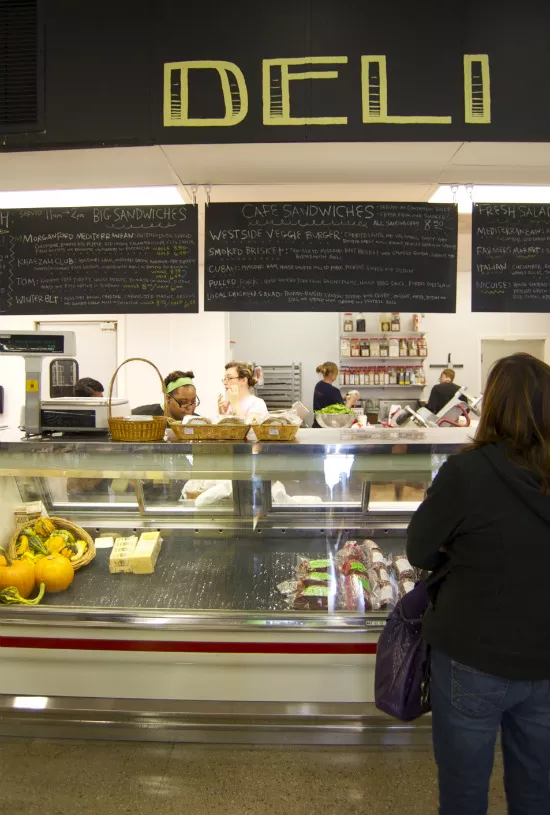 Liz Miller
The deli at the Kirkwood location is a first for Local Harvest.