Update: (Wednesday, October 24) Read how the Scamwich Artist returned to one of the restaurants mentioned in this report the day after it was published.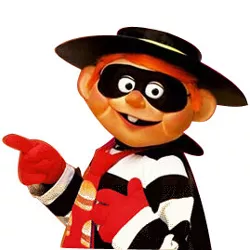 Local chef and restaurateur Mike Johnson didn't just fall off the Sysco truck yesterday. A graduate of the New England Culinary Institute, the man has mapped out a restaurant résumé that begins when he was fifteen and spans two continents; on this one alone he has toiled in kitchens from Napa to LA, Chicago (Charlie Trotter's) to New Orleans (Emeril's). On the home front, Johnson has had a hand in establishments as diverse as French-inspired Roxane, Spanish tapas joint BARcelona, Greek small-plates hotspot Momos, Cajun/Creole/Cuban funhouse Boogaloo and the reincarnated dessert café Cyrano's.
And yet, after more than two decades in the culinary trenches, Johnson, who recently opened the Olivette barbecue joint Sugarfire Smokehouse (9200 Olive Boulevard, Suite 114; 314-997-2301), still has new and colorful battle stories to tell.
Such as the one that transpired last month, which Gut Check has taken the liberty of titling...
The Scamwich Artist
On September 26, Johnson opened his newest venture, Sugarfire Smokehouse. On the evening of the 27th, as he was cleaning up after a bustling second day of business, his phone rang. On the other end of the line was an unsatisfied customer who said the restaurant had botched his order when he'd stopped in to pick up lunch.
Specifically, the caller said the sides he'd chosen to accompany his sandwiches had been "all messed up." He demanded compensation.
"This guy tells me, 'I was in there earlier and got a carry-out order,'" Johnson recounts. "It was busy, so I didn't remember him."
Johnson was also puzzled. The man said he'd ordered three grilled-chicken sandwiches. But there's no chicken sandwich on Sugarfire's menu.
"Are you sure you didn't have the turkey?" Johnson says he asked.
No, the caller insisted, he'd ordered grilled-chicken sandwiches.
"Are you sure you're calling the right place?" Johnson persisted. "I don't have chicken, and I don't have a grill here."
At this point, Johnson says, the caller corrected himself. "It was the turkey sandwich," he said.
In spite of the dubious details, Johnson agreed to compensate the man for the mixup and told him to come by after lunchtime the next day.
Later that same evening, Natasha Creel and Emily Matthes, owners of one of Johnson's previous projects, Roxane (12 North Meramec Avenue, Clayton; 314-721-7700), stopped in to have a look around their friend's new place. When they overheard Johnson telling his executive chef about the strange phone conversation, they couldn't help interrupting.
The scenario, you see, sounded uncannily familiar. A man had been alleging similar snafus and demanding compensation from other area restaurants -- including Roxane.
What's more, Creel and Matthes said, thanks to their phone's caller ID they knew the man's name: Was Johnson's unsatisfied customer by any chance a Mitchell Kerman?
Johnson checked his caller ID log.
Sure enough, there was the name: Mitchell Kerman.
Creel tells Gut Check Roxane had its first encounter with the Scamwich Artist two and a half months ago, when he called to say two burgers he'd ordered hadn't been cooked right.
"Why didn't you tell a manager?" she asked him.
"I was in a hurry," she says he replied.
Creel says she comped the unsatisfied customer with a $25 gift card, which he came by to pick up.
Perhaps emboldened by his success, the Scamwich Artist returned for a second bite at Roxane's apple. Creel says he called the restaurant on September 13 to complain about his purchase of two unsatisfactory turkey club sandwiches earlier that day. Again Creel agreed to make things right, but her restaurant-owner Spidey sense was tingling. She checked Roxane's computer records for the date in question. There'd been no order for two turkey clubs. When Mr. Scam Man came to collect, she told him to scram.
Johnson wasn't the only fellow restaurateur Creel clued in regarding the Scamwich Artist's m.o.
Natasha Kwan, owner of the recently opened Frida's Deli (622 North and South Road, University City; 314-727-6500), tells Gut Check she learned about the deception from Creel after a man called late one night in August, griping that the restaurant had messed up his carry-out order for two sandwiches that afternoon. She promised him two free sandwiches, but after hanging up she investigated further.
Kwan's register is programmed to record each sale in specific detail, and she was quickly able to determine that no one had placed the carryout order the caller claimed to have purchased. So when the man turned up the next day to collect his free food, Kwan pressed him for details. "'What day did you come in? What did you say was wrong?'" Kwan inquired. "He stuttered and was really nervous. I knew that we didn't sell [him] the sandwiches he claimed that he ordered."
Kwan agreed to comp the man a sandwich but made him pay for his soup and beverage. And when she saw her friend and former Roxane colleague Creel not long afterward, she mentioned the encounter.
"Was he older?" Creel asked. "Did he wear glasses?"
Kwan's customer perfectly matched Creel's description of Mitchell Kerman.
Having heard about his friend and former colleague Johnson's encounter with the Scamwich Artist, Mark Lucas, proprietor of Fozzie's Sandwich Emporium (1170 South Big Bend Boulevard, Richmond Heights; 314-932-5414), believes he too had a run-in with Kerman. A man visited his restaurant a few months back, Lucas tells Gut Check, making a similar claim and demanding compensation.
"It sounded pretty shady," Lucas says. Shady enough that Lucas quizzed the man about the details of his purportedly bungled order. "He kind of just shut down," Lucas recounts. "He put his head down and got out as fast as he could."
Mike Johnson, meanwhile, was plotting his revenge.
"I decided: I'm going to fuck with this guy just for fun," he says.
courtesy of Mike Johnson
Mitchell Kerman, photographed by Mike Johnson at his restaurant, Sugarfire Smokehouse, in Olivette. Johnson and several other local restaurateurs allege that Kerman has scammed or attempted to scam them out of free meals, claiming they'd botched previous orders he'd placed.
On Friday, September 28, at the appointed hour, a Sugarfire employee sought out Johnson, saying, "Mike, there's a guy here who says you owe him for three chicken sandwiches."
The Scamwich Artist had returned to collect his bounty.
Johnson met the man at the cash register and introduced himself. The man didn't seem eager to talk, so Johnson plowed right in. "Hey, I was talking to my friends at Roxane last night," he said, adding, "Has this ever happened to you before?"
At that the man cracked like an egg at an omelet-eating contest, fumbling for his wallet and throwing credit cards onto the counter.
Johnson unsuccessfully tries to stifle a giggle. "He was saying, 'I'll pay! I'll pay!'"
"You'll pay double," Johnson says he told the man. "And you'll leave a large tip."
Johnson instructed the chastened scammer to go back to any other restaurants he'd victimized to apologize and make restitution.
"Which he never did," Johnson notes.
Before ending the encounter, Johnson had one more task to complete. "I pushed him against the wall and I took his picture with my iPhone," the restaurateur says with glee, proudly proffering the digital shot.
Kwan confirms that the man Johnson photographed is the same man who scammed her out of a sandwich. Lucas, who also saw the photo, concurs that the snapshot shows the Scamwich Artist who scurried out of Fozzie's after his plot was foiled.
The photo is of a white man, fiftyish, with wire-rimmed glasses, prominent ears, a long nose and a gray mustache that might charitably be described as Chaplinesque. He wears his black hair short. (Judging by the coif and the mismatching shade of his mustache, it might be a toupee.) He's clad in a blue-and-white-checked dress shirt and a tie.
Gut Check traced the name and phone number Johnson provided to a Mitchell J. Kerman, of Hughes Wilner & Wolfe, a Ladue accounting firm. When we called last Tuesday, an administrative assistant at the firm told us he was out. (To lunch.) We left word that we wanted to discuss a matter involving local restaurants.
When Kerman returned our call the following day, we told him that several restaurants in the St. Louis area allege that he scammed (or tried to scam) them for free food.
Does he care to comment on the allegations?
"No, I don't," he says and hangs up.
Update: (Wednesday, October 24) Read how the Scamwich Artist returned to one of the restaurants mentioned in this report the day after it was published.
St. Louis restaurants: Do you think the Scamwich Artist got -- or tried to get -- you? Drop us a line!