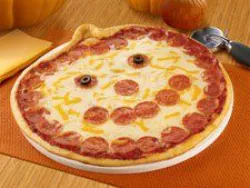 The Jack-O-Lantern pizza: It's very real.
We're not exactly ready for our close-up on Extreme Couponing, but Gut Check does love us a good deal on food. And though Halloween isn't the most food-based holiday, it isn't the least, either. After much research and investigative reporting, we've compiled a list of the best restaurant and food deals doled out in the name of All Hallows' Eve.
Papa Murphy's Beginning Wednesday, October 24, Papa Murphy's, a national pizza chain with five locations in the greater St. Louis area, begins selling its signature "Jack-O-Lantern" pizza. Papa Murphy's isn't like other pizza places, though. Instead of placing an order and picking up a baked, ready-to-eat pie, Papa Murphy's sells "Take 'N' Bake" pizzas that customers bake at home. The "Jack-O-Lantern" pizza includes cheese and pepperoni slices and takes 12 to 19 minutes to bake.
Papa Murphy's has locations in Oakville, Wildwood, Florissant, St. Charles and O'Fallon, Illinois. Chipotle For a quick, cheap dinner on Halloween, Chipotle Mexican Grill is offering $2 burritos, bowls, salads or tacos after 6 p.m. to customers dressed in farm-inspired costumes as part of its Boorito promotion. Farmers, farm animals, farm tools or equipment, vegetables, crops, perhaps a silo or migrant worker...to get the $2 burrito, it doesn't really matter. In fact, wearing a pair of overalls and a straw hat will probably do the trick. To enter Chipotle's companion costume contest, however, a bit more care and creativity should probably go into the costume. Participants in the costume contest need only snap a photo of themselves standing inside or in front of a Chipotle restaurant on Halloween and submit it to its Boorito site by Thursday, November 8. The grand prize is $2,500; five runner-ups will win $1,000 and twenty runners-up will win a burrito party for ten guests at any Chipotle location.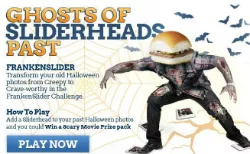 Sliderhead, the next horror movie monster.
White Castle This year, White Castle is asking Craver Nation to "Cravify" their old Halloween photos for its "FrankenSlider Challenge." Participation is simple: Upload a photo of yourself in a Halloween costume to White Castle's little shop of hamburgers site and replace your head with a giant slider hamburger. For your trouble you'll be entered into a contest to win a "Scary Movie Prize pack."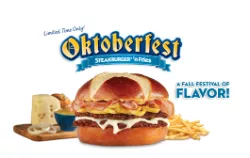 Sadly, Steak 'n Shake doesn't serve beer.
Steak 'n Shake The limited-time "Oktoberfest Steakburger 'n Fries" meal at Steak 'n Shake isn't specific to Halloween, but it's certainly a fly-by-night autumnal special that falls under October's umbrella, so we're counting it. This cheesy, meaty monster burger stacks a double steakburger with Swiss cheese, sauteed onions and black-forest ham on a toasted pretzel bun and costs only $5.49. Other seasonal menu items include a caramel apple shake and campfire s'mores shake.
$1 gets you four of these.
McDonald's Select McDonald's locations sell Halloween coupon booklets for $1, which gets you twelve free product coupons including four free small cones, four free apple-slice packets and four free milk "chugs" or juice boxes. That there's no expiration date for the coupons is kind of a plus, but the fact that you have to pay for "free" food that doesn't amount to a full meal is kind of a bummer. Still, we'll take those ice-cream cones.
Unrelated to Halloween but relevant to St. Louis' interests, McDonald's is also offering a deal on Big Macs in October: Buy one Big Mac, get the second for 25 cents on Cardinals' game days.
Wendy's Like McDonald's, select Wendy's locations are selling $1 coupon books that feature free junior frosty dessert coupons -- and as Gut Check recently reported, there's a new Wendy's location in St. Louis on Hampton Avenue.