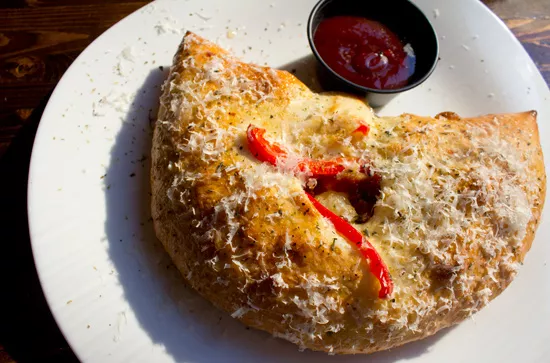 Mabel Suen
The "Five-O" calzone.
Let's face it: Most of St. Louis has only experienced pizza pouches from under food-court heat lamps or fresh from, um, the microwave. At new downtown calzone joint, Sauce on the Side (903 Pine Street; 314-241-5667), try the real deal wrapped in made-from-scratch pizza dough, baked to golden perfection, brushed with flavor-infused oil and sprinkled with a healthy dose of Parmesan -- all to order in about ten minutes.
Co-owners and longtime friends Daniel Porzel, Brendon Maciariello and Ryan Mangialardo operate all aspects of the quick-service counter together. The three share a collective background of many years in hospitality that ranges from waiting tables to managing businesses such as Dewey's Pizza, Kilkenny's Irish Pub and Bar Louie.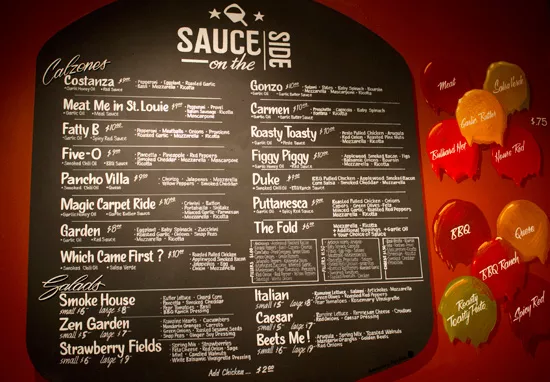 Mabel Suen
The menu at Sauce on the Side.
As Porzel tosses a ten-ounce ball of dough into the air to stretch it out to pizza size after taking down an order, Maciariello expertly assembles a "Smokehouse" salad ($6 for a small; $8 for a large) with butter lettuce, charred corn, pancetta, smoked cheddar, pear tomatoes and basil, ensuring that each and every bit gets coated in a bit of housemade ranch dressing.
Mabel Suen
Brendon Maciariello with a "Smokehouse salad."
The dressings and sauces clearly play an important role but act only as a side note to enhance the vibrant flavor combinations. If you've ever stared at the moon, imagined it made out of cheese and longed to leave teeth marks along its silhouetted edge, now's your chance. The practically football-size, half-moon hand pies come chock-full of evenly distributed cheeses, veggies and meats.
Take, for instance, Porzel's personal favorite, the "Duke" ($9), filled with barbecue pulled chicken, applewood smoked bacon, corn salsa, smoked cheddar and mozzarella, brushed with smoked chili oil. The "Five-O" ($9) gets stuffed full of pancetta, pineapple, red peppers, smoked cheddar, mozzarella, mascarpone and ricotta -- that's three cheeses!
Mabel Suen
Daniel Porzel with the "Duke" calzone.
Vegetarian options include the "Garden" ($8) with eggplant, baby spinach, zucchini, roasted garlic, onions, snap peas, mozzarella and ricotta and dessert calzones such as Nutella banana ($6). Go traditional with the "Meat Me in St. Louis" ($9) filled with pepperoni, Italian sausage, Provel, mascarpone and ricotta, or build your own from a list of more than 50 ingredients to pair with any of ten sauces on the side ($.75-$1.25) such as garlic butter, spicy red and roasty-toasty pesto.
Mabel Suen
The interior of Sauce on the Side.
Salads include "Strawberry Fields," Italian, Caesar and "Beets Me," with arugula, spring mix, toasted walnuts, mandarin oranges, golden beets, red onions, Parmesan cheese and citrus vinaigrette. The drink menu includes more than 50 beers, wines by the glass or bottle, and a selection of local sodas.
Sauce on the Side's hours are Monday through Wednesday from 11 a.m. to 9 p.m. and Thursday through Saturday from 11 a.m. to 1 a.m.