Do you like Indian food? Do you patronize food trucks? Do you have even one measly dollar to spare?
Michael Swaleh wants to talk to you.
Swaleh and his brother, Shaun, have turned to Kickstarter to raise $60,000 to buy the food truck that will launch their concept, Tikka Tikka Taco.
Michael Swaleh tells Gut Check that Tikka Tikka Taco will draw from the Indian and Pakistani recipes that he and his brother have enjoyed throughout their lives -- recipes that they believe they've refined for a contemporary American audience: "What we're looking to do is to take [these] recipes, which we've been adapting, and serve them in a pretty simple format."
For example, a video on Tikka Tikka Taco's Kickstarter profile shows the Swalehs folding grilled chicken into a tortilla to make a taco, highlighting its flavors as they do so: ginger, garlic, coriander, cumin. A dollop of what looks like raita finishes the dish.
The Swalehs, California natives, grew up around restaurants: Their uncle owned both an Italian restaurant and a sandwich shop. Shaun worked in the Italian restaurant for several years as a teenager and will be in charge of the Tikka Tikka Taco truck's daily operations
(Shaun recently was honorably discharged from the U.S. Army at the rank of sergeant. His time with the 101st Airborne Division included a tour of Afghanistan.)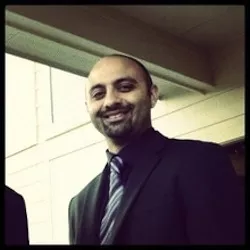 Michael's background is in banking and finance -- he currently works as a sales manager for a team of mortgage consultants for a large national bank -- and he'll be in charge of the business side of Tikka Tikka Taco.
A basic business equation informed the brothers' decision to launch a food truck, Michael says. A truck requires a lower initial capital investment than a traditional bricks-and-mortar restaurant, and while food trucks have become a fixture of the St. Louis food scene, Indian cuisine is absent from the mix.
As for crowdsourcing the start-up funds, Swaleh says, "Kickstarter is a rare, rare, rare opportunity -- absent of having a rich uncle to give you $60,000 -- to raise $60,000 without having to give up ownership."
That said, Swaleh doesn't see Kickstarter as make-or-break for the Tikka Tikka Taco concept. "I gave myself a 20% chance" of meeting the $60,000 goal, he says. If he doesn't reach that goal, he hopes the brothers will have sparked enough interest among potential investors to go forward with the project.
Tikka Tikka Taco's Kickstarter campaign runs through the end of the day on Sunday, November 4. Rewards for pledges range from a simple thank you for a $1 donation to spice packets to decals and t-shirts to a sponsor's logo on the truck itself.
As of this writing, the Swalehs have raised just over $3,600.