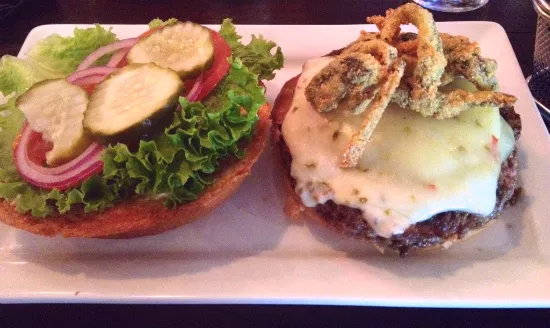 Evan C. Jones
The green chile cheeseburger at 5 Star Burgers.
It's been a long road for Steve Gontram. The former owner and chef of Harvest (1059 South Big Bend Boulevard, Richmond Heights; 314-645-3522) has been pining for years to open a St. Louis outpost of 5 Star Burgers (8125 Maryland Avenue, Clayton; 314-720-4350), a business that he and his father founded in 2008 in New Mexico.
"The idea was that I was going to start this company with him, and we were going to, right off the bat, build in two different states," he recalls. "It just took me four years longer than anticipated because I was trying to sell Harvest restaurant at the time, and it took a lot longer to sell it than I thought. So here I am...finally."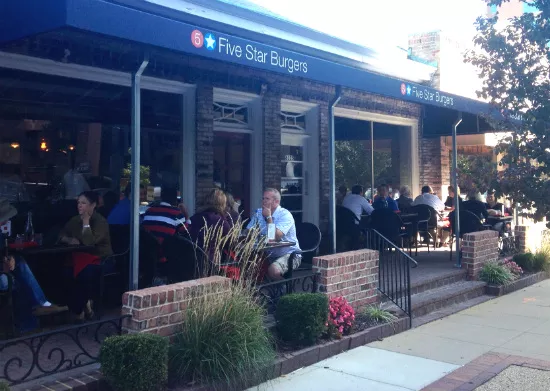 Evan C. Jones
5 Star Burgers in Clayton features plenty of patio seating.
Despite being far apart geographically and palette-wise, the main similarity between the New Mexico and St. Louis locations (there is also a location in Colorado) is the green-chile cheeseburger.
"[The New Mexico location was] written up for as one of the best burgers in the states," Gontram says, referring to a recent USA Today poll. "We have copied that burger to a tee, and it's amazing. Hatch chiles, green-chile mayonnaise, pepper jack cheese. It's really, really good."
Since it's the house specialty, Gut Check tried the green-chile cheeseburger during our visit. Grilled medium-rare, the burger was very juicy and had a nice slow burn throughout thanks to the green chiles, which come straight from New Mexico.
Evan C. Jones
Milkshake at 5 Star Burgers.
"The highlight of this concept is the beef," Gontram says. "First of all, I needed an all- natural, hormone-free beef. We grind it in-house. It is grass-fed, it's pastured-raised, corn-finished. We buy from a company called Creekstone, and it's their all-natural line. I could have gone more local with 100 percent grass-fed, but in my experience the beef that I'm using is more consistent and has more flavor."
In addition to traditional burgers, 5 Star's menu features bison and other specialty burgers, salads, sweet potato and russet potato fries and milkshakes. The fully stocked bar hosts happy hour seven days a week, which features half-priced draft beers and wines, as well as a menu full of sliders and small bites that range from 25 cents to $1.
After leaving the fine dining world, Gontram has really settled into the next chapter of his culinary career.
"I love it, I love it," he says. "It's exactly what I wanted to get into at this stage in my life. I love a good burger, and I think no matter what you do as a chef that if you're happy and proud of the food you're serving, and you're having a good time, I'd say you're in a good spot."
The restaurant is open Monday through Saturday from 11 a.m. to 10 p.m.