Last week Politico broke down information from a recent review of Federal Election Commission reports detailing Mitt Romney and Barack Obama's campaign spending. It contains everything from office supplies and gas expenses to which hotels and restaurants the respective campaigns patronize most often. Gut Check doesn't particularly care where Romney or Obama choose to buy staplers, but sandwiches? That's a subject near and dear to our heart.
In preparation for tonight's presidential town hall debate at Hofstra University in Hempstead, New York, Gut Check has compiled lists of restaurants that Romney and Obama's teams opt for on the campaign trail to act as, shall we say, themed-menus for the occasion.
The following are robot-like precise dollar amounts spent by each campaign at various restaurants and fast-food chains across the country. Romney has made it no secret that he enjoys fast-food -- heck, his dad was privy to free McDonald's hamburgers for life -- but Obama's campaign doesn't steer clear of it, either.
Mitt Romney's Campaign Romney's support of Illinois-based sandwich chain Jimmy John's is well-known -- it's a popular stump speech on the campaign trail, toted as an example of the triumph of small business. It's probably also a favorite for more personal reasons -- George Romney, Mitt's father, donated $20,000 of seed money to Jimmy John's start-up. That said, it seems the "gourmet subs" clock in behind St. Louis-based Panera Bread and Domino's Pizza when Romney's team needs a bite to eat.
Aside from Jimmy John's, Romney's fondness for McDonald's and Chipotle Mexican Grill has been well documented in recent weeks. And, according to a recent study by public relations firm rbb Public Relations and as reported in Forbes, 15 percent more Romney voters like McDonald's than Obama supporters. Though the same study says Obama voters like Starbucks more than Romney voters, so maybe it's all meaningless.
$9,266.34 at Panera Bread $5,553.79 at Domino's Pizza $2,981.15 at Jimmy John's $1,866.11 at Chick-fil-A $797.69 at Starbucks $342.11 at Burger King $287.73 at Chipotle Mexican Grill $214.64 at Taco Bell $60.40 at McDonald's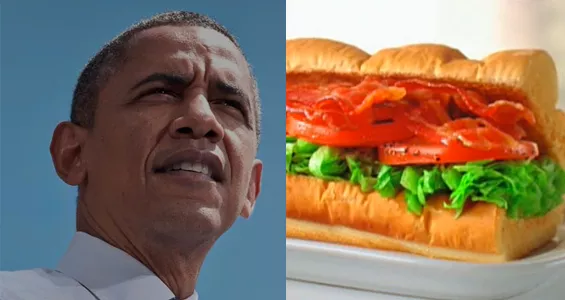 Barack Obama's Campaign
No Burger King, McDonald's or Taco Bell for Obama -- but his campaign did spend $61.80 at Chick-fil-A in June. Instead, the President's campaign runs on Dunkin' Donuts, sandwiches and a lot of pizza, which is Gut Check's version of the American dream.
Instead of Jimmy John's, President Obama's team eats sandwiches from Subway and 'za from Pizza Hut and Papa John's -- despite the latter's chief executive publicly denouncing the Affordable Care Act. Obama's campaign prefers Cosi, a fast-casual chain that doesn't exist in Missouri, to Panera Bread. And for that we say boo, because we're loyal to St. Louis businesses. (But Cosi if you're reading this, we'd welcome you with open arms!)
And perhaps most confusing is the paltry $7.41 spent at Little Caesar's. Signs point to a Hot-N-Ready pizza gone wrong.
$3,457.24 at Subway $1,471.94 at Papa John's $1,401.57 at Dunkin' Donuts $1,077.85 at Cosi $834.03 at Pizza Hut $7.41 at Little Caesar's