Selecting the Riverfront Times Best of St. Louis 2012 was no picnic. Choosing the winner meant several worthy candidates would go unmentioned -- until now. In this Gut Check series, we're chewing our way through notable runners up in a number of categories. To see hundreds more winners and finalists, and to download the Riverfront Times Best of St. Louis mobile app, visit our Best of St. Louis home page.
Unlike last week's accounting of the Ten Best New Restaurants in St. Louis 2012, this list was no fun to compile. Still, as much as we love to celebrate the best that St. Louis has to offer, we also must pause to recognize a few former favorites who departed the culinary scene over the past year.
Once again, as with the Best New Restaurants list, our definition of the year runs from October 2011 through September 2012.
While we decided to limit this list to five, these certainly aren't the only good restaurants to close over the past twelve months. Please feel free to suggest some of your favorites in the comments.
Click here to view the Riverfront Times Best of St. Louis 2012 "Food & Drink" winners.
Page through to begin the countdown.
5. The Bleeding Deacon Public House (4123 Chippewa Street)
This south city restaurant was a fascinating and fun mix of dive-bar grunge and culinary cool, a joint where you could order both Stag and tapenade with a straight face. Comfort food was the Bleeding Deacon's sweet spot, upscale in quality but not in price: meatloaf, fish and chips and such awesome sandwiches as the "BBLT" and the "Curly Dog". Owner Mike McLaughlin now operates the Crow's Nest (7336 Manchester Road, Maplewood; 314-781-0989).
See Also: - "Best Burger (Non-Beef Division) 2011" - "Best Meat Loaf Slider 2010"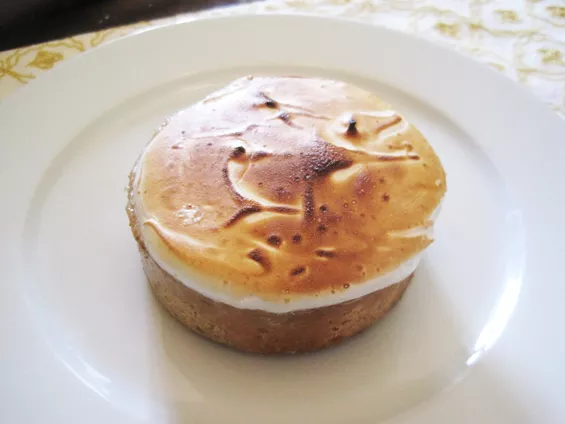 Ian Froeh
The lemon meringue-pine nut torte from BitterSweet Bakery
4. BitterSweet Bakery (2200 Gravois Avenue)
Our 2010 pick for "Best Bakery", BitterSweet Bakery showcased the baking skills of owner Leanna Russo, who once told Gut Check that she wasn't really much of a sweets eater. That might have been the reason we loved her food so much: Her best dishes, like the lemon meringue-pine nut torte, had a subtle, sophisticated sweetness.
See Also: - "Ian Froeb's 100 Favorite St. Louis Dishes #64: The Lemon Meringue and Pine Nut Torte at BitterSweet Bakery" - RFT Review of BitterSweet Bakery
Ian Froeb
Mammer Jammer's "It"
3. Mammer Jammer (5124 Natural Bridge Restaurant)
This north-city institution was a hole in the wall that packed quite a punch. Its namesake sandwich, a sort of riff on the cheesesteak, came in increasing levels of hot-pepper punishment. At the top of the scale was the sandwich known simply as "It" -- an order set everyone in the place, cooks and other customers, to coughing, and the "lucky" patron who ordered it to sweating and, maybe, crying. It was that hot -- it was also that good.
See Also: - "Ian Froeb's 100 Favorite St. Louis Dishes #26: 'It' at Mammer Jammer" - "Best Capsaicin Fix 2009"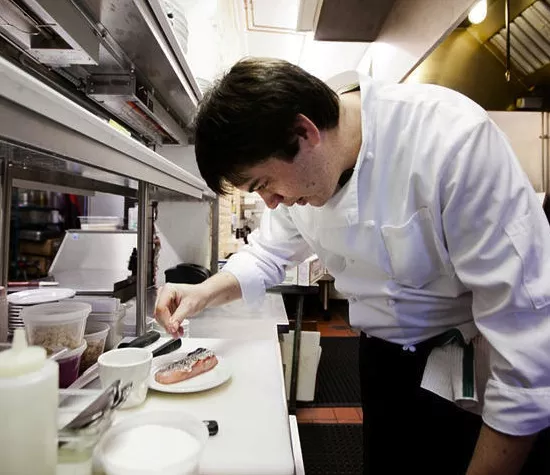 Jennifer Silverberg
Jonathan Olson in the Market Grill kitchen
2. Market Grill (728 Lafayette Avenue)
Specifically, we laud the second iteration of this Soulard restaurant. After opening as a fairly conventional bar and grill, new manager Katie Shanahan and new chef Jonathan Olson rebooted Market Grill as a showcase for Olson's flavorful dishes: blue-crab meat and bacon over housemade tagliatelle; sea bass seared in duck fat; a porchetta sandwich to die for. Maybe the rebranding came too late. Whatever the reason for Market Grill 2.0's closure, it's brief run was a good one.
See Also: - RFT Review of Market Grill 2.0 - "Top Ten Dishes 2011 #10: The Porchetta Sandwich at Market Grill"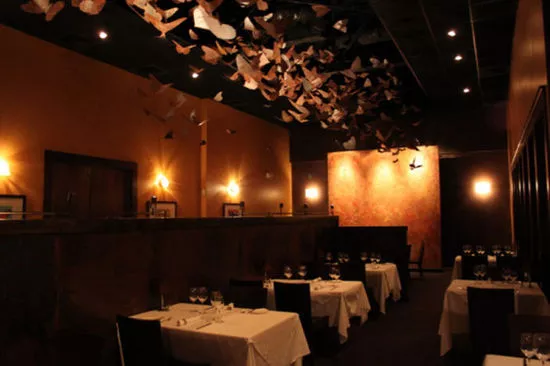 Diana Benanti
The dining room of Monarch
1. Monarch (7401 Manchester Road, Maplewood)
Monarch isn't dead. Not really. And not simply because owners Aaron Teitelbaum and Jeff Orbin have retained its Maplewood address as a special-events venue. No, as long as so many of the talents who once called Monarch home continue to be major players on the St. Louis food scene, the spirit of Monarch will remain very much alive. The many fans of acclaimed executive chef Josh Galliano eagerly await his next move; in the meantime, he teases us with one-day-only, Southern-themed pop-up restaurants.
Behind the bar Monarch hosted such master mixologists as Ted Kilgore, now of Taste; Nate Selsor, now of DeMun Oyster Bar; and TJ Vytlacil, now of Blood & Sand. Teitelbaum and Orbin have revitalized the original Balaban's location as Herbie's Vintage 72, once again the place for the Central West End's gilded set to see and be seen. And let's not forget that Monarch sommelier Chris Hoel left the restaurant for a position at perhaps the nation's greatest restaurant, the French Laundry. (He now works for a Napa Valley wine merchant.)
That one restaurant could nurture so many talents over a decade -- a lifetime in restaurant years? That's cause for celebration, not mourning.
See Also: - "Best Local Chef 2009" - "Best Bartender 2008"