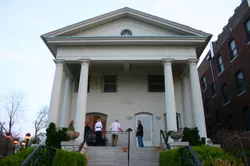 C. Scott Brinkman, the attorney representing American Larder LLC, better known as the acclaimed Central West End restaurant Salt (4356 Lindell Boulevard, 314-932-5787), on Wednesday filed a formal answer to the unlawful detainer complaint filed by Salt's landlord, Ta Daa LLC.
In general, the answer covers the same issues with Ta Daa's complaint that Brinkman discussed with Gut Check last week.
See Also: - "Salt Spilled? Restaurant Landlord Alleges Unpaid Rent, Sues for Eviction" - "Attorney for Salt Responds to Unlawful Detainer Lawsuit"
Among the arguments made in this answer, American Larder denies Ta Daa's claim that as of August 6, 2012, when Ta Daa notified the restaurant of the termination of its lease, that American Larder was "behind in rent (and late fees) for $51,025.97":
Defendant denies that any arrearage existed on August 6, 2012 (in rental payments or late fees). The amount cited by Plaintiff...is not an amount of arrearage that was calculated or determined by Plaintiff. To date, Plaintiff has not provided Defendant with an accounting as to the alleged amounts that are in arrears, the total number of months which are alleged to be in arrears, or any indication as to how or why a state of arrearage came to be.
As Brinkman explained to us last week, after Ta Daa informed the restaurant that it owed rent for March, April and May of this year, the restaurant calculated the amount it owed at $34,953.40 and then added compounded interest and late fees for a total of $51,025.97. The restaurant paid this amount in two payments on August 9 and 14.
The answer also denies Ta Daa's claim that by the terms of its lease, American Larder was in default.
However, Defendant denies that any default ever occurred in regards to the lease between the parties. In addition, Paragraph 39 of the lease agreement makes clear that "if Tenant shall have fallen into default on two prior occasions and cured the defualt, but then have fallen into default a third time," the Landlord may pursue the remedies available in the lease agreement. Defendant denies Plaintiff's current allegation of default in the present matter before the court. Plaintiff also fails to allege two prior occasions of default as required by the lease agreement.
The lease agreement between Ta Daa and American Larder entered the public record as an exhibit in the initial complaint of unlawful detainer. However, the "Paragraph 39" to which the answer refers appears to contain seven different events that qualify as "events of default by Tenant." A situation in which the tenant falls into default a third time after two previous defaults that it cured is but one of those seven events. The very first event is "(i) if Tenant shall fail to pay any rent or other owed sum when due".
The answer proceeds to grant that the chronology of events as described in Ta Daa's complaint is "temporally accurate," but that the Plaintiff "fails to give a full description of the events in question." Essentially, the answer argues, American Larder disputed the default and then asked for an accounting of what it owed, which was never received. Only after American Larder paid the $51,025.97 did Ta Daa file its action for unlawful detainer.
Meanwhile, on October 9, Ta Daa filed a supplemental affidavit claiming that American Larder hasn't paid rent for August, September or October of this year. In an separate answer to this supplemental affidavit, American Larder argues that rent for August and September are being held in a Lawyer's Trust Account, or IOLTA. Also, American Larder argues it can't compute its October rent "until the end of November 2012, at which time the gross sales from the previous month can be determined."
A hearing is scheduled for next Tuesday, October 16, before Judge Calea Stovall-Reid. More as we learn it.
Page through to read each of the documents cited in this article.
Ta Daa's unlawful detainer complaint against American Larder, a.k.a. Salt:
Ta Daa v. Salt - Unlawful Detainer Complaint
The exhibits attached to Ta Daa's unlawful detainer complaint:
Ta Daa v. Salt - Plantiff's Exhibits
Ta Daa's supplemental affidavit:
Ta Daa v. Salt - Supplemental Affidavit
Salt's answer to the unlawful detainer complaint:
Ta Daa v. Salt - Salt's Answer
Salt's answer to the supplemental affidavit: