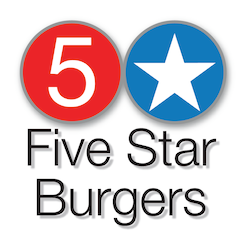 - 5-Star Burgers officially opened for business yesterday at 8125 Maryland Avenue in Clayton. This is the new venture of Stephen Gontram, the former owner and chef of Harvest (1059 South Big Bend Boulevard, Richmond Heights; 314-645-3522) and is modeled after a small chain of restaurants that his father founded in New Mexico.
You can view 5-Star's burger-centric menu on the restaurant's website, which it shares with its New Mexico and Colorado siblings. The St. Louis location has its own Facebook page and can be reached at 314-720-4350.
5-Star Burgers is open Monday through Saturday from 11 a.m.-10 p.m. and Sunday 11 a.m.-9 p.m. We'll have a more extensive "First Look" at the restaurant in the coming weeks.
- STL Hops broke the news last week that International Tap House plans to open a new location in the Central West End. This will be the third St. Louis location for the 2012 winner of Riverfront Times' "Best Beer Selection in a Bar" after its original west St. Louis County (161 Long Road, Chesterfield; 636-537-8787) and Soulard (1711 South Ninth Street; 314-621-4333) spots. The new iTAP will open at 16 South Euclid Avenue, the space formerly occupied by the Loading Zone.
- A bit late with this news: We learned last month that Lafayette Fire Company No. 1 (1801 Park Avenue; 314-621-5001) would move from Lafayette Square into the space at 3518 Hampton Avenue recently vacated by Da Baldo's Trattoria. The new Lafayette Fire Company has yet to open, but the original spot closed on Sunday, September 30.