If you're looking for the the cream of the crop from the Show-Me State, head down to the Missouri Botanical Garden (4344 Shaw Boulevard; 314-577-9400) this weekend. The annual Best of Missouri Market will take place Saturday, October 6, and Sunday, October, 7, from 9 a.m. to 5 p.m. The market will also be open on Friday, October 5, for a first look between 6 and 9 p.m. The twenty-first edition of the market will feature more than 120 vendors from across the state, including approximately 30 first-time vendors.
Gut Check did some advance work in anticipation for the event, and picked out seven vendors with products that caught our eye -- and stomach.
Pie Oh My (2719 Sutton Boulevard, Maplewood; 314-704-4416) owner Jane Callaghan learned the craft of making pies from her mother while growing up on a Minnesota farm. Now based out of her new shop in Maplewood, she still uses Mom's recipes but experiments with different fillings, like apple, green chile and pecan. Don't fret, pie traditionalists: Callaghan still rolls out several classics year-round, as well as seasonal offerings.
Gringo Goose Ok, so this didn't necessarily catch our stomach. The exact words that caught our eye while scanning the vendor list were "Goose Poop." So what, exactly, is it? Owner Sarah Nodine has made the sweet and spicy relish spread for more than ten years. As a medical sales representative, she originally sold the spread to her customers, doctors of gastroenterology, as "Colon Cleanser." After switching specialties to radiology and doctors who don't appreciate bathroom humor, "Goose Poop" took over as a tribute to her father, known as Goose. The package promises it goes with a wide variety of foods. It doesn't promise that it'll go through you faster than poop through a goose, but, it doesn't not promise it, either.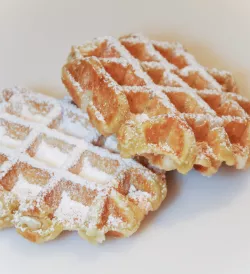 Waffle-licious serves Brussels-style waffles.
Waffle-licious A vacation to Brussels introduced the Liege waffle to owner Adrienne Chambers in 2007. It definitely made an impression, as Waffle-licious is the only St. Louis purveyor of the Belgian snack that dates back to the 1700s. Unlike its close relative, the Belgian waffle, Liege waffles are made with a yeast dough and contain pearl sugar that breaks down and caramelizes when cooked. It's then adorned with fruit and slathered in Nutella or various other toppings.
Swiss Meat & Sausage Family owned and operated Swiss Meat & Sausage proudly makes a large variety of cured meats and ships them all over the country. The company is also the official bratwurst of the Mizzou Athletic Department. If it's good enough for the Tigers, then we're on board.
Kate's Gourmet Salsa After craving gourmet salsa but not craving the price, Kate Berry concocted a hit salsa with sixteen different spices in her kitchen that friends raved about. The key to her salsa is the low sodium, which allows for more pepper flavor to be tasted with every bite. Kate also makes a line of spicy jellies, including jalapeno and jalapeno crasberry (a cranberry and raspberry mix).
Wicked Cactus Sauce's "Aliento de Diablo."
Wicked Cactus Sauce An office job can get boring, so when Mike Isenberg brought some hot sauces back with him in 2010 from a trip to the Fiery Foods Festival, Chris Bintz tried some. His seventeen years of restaurant experience kicked in and declared he could make better sauces, so Mike took him up on the challenge, and Wicked Cactus Sauce was born. The young company offers a wide array of sauces: the sweet "Headhunter's Paradise," a pineapple and smoked-habenero sauce; the award-winning "Viva la Raza" green hot sauce; and its hottest offering. "Aliento de Diablo," which packs a wallop with habeneros, smoked ghost peppers, fresnos and serranos.
Deadly Dick's Peppers Robert Kifer plays with fire. Not literally, but Kifer's Bhut Jolokia pepper crop, better known as the ghost pepper, is inferno-inducing. The ghost pepper is one of the spiciest peppers in the world, and its growth thrives in the humid Missouri summers. If you're brave enough to taste Kifer's peppers, you have several different options: Deadly Dick's has numerous dips including a Hot Bacon Dip, as well as its potent "XXX Pretzels."