Alexander "Xander" Broughton, Pi Kappa Alpha fraternity brother at the University of Tennessee, says he wasn't butt-chugging the cheap boxed wine that sent him to the hospital with a blood alcohol level of 0.448. Broughton maintains he was prepping for a Tour de Franzia, a stunt that also involves consuming bad wine, but the right-side-up way.
Gut Check's ears rarely prick up during the TV news. Some stuff, though, gets our attention. Like this ongoing saga out of Knoxville, and, more specifically, the University of Tennessee, whose Dreamsicle-like school colors strike a Proustian chord whenever they catch our eye.
We are hearing more tonight from the student at the center of an alcohol-enema investigation.
And so we learned via a press conference on the UT campus that Pi Kappa Alpha frat bro Alexander "Xander" Broughton insists he did not butt-chug the contents of a box o' wine as has been alleged. (Also, he is not gay.) Xander says he drank his plonk the old-fashioned way, and that the stunt involved was actually the venerable Tour de Franzia, wherein participants drink great quantities of cheap wine and then go ride bikes.
Gut Check is in no position to gauge the veracity of Broughton's assertions. We will, however, note that the wine in question -- the substance that spiked our Pike man's blood alcohol level to 0.448 -- indeed appears to have been Franzia. And we will note further that while Franzia is absolutely the wine to guzzle when you're embarking on a Tour de Franzia, it has no business being chugged by your butt.
No, if butt-chugging is your game, your options should be narrowed to these eight wines:

9) Fourplay This Sicilian entry makes the cut for its subtle punnery, matched by the nuanced tweak the four-grape blend is liable to apply between your butt cheeks. (For the record, those grapes are frappato nero, nerello cappuccio, nerello mascalese, and nero d'avola.)
8) Plungerhead zinfandel The label depicts a credible rendering of what a butt-chugger looks like post-butt-chug. Plus, zinfandel's way high in alcohol content compared to many other wines.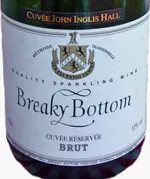 7) Breaky Bottom Brut Just because you're having your wine delivered to your back door doesn't mean it can't be a celebration. This sparkler from Great Britain is just the ticket -- though at current exchange rates it'll run you 40 bucks a bottle.




6) Penetration cabernet sauvignon A straightforward, no-nonsense butt-chug. Produced and bottled by Naked Winery, no less.
5) Fuzzy Butt When you buy this stuff, you're supporting a charity that rescues neglected Pomeranians. They even have their own Facebook. Put that in your butt and chug it.
4) Big Ass Chard As in chardonnay, mes ami, the noble grape of the Burgundy region. Or, in this case, the nether region. Sadly, Adler Fels, the company that made this wine, has ceased producing its Big Ass line, which included a Big Ass Zin, a Big Ass Cab and a Big Ass Syrah. Couldn't resist the label, though.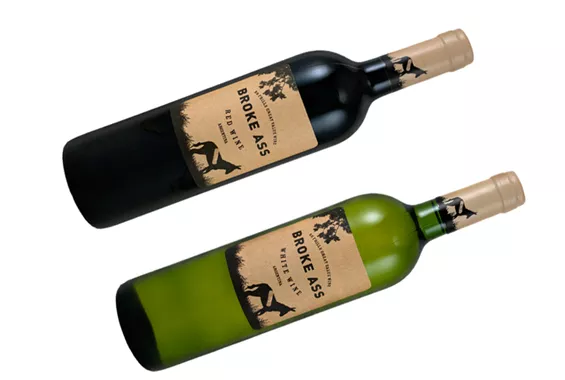 3) Broke Ass Red or Broke Ass White Detecting a theme here? This Argentinean wine comes in your choice of red or white. For anyone who so much as contemplates blowing wine up their butt, the Band-Aid on the label ought to be more than a cute visual joke. (Personal to Xander: Right. We know. You didn't do it. Just sayin'.)
2) Vin de Merde Now we're cooking with Crisco! Everything sounds more special when you say it in French. (Winery slogan: The Worst...Hides the Best") The fly's a nice touch, n'est çe pas? An enema bag, a jug of shit wine, and thou.
1) Bouteille Call The good folks at Naked Winery make something called Booty Call Blush, which they say goes down smooth, like watermelon Jolly Ranchers." (Does your ass care? We think not.) Even though it's no longer made, Bouteille Call, from madman/winemaker Randall Graham of Bonny Doon Vineyards, is the top pick here. We're pretty damn sure Graham wouldn't waste good wine by consuming it in reverse, but hey, it's a free country. Careful, though, frat bro, if you happen to dig up a bottle: This stuff's a fortified wine (think Port), which means it's jacked up with alcohol.