Selecting the Riverfront Times Best of St. Louis 2012 was no picnic. Choosing the winner meant several worthy candidates would go unmentioned -- until now. In this Gut Check series, we're chewing our way through notable runners up in a number of categories. To see hundreds more winners and finalists, and to download the Riverfront Times Best of St. Louis mobile app, visit our Best of St. Louis home page.
Jennifer Silverberg
A dish from this year's "Best New Restaurant"
The past twelve months were a strange time for new restaurants in St. Louis -- wonderfully so, in our opinion. While many new restaurants debuted, few were high-profile affairs, with big-name chefs and big-budget buildouts. Indeed, several of this year's standouts are smaller spots -- smaller, that is, in size and scope, but no less impressive in their execution and no less bold in their flavors.
Before we proceed, a few answers to the questions that this particular category always prompts.
This says the "Best New Restaurants" of 2012, but there are three months left in the year. What gives?
The Riverfront Times Best of St. Louis calendar runs from October through September, so this year's awards can include restaurants reviewed in the final quarter of 2011, while those restaurants reviewed in the final quarter of 2012* will be fair game for next year's Best of St. Louis.
* - One exception: A forthcoming review deals with a restaurant that opened in fall of 2011 and, thus, is on this year's list.
Well, what about a restaurant like Pastaria or Little Country Gentleman, which opened before your Best of St. Louis issue was published?
The earliest we review a restaurant is two months after its opening, so a restaurant that opened in August or September won't be reviewed until October or November at the earliest. If they deserve it, they'll be on next year's list.
Does this bouncing between the actual year and the "Best of St. Louis" year give you a headache?
Often.
One more thing: I couldn't help but notice that MY favorite new restaurant isn't on your list.
We're sorry. It's nothing personal. Consider this a list of ten other new restaurants for you to try. It begins on the next page.
Jennifer Silverberg
The "Slinger" burger at Baileys' Range
10. Baileys' Range (920 Olive Street; 314-241-8121)
Baileys' Range, the latest, most ambitious venture from restaurateur Dave Bailey (Baileys' Chocolate Bar, Rooster and the Bridge Tap House & Wine Bar), could be the perfect restaurant for St. Louis' current culinary moment. It's a burger joint writ large, and even allowing for the fact that burgers never stopped being scarfed, right now that most iconic of American foods is sriracha-red hot. What sets Baileys' Range apart is its scope. Here Bailey wants to serve quality burgers made from the same locally sourced, grass-fed beef that he feeds his family. "Why the hell wouldn't I serve my customers that, too?" he exclaims. Yet he seeks to do so at the same volume that one usually associates with a Five Guys or Smashburger: 140 seats, turned over twice during the downtown lunch hour.
See Also: - RFT Review of Baileys' Range
Crystal Rolfe
The KC strip steak at J. Gilbert's
9. J. Gilbert's Wood-Fired Steaks & Seafood (I-270 & Manchester Road, Des Peres; 314-965-4600 )
J. Gilbert's serves USDA Prime steaks, which have been wet-aged from 21 to 35 days depending on the cut. The grill burns hot enough to give each a medium-thick and flavorful crust, while mesquite smoke accents, but doesn't overwhelm, the beef's natural flavor. Cuts range from a humble top sirloin ($26) to a Flintstonian 24-ounce porterhouse ($54). In a welcome variation from the typical steak-house practice, the cost of your steak also includes two sides.
See Also: - RFT Review of J. Gilbert's Wood-Fired Steaks & Seafood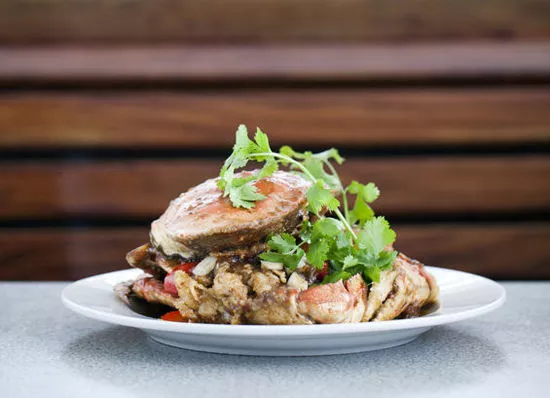 Jennifer Silverberg
Dungeness crab with tamarind at St. Louis Pho
8. St. Louis Pho (3863 South Grand Boulevard; 314-664-4041)
The pho broth at St. Louis Pho is so good you might hesitate before doctoring it with herbs, raw jalapeños and lime, rich without being heavy, its meaty backbone rounded out with warm, sweet notes of cinnamon, ginger and star anise. The menu features more than the restaurant's namesake dish: 75 Vietnamese items in total, including a banh mi dac biet that rivals the city's best examples of this classic Vietnamese sandwich. Whatever your order, from the complex pho broth to something as simple as the crisp, fresh herbs nestled with the shrimp and pork inside an order of goi cuon (spring rolls), the depth and vibrancy of the flavors here impress.
See Also: - RFT Review of St. Louis Pho
Jennifer Silverberg
The "Creole Midnight Snack" at Kelly English Steakhouse
7. Kelly English Steakhouse (777 Casino Center Drive, Maryland Heights; 314-770-8100)
You shouldn't venture out to Kelly English Steakhouse for a dose of the steak-house experience. (Though the steaks are excellent.) You should go there because the Memphis-based English is a talented, creative chef whose hand with seafood is distinctive and delicious. Try the "Creole Midnight Snack" for ample proof. This brings toasted brioche topped with plump, perfectly cooked -- just barely opaque -- shrimp, tossed in a rémoulade that has much more depth of flavor than the iconic sauce usually has. Atop the shrimp is a poached egg, its yolk piling yet more richness onto that rémoulade and making this appetizer satisfying enough to stand in for a main course.
See Also: - RFT Review of Kelly English Steakhouse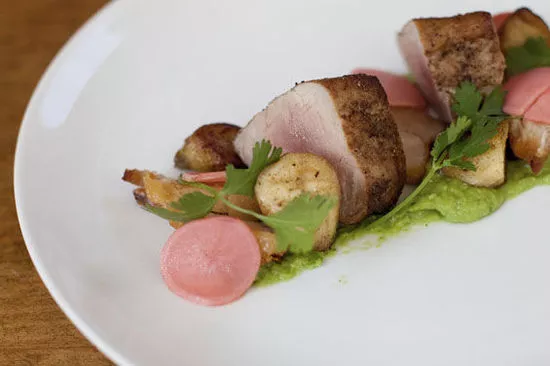 Crystal Rolfe
The "Puerco con Panza" at the now-shuttered MEDIAnoche
6. MEDIAnoche (8135 Maryland Avenue, Clayton; 314-725-0719)
A posthumous nod for Mike Randolph's ambitious, excellent and, alas, short-lived, progressive Mexican concept inside his breakfast spot Half & Half. We wrote in our review of the restaurant, "While the place transcends the gimmick of being a restaurant inside another restaurant, you end up sensing that there's the ambition and potential of a completely independent restaurant here, straining to break out." It turns out the ambition was for another concept entirely: Little Country Gentleman, which opened last month.
See Also: - RFT Review of MEDIAnoche
Jennifer Silverberg
Hot pot at Famous Szechuan Pavilion
5. Famous Szechuan Pavilion (8615 Olive Boulevard, University City; 314-685-0888)
Technically, a relocated rather than a "new" restaurant, but Famous Szechuan Pavilion's new home is so unlike its original drive-thru hut -- like, it's an actual restaurant -- that we're counting it as new. Owner and chef Xin Lin hails from Szechuan province, and the food here draws upon the region's reputation for fiery chile heat and the unique numbing sensation of the Szechuan peppercorn, as in the "Spicy Wonton Soup," which betrays its heat in the vivid orange-red of its broth. In this bob plump little wontons stuffed with ground pork. The Szechuan peppercorns lurk at the bottom of your bowl; stir them up, and the soup suddenly explodes with their more complex flavor. A dining experience unlike anything else in St. Louis.
See Also: - RFT Review of Famous Szechuan Pavilion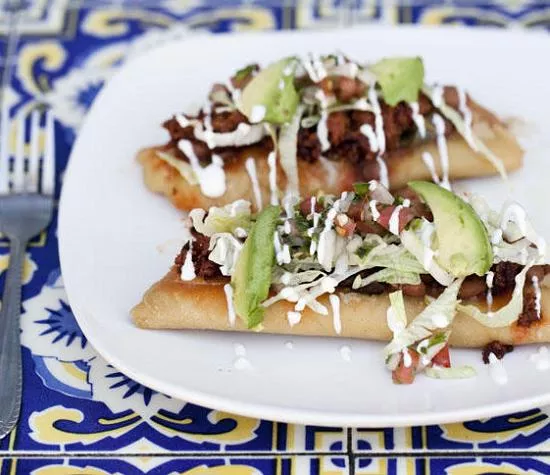 Jennifer Silverberg
The huaraches and tlacoyos at Siete Luminarias
4. Siete Luminarias (2818 Cherokee Street; 314-932-1333)
The broad menu ranges from taqueria and street fare to dishes that even the most casual fan of Mexican cuisine knows well (enchiladas, chiles rellenos) to dishes that aficionados have yet to cross off their checklist, like the pambazo, a torta-like sandwich in which the bread has been soaked in a guajilo-chile sauce. The carnitas here is amont the very best in this or any town north of the Rio Grande, and the tacos de cabeza feature incredibly tender and flavorful beef. Not simply another great Cherokee Street taqueria, but a great Mexican restaurant, period.
See Also: - RFT Review of Siete Luminarias
Jennifer Silverberg
Pint Size's "Brown Suga" crumb cake with local peaches
3. Pint-Size Bakery & Coffee (3825 Watson Road, 314-277-0882)
Owner and chef Christy Augustin describes her approach as "[going] back to how people used to bake: seasonal ingredients, real butter, real sugar. None of that fake junk." Her husband describes her aesthetic as "punk-rock grandma," which, let's be honest, is far catchier. Pint Size's menu includes a wide range of sweets: cookies, cupcakes, brownies, scones, muffins and more. As befits a bakery with a seasonal bent, the particulars change often, sometimes from day to day. Their pleasures can be subtle (the natural fruit and brown sugar sweetness of the "Brown Suga" crumb cakes) or simple (the oatmeal-cream pies with marshmallow-fluff buttercream), but they are always divine.
See Also: - RFT Review of Pint-Size Bakery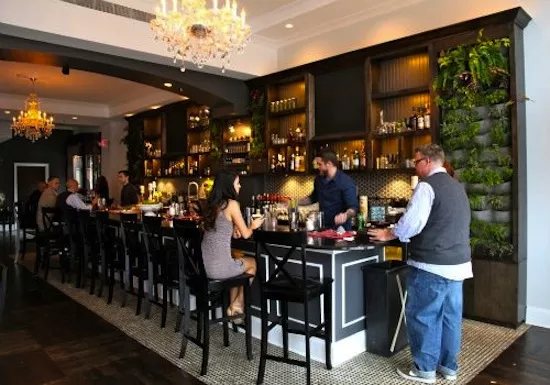 RFT photo
The bar at Blood & Sand
2. Blood and Sand (1500 St. Charles Street, 314-241-7263)
The only problem with Blood and Sand? You have to be -- or know -- a member of this private club to dine or drink there. If you can gain access, though, do. The sophisticated libations from mixologist and co-owner TJ Vytlacil alone are worth the $10 a month for a partial Monday-through-Thursday membership. (The $15-per-month full memberships are sold out; a partial membership puts you on the waiting list.) And chef Chris Bork and crew are killing it in the kitchen, turning out dishes that might be playful (the truffled tater tots) or sophisticated (grilled quail in a mole sauce with a bacon-fat tamale) or both. The service is top-notch.
Jennifer Silverberg
Jenny Cleveland and Eric Heath, the namesakes of Cleveland-Heath, RFT's "Best New Restaurant" 2012
1. Cleveland-Heath (106 North Main Street, Edwardsville, Illinois; 618-307-4830)
You can't go home again? Nonsense. Bethalto, Illinois, native Jennifer Cleveland returned to the metro east last year from the oft-extolled climes of California, and the restaurant that she and her partner, Eric Heath, opened in downtown Edwardsville has had mouths watering on both sides of the Mississippi River since day one. Cleveland-Heath's out-of-the-gate success shouldn't have come as a surprise. Between them, its namesake duo had already amassed serious culinary cred: Heath at the acclaimed St. Helena, California, farm-to-table establishment Farmstead; Cleveland at two of the great Thomas Keller's restaurants, the French Laundry and ad hoc.
At Cleveland-Heath they bring their experience and considerable skill to bear on what you might call "comfort" foods, or what Cleveland, in an interview with this publication, called "favorite" foods. Which is what makes the Cleveland-Heath experience especially remarkable: Yes, your entrée is a pork chop, but it just so happens to be the best freakin' pork chop you've ever eaten -- thick and juicy, topped with a sunny-side-up egg and served with jalapeño-cheddar bread pudding that just so happens to be the best freakin' bread pudding you've ever eaten. Such exclamations are commonplace here, uttered between mouthfuls of seasonal dishes like this past summer's smoked onion barley risotto, or sandwiches (a pulled-pork sandwich and a cheeseburger, both dynamite) or even sides (the deep-fried Brussels sprouts are the best freakin'...well, you know). Thanks to Cleveland and Heath for bringing their restaurant to the area. The town oughta give 'em a parade.
See Also: - RFT Review of Cleveland-Heath