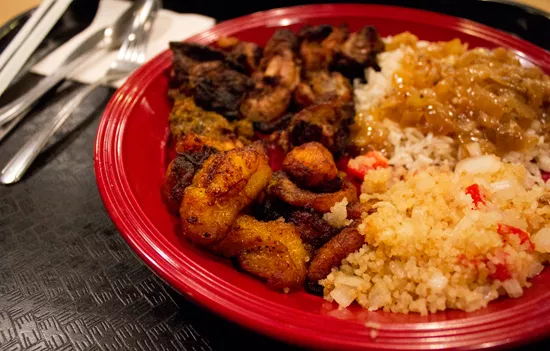 Mabel Suen
Alloco (fried plantain) and attieke (seasoned couscous-like cassava mixed with tomato, onion and hot pepper) on a jerk chicken plate.
At his new Afro-Caribbean restaurant, Alioun Thiam cooks, cordially accepts orders and recommends dishes off of his menu to guests -- all while on crutches. The red, yellow and green-tinged Teranga Grill (1820 Market Street; 314-621-3650) opened in mid-August, filling a corner space on the bottom level of Union Station previously occupied by Key West Cafe.
Vibrant Congolese soukous music plays in the background (loud enough to cover chanting and cheers from the Fudgery a few feet away) as Thiam pours glasses of fresh, cold ginger juice at the bar. He explains that he broke his foot while going after someone who swiped his cell phone; it was when he was managing Culture Vibe, a CD and gift shop located on the upper level of Union Station which he has owned and operated since 2000.
Mabel Suen
Fresh ginger juice.
"It was two weeks before I was scheduled to open the restaurant," he says. "I panicked and chased him down the steps because there was too much information on it regarding the restaurant I didn't have backed up." Even though the thief got away, Thiam remained optimistic and continues to welcome guests into his businesses with open arms. After all, Teranga Grill was named after an important principle from his Senegalese heritage -- "teranga" means hospitality.
Mabel Suen
Prep cook Orlando Nabors, chef-owner Alioun Thiam and assistant chef Joseph Rogers in the kitchen.
With assistant chef Joseph Rogers (formerly from kitchens such as the now-defunct Ethiopian Delmar Loop restaurant Red Sea) and a couple more helping hands, Thiam serves up dishes he developed while catering out of his home kitchen for Club Viva's former weekly reggae nights and various other events such as Festival of Nations over the past four years. The soul-food-style menu features dishes inspired by Thiam's home, West Africa's Ivory Coast, and includes twenty different entree options ($7 for a small plate and $10 for large). Thiam recommends the yassa guinar, or grilled chicken marinated with lemon, spices and onion in a Dijon mustard sauce; jerk chicken marinated and seasoned with mild Senegalese spices and herbs with housemade hot sauce on the side; and curry chicken with potatoes.
Mabel Suen
"Yassa Guinar" plate.
Beef, tilapia, lamb and vegetarian options such as alloco (fried plantain) and attieke (seasoned couscous-like cassava mixed with tomato, onion and hot pepper) are also available. The latter two can be ordered as sides to accompany rice with onions on plates -- and it sure beats the hell out of the monotonous quick-service chain restaurants offered in the food court upstairs. "A lot of people aren't familiar with this kind of food," says Thiam. "It's something different for St. Louis."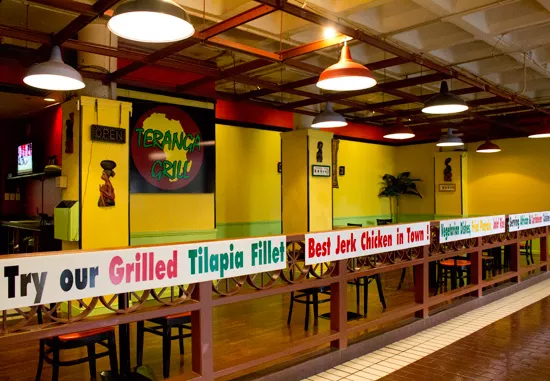 Teranga Grill's current hours are 11 a.m. to 7:30 p.m. Monday through Saturday and 11 a.m. to 6 p.m. on Sundays. Hours will change over time as Thiam's injury heals; a liquor license is also in the works.