Mabel Suen
The Pyro Burger -- a half-pound burger topped with jalapeno bacon, hot pepper cheese, fried jalapenos, fried hot banana peppers, habanero pickled onions and jalapeno aioli.
The phrase "everything but the kitchen sink" can imply a whole lot. At the Kitchen Sink (280 DeBaliviere Avenue; 314-261-4455), new from-scratch diner just footsteps away from the Forest Park-DeBaliviere Metrolink stop, chef-owner Anthony Ellerson Jr. offers as many of his favorites as he can fit onto the restaurant's chalkboard menu.
When asked if he's a St. Louis native, Ellerson points out the window directly down the street.
"I've been living right across the street since 1985," he says. "A lot of people asked me why I picked this spot. It's because it's my neighborhood....It was a totally different place before, and I get to make it my own."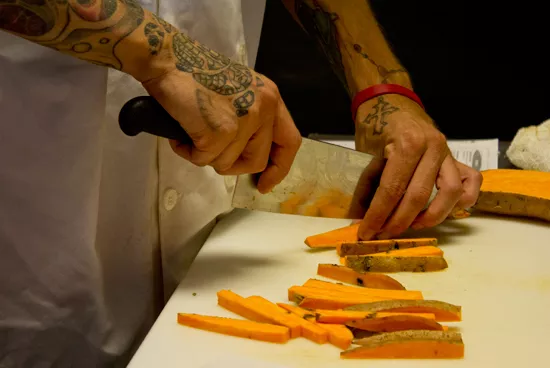 Mabel Suen
Sous chef David Anderson hand cuts sweet potato fries.
Besides a logo painted on the building's brick facade, there's not much indicating that the diner even exists at the busy intersection that straddles several neighborhoods. Once inside, however, it's easily a diamond in the rough.
All idioms aside, the Kitchen Sink might be small, with only a handful of red booths and art picked out by Ellerson's mother providing bright accents among monochrome walls and counter seats, but it offers up a big menu that easily overcomes standard greasy spoon options.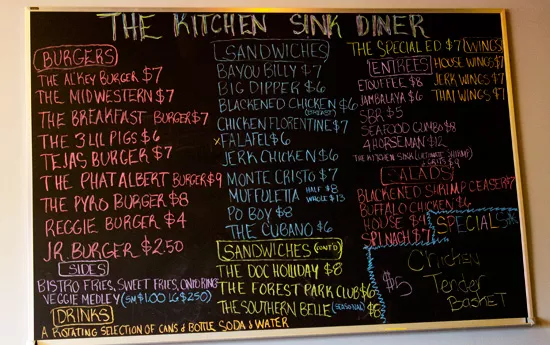 Mabel Suen
The menu at The Kitchen Sink.
The list includes made-to-order specialty burgers, sandwiches, Cajun-inspired entrees, salads, wings and sides such as hand-cut sweet potato fries ($1 for a small order; $2.50 for large), cooked until crispy with a sprinkling of sugar to make the natural flavors pop. The Kitchen Sink sources many of its ingredients locally, such as produce from Long Acres Farm and bread from Fazio'€™s Bakery. The menu notes that all meats are "fresh and never frozen."
Ellerson credits Norton's Cafe, where he worked as a cook, for influencing him not only in Cajun cuisine but also wholesome, from-the-heart cooking that's open to creative interpretation. Besides Norton's, he also worked in the kitchens at Rigazzi's and Market Pub House.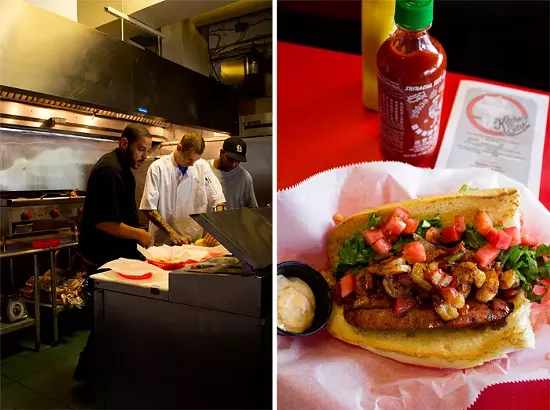 Mabel Suen
Chef-owner Anthony Ellerson, Jr., sous chef David Anderson and cook Aurthur Brooks in the kitchen.; the Bayou Billy sandwich.
To note, Ellerson mentions the the "Al'Key Burger" ($7), a beer-battered burger with beer-battered bacon and beer cheese sauce; the "Doc Holliday" ($8) sandwich featuring coffee-rubbed ribeye with sauteed portabella mushroom and onions on a French baguette; and the "Bayou Billy" ($7) sandwich with andouille hot link, sauteed shrimp and jambalaya-like sauce. Bottles of Sriracha dot tables for an extra dose of hot.
For flavors from the South, look for the likes of muffulettas ($8 for half and $13 for a whole) and po' boys ($8) -- or go for the "4 Horsemen" ($12) combo featuring a sampler of SBR (sausage, beans and rice), jambalaya, étouffée and gumbo. The namesake "the Kitchen Sink" ($9) is labeled "the ultimate shrimp and grits."
The Kitchen Sink is open Monday through Friday from 11 a.m. to 8 p.m and Saturday through Sunday from 11 a.m. to 5 p.m, though Ellerson notes these hours might change soon to begin offering delivery in the neighborhood.