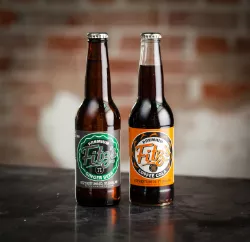 Fitz's American Grill & Bottling Works (6605 Delmar Boulevard, University City; 314-726-9555) has teamed with two other local businesses, Kaldi's Coffee Roasting Company and Pi Pizzeria, to form a soda collaborative.
Fitz's owner Michael Alter, who returned in 2010 to the company he founded, says, "As important as it was for me and for my friends at Kaldi's and Pi to produce incredibly good and unique soda, all of us enjoy the camaraderie and collaboration process.
"These guys are locally based entrepreneurs who are trying to do something special. When you're around people like that, it's fun. I dunno what you like to do, but if you're doing it with people with the same interests and same zip you have in it, it's a lot more fun."
Alter explains that Pi Ginger Beer and Kaldi's Coffee Cola each required almost a year and several meetings to finalize. The ginger beer is a cross between a ginger ale and a traditional spicy Jamaican ginger beer, with the bite of the ginger smoothed over by the sweet carbonation of a ginger ale. The coffee cola is just that: Freshly brewed Kaldi's espresso added to Fitz's cola mix -- an alternative to an iced coffee, perhaps.
While we were tasting the sodas, Alter gleefully pointed out a hidden feature of the ginger beer: Its UPC code begins with the first few digits of π.
"You know why you do it? Does that mean anything? That only means it's fun!" he exclaims. "Part of this collaboration was to enjoy ourselves and do things creatively."
Since repurchasing Fitz's, Alter has brought back some of the flair from "Fitz's 1.0," as he calls it, to "Fitz's 2.0": reducing the corporate feel, re-installing beer taps downstairs and creating new sodas. In addition to the collaborative libations, there's a new formula, black cherry, whose rich color comes from purple sweet-potato juice; and Hip Hop Pop, a raspberry-flavored soda.
Alter's commitment to fresh ingredients in his sodas, including the use of cane sugar as a sweetener rather than high-fructose corn syrup, is enhanced by not overcarbonating the beverage.
"When we came up with our tagline, it's more true today than it was in the beginning," he says. "'If it wasn't better, we wouldn't bother': That's what we were trying to do on these other flavors. The world didn't need just another ginger ale."