Tomorrow is Yom Kippur, the Day of the Atonement and the holiest day of the Jewish year. It's a time for confessing sins, begging the pardon of everyone you have offended over the past year and praying desperately for God to inscribe you in the Book of Life for the next one. In order to show how truly, truly sorry they are, Jews are supposed to spend the entire day, from sundown to sundown, in prayer and fasting.
And so you can bet that when the sun starts sinking, they have their minds on one thing: Where to break the fast. And so this year, Gut Check is here to help!
If You're Really Cranky Yom Kippur is a fundamentally communal holiday. But two days of collective atonement in close quarters with a bunch of unwashed wailing worshipers will make even the most chipper Kippurs among us downright cranky. Low blood sugar can be a real bitch. After a long day's fast sometimes you likely need peace, solitude, and grilled cheese.
Get them all in a quiet corner of Courtesy Diner (1121 Hampton Avenue; 314-644-2600). Come disgruntled; leave with your civility restored and your belly full.
Gut Check bloggers would never eat this.
If You're a Bad Jew and Don't Care Who Knows It Every year Central Reform Congregation holds High Holiday services in a mammoth event space at the Chase Park Plaza hotel. Everyone who's anyone in STL City Jewry is there. So if you want to throw Orthodoxy to the wind (even more) get yourself a bacon cheeseburger just a block away at Bar Louie (14 Maryland Plaza; 314-678-3385).
If you're a really bad Jew, duck out of services early so you can hit their excellent happy hour before 7 p.m. Patio seating is the perfect way to say "I'm treif-y and proud, dammit!"
If You're a Bad Jew But Want to Be Stealthy Your mom's friend's grandma has finally planted that big chalky lipstick kiss on your cheek and said goodbye. You're free to eat! Hallelujah! All you want is a double cheeseburger but your parent's friends are all over this city. What would Aunt Pearl think if she saw you??
Drive over to Chuck-A-Burger (9025 St. Charles Rock Road, St. John; 314-428-5009) and order your treif from the comfort of your own not-German car. A carhop will bring the goods right to your window and you can furtively enjoy them in the dark recesses of the parking lot at this goy-ishly great drive-in.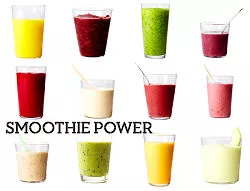 If You're Woozy/Feel Like You're About to Pass Out
True story: One year Gut Check went to high holiday services and this old guy standing in front of us slumped over suddenly and slid to the floor. Immediately, he was surrounded by at least seven people, all of whom started shoving each other for prime position and bellowing, "I'm a doctah!" Yes, some stereotypes exist for a reason.
However. If you don't feel like being the center of such a grand commotion -- or drawing the ire of your fellow congregants for interrupting their meditations on the past year of sin or for making services even longer than they already are -- and your wooziness is starting to interfere with your atonement, you can either have a quiet consultation with the doctor in the next row, which will make everyone turn and stare at you for whispering, or you can just get the hell out of shul and get something to eat. Don't worry, the Torah says it's OK. (Although if the doctor is attractive and single, your grandmother may never forgive you.)
Now -- what to eat. Liquid, first of all. And natural sugars. And potassium. In other words, a smoothie! There are plenty of smoothies around St. Louis, several in proximity to synagogues, but we prefer OR Smoothie & Café (3 North Euclid Avenue; 314-367-8883), particularly the Central West End location, run by the authoritative Mai Truong. Put yourself in her hands. Drink one of her creations, made with fresh fruit and other natural ingredients. Make sure it has a banana; it's a good source of potassium. Don't worry, everything's kosher. So take a deep breath.
All better? Good! Now you can start fasting again, till the sun goes all the way down and you can see three stars in the sky (and, no, satellites don't count).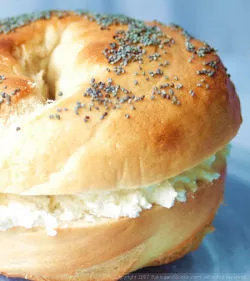 If there ain't no bagels, it ain't no break-fast.
If You're Into Nutritional Propriety
Post-Dispatch food critic and fellow tribesman Evan Benn took it upon himself to prepare his own version of the traditional break-fast this year and consulted dietitian Toby Smithson to make sure that his menu was healthy as well as kosher. Smithson is a supporter of a dairy-based meal with lots of fruits and vegetables. Based on her suggestions, Benn came up with bagels, sweet potatoes, his mother-in-law's omelet and, for that touch of St. Louis, smoked Missouri trout.
All of which reminded us of the menu at Local Harvest Café and Catering (3137 Morganford Road; 314-772-8815), where smoked Missouri trout is almost always on the menu, along with lots of fruits and veggies. And bagels. Because it wouldn't be Yom Kippur without bagels, and despite what Benn says, it's still kind of a pain to have to make them yourself.
If You Keep Kosher
Are you happy yet, Mom?!?
So you're definitely inscribed in the Book of Life. On top of being a model citizen and making your parents beam with pride at your every career choice, you also only eat meat that's been slaughtered by a shochet and certified kosher. Gut Check applauds your commitment to the faith -- even if we squirm with jealousy over your singular ability to make your parents love you.
For quality kosher, that doesn't actually feel like stuffy kosher, Gokul Indian Restaurant (6101 Delmar Boulevard; 314-721-1888) is your go-to. You won't get meat, but you will get fantastic South (i.e. vegetarian) Indian fare. Gokul's two locations -- one in the U. City Loop, the other in Maryland Heights -- have been longtime favorites of the kashrut-keeping Jewish community (both have special sinks for observant diners to do nitilat yadayim, ie ritual hand-washing, before meals). Who needs J-Date when you can exchange doleful glances with someone your mom will love over the dinner buffet?If You're a Traditional American Jew
There has always been a strong bond of mutual admiration between the Jews and the Chinese. The Chinese revere the Jews as the second most intelligent ethnicity (after themselves, of course) for giving the world Karl Marx and Albert Einstein. The Jews, for their part, at least the ones in America, revere the Chinese for giving the world kung pao chicken and moo shu pork and thousands of other delicacies that have seduced them from the ancient laws of kashrut. (And with no regret, either, just maybe a little guilt.)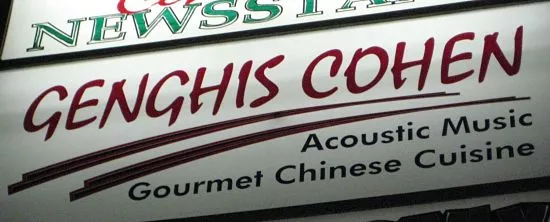 And so what would a festival day among American Jews be without their most sacred, traditional food?
Although Mai Lee (8396 Musick Memorial Drive, Brentwood; 314-645-2835) is primarily a Vietnamese restaurant, it serves Chinese food, too, some of the best in St. Louis. The menu is enormous, too, which means that there should be something for everyone -- always a plus when everybody, post-fast, is too tired and cranky to argue about which restaurant to go to.
Make sure you don't get a drafty booth at Kopperman's.
If You're With Your Grandparents Zadie wants pastrami on rye. Bubbie wants some potato kugel with a side of beef tongue. You want to go home and watch Parks and Rec. Sit them down at Kopperman's Delicatessen (386 N. Euclid Avenue; 314-361-0100). Be they red-blooded or thin-blooded, any member of the Greatest Generation is bound to find something they love at this unkosher, Jewish-style deli. Their hearty matzoh ball soup was made to be enjoyed over idle kvetching and talk of Social Security. It tastes just like the holidays. Treat Bubbie and Zadie to cherry blintzes and you're guaranteed to be favorite grandchild for a long, long time.
If you refer to haggis as kishke, are you as much of a sinner?
If You Want to Get a Jump on Your Sinning for 5733
The gates have closed. Your fate is sealed. You're either going to live for another year or get smited before next Rosh Hashana rolls around. It's all out of your hands now. So what the hell, why not get back to your regular life of sin?
There is no country in the world more goyische than Scotland. Except for the countries in Scandinavia, but there are no Scandinavian restaurants in St. Louis that are as good as The Scottish Arms (6-10 South Sarah Street; 314-535-0551). Or more transgressive: Bacon! Sausage! Cheeseburgers! Whisky!!!!
Trust us, there's nothing better to finish off a long day of fasting and atonement with good Scottish whisky, and lots of it. It won't go to your head and inspire you to do anything stupid at all!
If you've been fasting, even tzimmes look good. That's sweet potatoes mixed with figs and prunes. Sometimes, if you're really lucky, you also get carrots and brisket. Yum!
If You Haven't Actually Been Fasting Good for you! You have even more energy to kvetch about how long services were and how boring and wrong-minded the rabbi's sermon was -- and hold back on the greasy smoked fish, inferior bagels, plastic cream cheese and chalky brownies at the synagogue spread/Aunt Marlene's house until you can get home and grab something better.