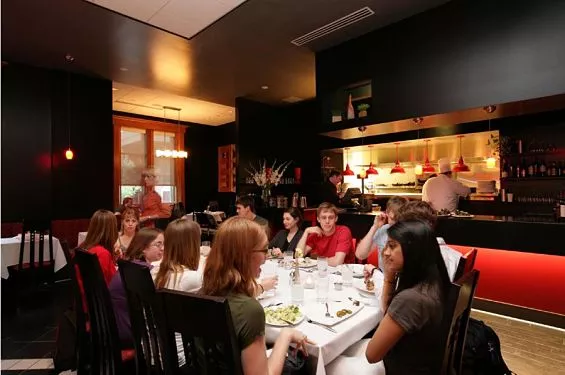 Update: Alert reader Micah Herstand has informed us that we were mistaken in our reporting. Unlike many of the other institutions mentioned in the Daily Meal's rankings, Wash. U. does not have 24-hour dining.
He writes:
The Whispers Cafe space is open 24-hours, but they stop serving coffee and food at midnight or earlier. I'm guessing you don't count their run-of-the-mill vending machines as "24-hour dining". ;)

Wash U students, just like the rest of St. Louis, gotta trek over to Coffee Cartel for 3am cappuccinos.
Wash. U. students, you have Gut Check's heartfelt sympathy.
And now, the Daily Meal, in its rankings of the 52 Best Colleges for Food in America has declared that Wash. U.'s dining options are the finest in this fair nation, save for Virginia Tech and Bowdoin College. The Daily Meal and Wash. U. aren't exactly strangers to each other -- earlier this year, the website said Wash. U. was the very best college for food-lover -- but being a foodie is a bit different from being a college student who just wants a goddamned sandwich after biology lab.
Naturally, we had to skim over the competition. Even though editor Nina Famufod explained that the Daily Meal had visited nearly 2000 colleges, ate the food there and rejected many of them for the list out of hand for having boring menus, serving meals at very limited times and for being plain old disgusting ("Students have found everything from thumbtacks to grasshoppers in their campus food. Completely unacceptable"), the reports that came in from the top 52 were staggering.
These days, it seems, locally-sourced, organic ingredients are old hat. So are explorations of international cuisine -- and we're pretty sure this doesn't mean Taco Night. (At least two of the universities have hosted "Hogwarts Night.") Dining halls stay open 24 hours and offer deliver service (and by that we do not mean asking your roommate to smuggle you a bag of dry cereal in her backpack.). Even students with the most obscure food allergies or religious restrictions can find something to eat.
Wash. U. has all these things, except for Hogwarts Night. Hell, it has a community garden and a butter-churning club. But what really impressed the folks from the Daily Meal were the sushi-rolling classes. And also the "two tandoori ovens, tended to by trained chefs imported from Pakistan and India." Because when you're serving authentic cuisine, you don't want Americans messing it up.
But it also turns out that Wash. U.'s dining service is one of the greenest around. After all the pampering is done, the uneaten food scraps get turned into compost and the used grease into biodiesel.
Oh, Wash. U.! So good! So noble! If Gut Check had fifty grand lying around, we'd enroll, too, just so we could eat your food.