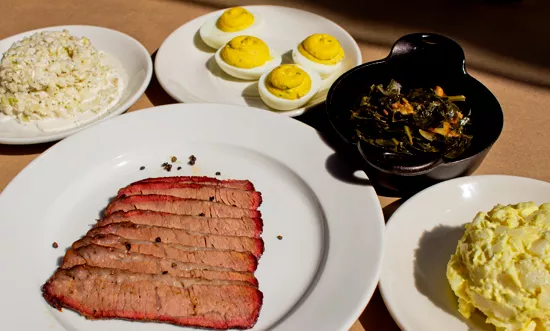 Mabel Suen
Smoked brisket with sides of cole slaw, deviled eggs, bacon braised greens and potato salad.
See also: First Look: Diablito's Cantina See also: Christopher Lee of Cafe Ventana, Sanctuaria and Chuy Arzola's
Getting a taste of Hendrick's BBQ (1200 South Main Street, St. Charles; 636-724-8600) can feel like digging a fork into a not-so-humble sized slice of the South or somewhere else far from St. Louis. It makes sense, considering that owners Dr. Gurpreet Padda and Ami Grimes visited more than 150 barbeque joints across the United States to research their St. Charles-based concept long before quietly opening Hendrick's in late August.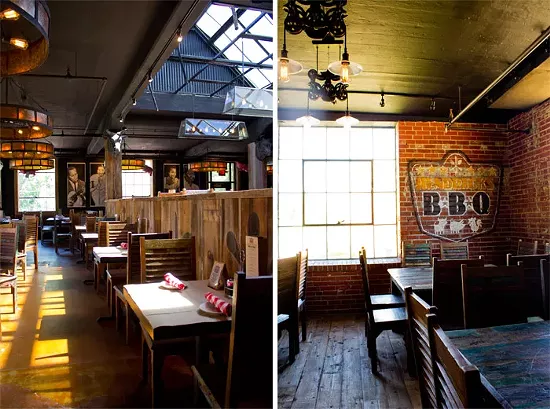 Mabel Suen
Snapshots of the interior.
Hendrick's strives to combine the flavors of the Midwest with the best bits of barbeque styles picked up everywhere from huge Texas roadhouses to tiny gas stations in the Carolinas (and everywhere in between).
"Barbeque culture is a deeply ingrained, different world...Talking to some of these guys was just amazing," says Padda, describing a specific incident involving the sight of a half pig smoked in an oil drum for 24 hours over moonshine and singing the blues.
Mabel Suen
Chef Christopher Lee in the kitchen.
Correspondingly, the alternate blues-infused universe at Hendrick's features 17,000-square-feet filled with sculpted flying pigs hung high from rafters, an interior that boasts the charm of a re-purposed country farmhouse, and what looks to be some of the world's finest picnic food.
The space, which seats 600 and formerly housed a Waterworks facility, includes a large banquet facility, patio areas and a live music venue (still in development.)
Mabel Suen
Pit master Matt Vanderbeck, chef Christopher Lee and kitchen staff in front of one of the larger-than-life house smokers.
Executive chef Christopher Lee heads up a menu of what he refers to as approachable, home-style American food that reaches beyond just comfort food. Lee comes from a background based in fine dining as well as the bold line of restaurants established by Padda and Grimes, including Cafe Ventana, Sanctuaria and Diablitos Cantina.
From the menu, Lee notes the smoked brisket ($6 for a small order; $15 for a large) as his personal favorite. It's made from Angus beef, dry rubbed with spices and peppercorns, and smoked at 180 degrees for anywhere from thirteen to fifteen hours by pit master Matt Vanderbeck. Dry rubbed St. Louis style ribs, pulled pork, turkey and sausage also come out of the house smokers. Sauce on the table is heavy vinegar or ketchup based to accentuate, not muddy, the flavor of the rubs, Lee says.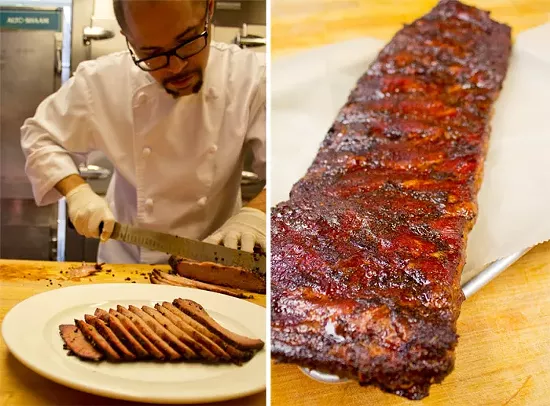 Mabel Suen
Chef Christopher Lee slices smoked brisket; A rack of St. Louis style ribs.
Mabel Suen
Deviled eggs; bacon braised greens.
Any number of sides, or "fixins," as they're labeled on the menu, accompany the smoked meats, including bacon-braised greens ($6) slow cooked Southern-style with onions and house-smoked bacon; and essentials like coleslaw ($5) and potato salad ($5). Appetizers including pork cracklin' ($2) and fried green tomatoes ($5), soups and salads, sandwiches, options for kids and samplers make up the rest of the menu.
Also look for fresh baked goods like buttermilk biscuits and cornbread ($5) served with Foundation Farms honey butter, as well as with desserts like home-made moonshine pies, blueberry cobbler and seasonal fruit upside-down cake (all $5; $7 a la mode.)
Mabel Suen
Home-made moonshine pies; Apple upside-down cake.
Mabel Suen
The bar at Hendrick's.
Drinks include milkshakes (maple bacon crunch, caramel corn, peanut butter, jelly and roasted banana, to name the more interesting options) and an extensive drink menu featuring whiskey and moonshine-based cocktails. Padda recommends "Grandpa's Cough Syrup" ($8), which combines Mighty Leaf rainforest tea infused with Old Overholt rye whiskey, agave nectar, Big O ginger liqueur, lemon juice and club soda.
Hendrick's BBQ's regular hours are Monday through Thursday from 11 a.m. to 10 p.m., Friday and Saturday from 11 a.m. to 11 p.m. (bar open until 1:30 a.m.) and Sunday from 11 a.m. to 9 p.m. The official grand opening takes place on Thursday, September 20. Doors open at 11 a.m., with a ribbon cutting ceremony at 4 p.m. and happy hour specials from 4 to 7 p.m.