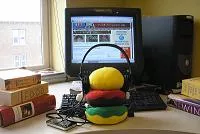 Gut Check dishes on our favorite St. Louis food blogs.
Family Style Food: Karen made roasted vegetables and Parmesan polenta.
Iron Stef: Stef shared how to make roasted veggie burritos.
Every Little Thing: Stacy made one-pan Caesar chicken.
Cupcake Project: Stef shared banana oat cupcakes -- and a tour of Bob's Red Mill.
The Sweets Life: Natalie made sweet potato spinach pesto lasagna rolls.
Rhubarb and Honey: Kimberly shared miniature nut tarts, made two ways.
Sweet Art: Amrita explains how to make "the best brownies."
A Veggie Venture: Alanna made broccoli and tomato Thai curry.
Sauce magazine's blog: Dee made baked trout with supreme relish.