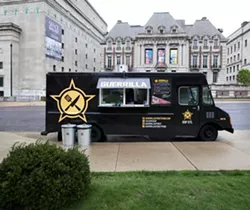 Jennifer Silverberg
Coming soon to Maplewood?
- Maplewood could become the latest St. Louis County municipality to allow food trucks to roam its streets. Maplewood-Brentwood Patch reports on this week's meeting of the Maplewood City Council at which Councilman Tim Dunn proposed a six-month trial for food trucks provided that they avoid the main commercial stretches of Manchester Road and Sutton Boulevard as well as city-sponsored events.
According to the Post-Dispatch report on the same meeting, the council will consider a food-truck ordinance at its upcoming meetings.
- The Ritz-Carlton (100 Carondelet Plaza, 314-863-6300) has a new executive chef, report both Sauce and Feast. (Hey! Ritz-Carlton! Please send us your press releases!) Melissa Lee joins the staff of the posh Clayton hotel from the Ritz-Carlton in Orlando, Florida. Previous executive chef Azhar Mohammad has moved to the Ritz-Carlton in San Juan, Puerto Rico.