Avocado. Avocado. Avocado. Spicy tuna? Avocado. Avocado. Avocado?
I'm standing along the perimeter of the rectangular sushi station -- I'd call it the sushi bar but there's nowhere to sit -- at Tokyo Seafood Buffet (8004 Olive Boulevard, University City; 314-991-1188), watching as plates of sushi, two pieces to a plate, trundle past me on a conveyor belt.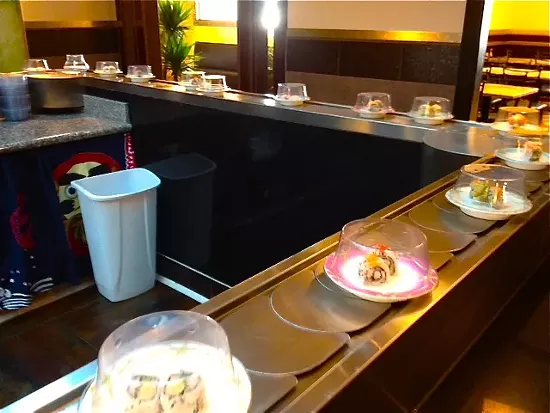 Ian Froeb
The sushi conveyor belt in action at Tokyo Seafood Buffet
Avocado. Fake crab. Spicy tuna and avocado. Whoa! -- nigiri. Avocado.
Yoshiaki Shiraishi invented conveyor-belt, or kaiten, sushi in Japan in 1958. As far as I can tell, Tokyo Sushi Buffet became the first St. Louis restaurant to offer conveyor-belt sushi when it opened a few months ago.
Though I rarely visit buffet restaurants, I've come here for lunch today to see the style in practice.
Good thing I like avocado.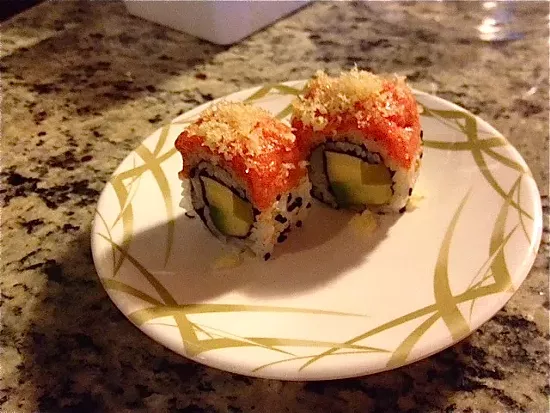 Ian Froeb
Avocado roll with spicy tuna
At many kaiten joints, the plates are color-coded (or somehow marked) to indicate price. Not so at Tokyo Seafood Buffet, where all the sushi you can eat is included with all the other stuff you can eat in the $8.99 cost of the lunch buffet. This makes sense. Almost every plate I see holds two pieces of a roll with avocado or avocado and something else.
On this first go-around, I nab a plate with avocado inside the roll and what appears to be spicy tuna -- or tuna scrape, as I learned earlier this year -- on top. This "spicy" tuna is very, very mild, but it does add a wee bit of heat to an otherwise utterly bland piece of sushi.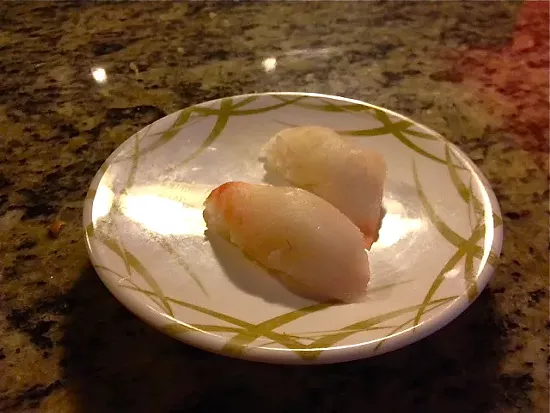 Ian Froeb
Nigiri sushi at Tokyo Seafood Buffet
Back for a second round: avocado, avocado, avocado.... I see a plate with two pieces of nigiri sushi on it. Based on the exceptionally thin crowd at the sushi station (population: yours truly) and the slow turnover of dishes (the sushi chef, stationed at one corner of the station, is...relaxed), I should hesitate to try this, but the allure of the avocado-less draws me in anyway.
Both pieces are sea bass -- I think, but the flavor is muted, with a generic "sushi" flavor like the stuff you get eight-to-a-carton at the supermarket. If the rice has been seasoned, I can't taste it. The cut of each piece is inelegant.
Should I venture back for one more try? How much do I like avocado, really?
Thankfully, at this moment an employee walks along the buffet line with a container of freshly fried crab rangoon, rendering both my questions moot.