Mabel Suen
Mi Lee, Art Lee, Sally Lee and Joe Lee of Thai 202.
Restauranteur Art Lee keeps it all in the family when it comes to food. Growing up in Thailand, his family ran an open market grocery store. He says the skills he gained then come in handy even now for the new business, Thai 202 (235 North Euclid Avenue; 314-367-2002), which he runs with his wife and son.
Thai 202, which promotes the slogan, "Advanced Thai Food" -- a smart marketing ploy, considering the area's nearby college-aged population -- opened just a couple weeks ago in the Central West End space formerly inhabited by Audi-K's.
See also: Dude, It's The Top Six Delivery Restaurants For 4/20, Check It Out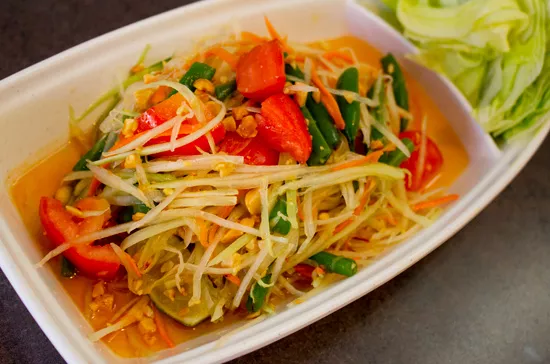 Mabel Suen
Papaya salad with tomatoes, green beans, carrots and peanuts.
On a Saturday afternoon, plenty of passersby wander into the restaurant to peruse the new menu. Others have already become regulars, ordering cups of Thai iced tea with white boats filled with brightly colored papaya salad, big bowls of noodles and curry to-go. Lee mans the counter while his wife Sally Lee (who he refers to as the expert in Thai cooking), son Joe Lee, and relative Mi Lee prepare and walk dishes out to dine-in guests.
Art Lee first came to the states as a student in 1976, but ended up opening and running restaurants in Chicago instead, which kept him busy for twenty years. Thai 202 is the second Thai food restaurant owned by Lee in the St. Louis area and follows his eight-and-a-half year old establishment Blue Elephant (7816 Forsyth Boulevard; 314-862-0500), now run by his daughter Aticha Lee.
Mabel Suen
Thai fried sweet potato.
While Blue Elephant offers more high-end Thai cuisine, Thai 202 focuses on three key elements that Lee uses to describe his concept: quick, inexpensive and delicious. With a maximum occupancy of 22 people (inside, along with some patio seating), carry out and soon-to-be delivery options, it's easy to grab-and-go at Thai 202.
The Thai food take-out menu includes everything from typical best-selling dishes like pad Thai ($7.95) and curry dishes ($8.95 to $9.95) to street food such as Thai fried sweet potato ($4.95), deemed a "must try" on the menu. Almost everything on the menu is under $10.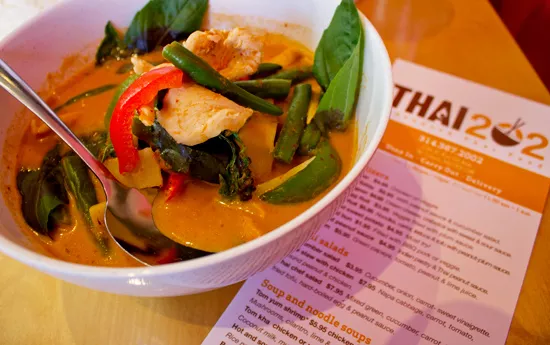 Mabel Suen
Red curry with chicken, coconut milk, bamboo shoots, green beans, bell pepper and basil, served with steamed rice.
Categories include a variety of appetizers, Thai salads, soup and noodle soups, stir-fried noodles, curry dishes, rice dishes and stir-fried dishes. For most entrees, diners have the choice of chicken, beef, pork, tofu or shrimp (for an additional $2). Some noodle dishes incorporate the use of fresh rice noodles.
Drinks include fountain sodas, Thai iced coffee and tea, lemongrass green tea coolers, and chrysanthemum green tea, with a few varieties of bubble tea to be added to the mix soon.
Thai 202's hours are currently listed as Sunday through Thursday from 11:30 a.m. to 10 p.m. and Friday and Saturday from 11:30 a.m. to 1 a.m.; however, Lee is looking at closing on weekends by 11 p.m.