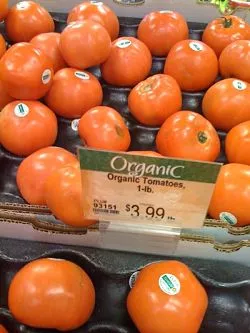 Does the organic seal automatically make them worth $3.99 a pound?
Researchers at Stanford University published a study earlier this week that knocked proponents of organic food on their collective ear. Turns out that organic food, while far more expensive than conventionally-produced food, isn't any healthier.
But now that the foodies have had a chance to read the Stanford study, which was published in the Annals of Internal Medicine, they've started to squawk that the study itself was flawed and we should all be eating organic all the time, dammit!
So what to do? Do we remain in debt to Whole Foods for the rest of our lives, or can we venture out into the brave new world of pesticides?
A team of Stanford researchers spent four years poring over 240 scientific studies. 223 of the studies were devoted to contaminant levels in food, while the remaining 17 examined the effects of said food on humans. Though only three of the studies concerned what the scientists called "clinical outcomes," there appeared to be no significant health differences between people who ate organic food and people who didn't.
Two studies reported significantly lower urinary pesticide levels among children consuming organic versus conventional diets, but studies of biomarker and nutrient levels in serum, urine, breast milk, and semen in adults did not identify clinically meaningful differences.
The researchers found only a few other major variables. Non-organic food contains higher levels of phosphorus, but not enough to be "clinically significant." Organic milk contains many more omega-3 fatty acids. And although there is pesticide residue in non-organic foods -- as organic proponents have been telling us for years -- they're way below the maximum levels dictated by the Environmental Protection Agency.
Which leads to one logical conclusion: We've been had.
Unless, of course, the Stanford research is crap.
That's what Charles Benbrook, a consultant at the Organic Center at Washington State University, contends. In his own paper, published on the WSU website the same day as the Stanford study, Benbrook cracks down on the Stanford group for lousy research practices.
For one thing, Benbrook writes, their stats are fuzzy. In their paper the Stanford scientists report that "organic produce had 30% lower risk for contamination with any detectable pesticide residue than conventional produce." They arrived at this number by examining nine studies comparing the average percentages of incidence of pesticide residue in organic and non-organic food and calculating the difference between the two.
This, Benbrook declares, is shoddy statistics. Benbrook took the same numbers and crunched them a different way and found that "the overall reduction in frequency of residues in organic foods is 81%."
Well, OK, you can play with numbers all you like, but Benbrook also takes the Stanford group to task for not bothering to define what they mean when they say a food is "more nutritious" (he, personally, believes it should "deliver at least 50% higher levels of several important nutrients per calorie or serving, while also not delivering substantially lower concentrations of other essential nutrients"), and for failing to distinguish between single-trace pesticides in a food or multiple-traces -- that is, whether a food has been sprayed with one pesticide or several.
Finally, says Benbrook, the Stanford scientists failed to incorporate into their reading several studies about the effects of pesticides on fetuses and small children.
One can't help but notice, though, that Benbrook works for the Organic Center and is, therefore, not an entirely disinterested party. (For the record, the Stanford team worked independently without taking funds from any sponsors, corporate or otherwise.)
Fortunately, Consumer Reports has weighed in! The tireless testers of consumer products did their research a long time ago and came down in favor of organic, even if it is more expensive, and the new study did not change their minds at all.
None of the papers studied by the Stanford researchers tracked health risks for longer than two years; many forms of cancer, Consumer Reports points out, take much longer than that to develop. Furthermore, the Stanford study did not look close enough into the bacteria-resistant antibiotics that have become prevalent in conventional farming, but have been banned from organic farms. Also more Americans, 86 percent in fact, don't want their supermarkets to carry meat that contains antibiotics. Consumer Reports knows because it took a poll.
"Bottom line," they write, "we stand by our long-held advice. It's worth it to buy organic versions of the foods that are likely to have the highest levels of pesticides when grown conventionally, as well as organic poultry and milk, to reduce exposure to antibiotics."
Well then. But what do you do about the small farmers who sell their produce at the farmer's market but can't afford to pay for official certification as organic? Could it be that at least one part of the organic movement is still a scam?