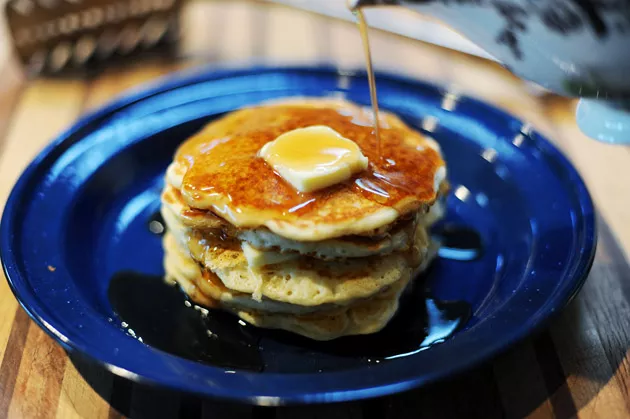 According to the Internet, -- and other credible sources, like Waffle House -- the first week of September is National Waffle Week. Our first thought at Gut Check International Headquarters was: Why do pancakes only get one measly day of celebration, while waffles are awarded an entire week? It was a divisive question, spurring loyalists on both sides of this age-old breakfast debate. Today we dissect the subtle nuances of both in an attempt to answer the question: Which is the superior A.M. carbohydrate, waffles or pancakes?
On the heels of a limp defense of waffles, Gut Check throws down for pancakes.
Point/Counterpoint: Waffles, the Best
My dear colleague Liz Miller had clearly spent too much time sniffing the fumes of her beloved waffle iron when she mistakenly decreed that waffles "want to work with you to be the best breakfast they can be."

Texturally it is the pancake that has been tried and true across continents and eras as the superior vehicle of breakfast carbs. In Japan boys and girls enjoy yaki pancakes, Eastern Europeans do blinis, around Hannukah the Chosen People choose latkes, and Indians have long delighted in dosas. Across generations and continents, the people have chosen pancakes for their uncanny ability to spread and distribute toppings evenly. It is a truly democratic staple.
Another wonderful thing about the pancake is that you don't need to bother with overpriced, fancy shmancy equipment. That's right wafflistas, I said it. Yours is a breakfast of the elite, a breakfast for those with the wild disposable income to spend at Targét or on the home shopping network. A breakfast no doubt served at Romney manor. Or in the Low Countries.
Like any smart kid, Sally Draper chooses pancakes.
As Peggy Olsen might explain with wide wonderous eyes to an out-of-touch waffle-eating ad exec, there is a ritual to making pancakes. Who doesn't remember the first time mom or dad taught them how to land a flip that wound up on the floor or pasted to the ceiling. The first time you made your own perfectly golden pancake.

What's there to do with waffles? Pour the batter, close the machine, push a button, and wait for the timer to go off. BORING! Why don't we just raise a white flag now to the robot overlords.
Ever heard of a chocolate chip Mickey Mouse waffle? Didn't think so.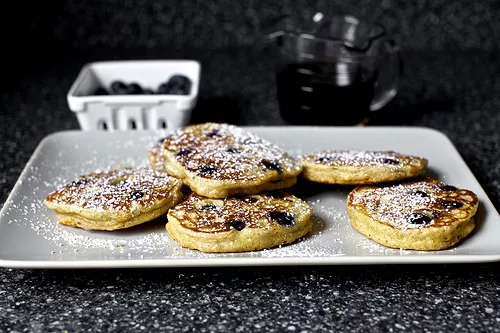 Blueberry yogurt pancakes via smittenkitchen.com
The beautiful simplicity of pancakes also allows for seemingly infinite variation. Incorporate blueberries, strawberries, chocolate chips, marshmallows, or hazelnut into your batter. Try swapping out eggs for greek yogurt to produce healthier 'cakes. Gwyneth Paltrow knows what I'm talkin' about, so suck on that goop, wafflistas.